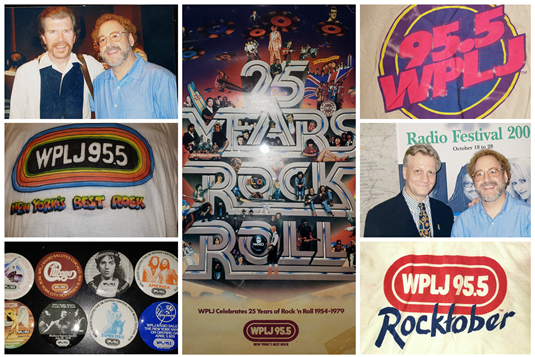 Upper left, WPLJ-FM DJ Pat St John with Matt Seinberg.
Middle right, WPLJ-AM DJ Jim Kerr with Matt Seinberg
When I was in high school, the five radio stations I listened to most were WABC-AM, WNBC-AM, WNEW-FM, WXLO-FM and WPLJ-FM. If I got bored with one station or there were too many commercials, I could always jump to another one. Dial surfing, DXing, was fun and common in those days.
---
WPLJ-FM had a stellar on-air crew.
---
I first discovered WPLJ-FM in 1974, when their slogan was Rock 'n Stereo. Later it became New York's Best Rock. They had the coolest disc jockeys (DJs), too.
I remember that line-up, today, as if it were yesterday; the shifts were as should be, that is, four hours each. Jim Kerr did mornings 6-to-10 am, followed by Captain Geoff Nimmo 10 am-to-2 pm; Pat St. John was on air 2 pm-to-6 pm; Tony Pigg 6-to-10 pm, John Zacherle 10 pm-to-2 am and Alex Bennett 2 am-to-6 am. Viv Roundtree also did the overnight shift as well as weekend shifts.
When Geoff Nimmo left, Tony Pigg moved to the 10 am-to-2 pm shift and Carol Miller took over the 10 pm-to-2 am shift. At some point, Zacherle moved to the 10 am-to-2 pm shift; it must have been strange for the Cool Ghoul to work during the day. I doubt he felt comfortable getting out of his coffin during the day.
Other notable DJ's to work there include radio legend Dick Summer, Bob Marrone, Dave Charity, Tripp Reed, Mark Goodman and Jimmy Fink. Fink means good bread. I hope that's what WPLJ-FM paid him.
How did WPLJ-FM get those call letters? The letters stand for "White Port and Lemon Juice," a song recorded by The Four Deuces, in 1955. ABC Radio President, Allen Shaw, used the acronym for the station. The song it classy, in a way, the title certainly is and thus fits a station with high-end on-air talent, such as Pat St John and Dick Summer.
The first WPLJ-FM DJ I became friends was the late Viv Roundtree; she was doing weekends at that time. I always listened to her on Sunday night and started calling her to say hello. At that time, the television show Rhoda was a hit; one of its characters, heard, but never seen, was Carlton the Doorman, voiced by show producer Lorenzo Music.
I thought it would be funny to call her and pretend to be the doorman, at the ABC Building where the station was located, on The Avenue of the Americas. Instead of Carlton, I changed the name to Carlson. She got a real laugh out of it and after talking for a few weeks, I formally introduced myself and we became fast friends.
One year in high school, we held a One-to-One Carnival, which was a popular way, at the time, to raise money for charity. Viv Roundtree was one of two guests scheduled to appear, the other was WABC-TV reporter John Johnson. Only Viv showed up. I was so proud to introduce her as my friend.
---
Viv Roundtree moved to Boston radio.
---
Viv was a sweet, warm and funny woman who was great on the air. When she left for a new job in Boston, I was very sad to see her leave New York City. Unfortunately, we lost touch. I found out, years later, she passed away from cancer.
Thereafter, I talked to and eventually met most of that great air staff of WPLJ-FM. In fact, while attending college, I interviewed Jimmy Fink, Pat St John, Bob Marrone and John Zacherle, in their offices. My friend, Fred, came with me, as he was a huge fan of the station, as well, and he took some photographs. Somewhere, I still have those interviews on tape, I just don't know where, now.
The fellow I probably visited the most was Bob Marrone, as he was on most weekends. That's when Fred and I would go into the city. After one studio visit, Bob took us to the elevator and went back to the studio. Fred and I looked at each other and said, "Promo Raid!"
We went back to the offices and took whatever the station had not nailed down. I almost took someone's trash pail, covered in bumper stickers, but Fred said to put it back. When we got to the lobby, we casually walked out with our arms loaded full of cool station stuff. I have some cool WPLJ-FM swag from those days, including posters, buttons, bumper stickers and shirts.
Another time, we were waiting for John Zacherle, in the lobby, to go to lunch and, suddenly, we see Levar Burton, fresh from his appearance in Roots. He asked for directions to somewhere and we offered him a ride, which he nicely turned down. Zach came down soon after and he regaled us with stories from his television and early radio days.
On 13 February 2019, Cumulus Broadcasting, current owner of WPLJ-FM, announced it was selling the station. The buyer, Educational Media Foundation (EMF), is a non-profit broadcaster specialising in contemporary Christian formats. EMF will take over WPLJ-FM at the end of May 2019.
---
It was a rocking good time.
---
For me, the best days of WPLJ-FM were 1974 to 1983, when they were New York's Best Rock. Now, the station is going away for good. Goodbye, 95.5 WPLJ-FM, it was a rocking good time.