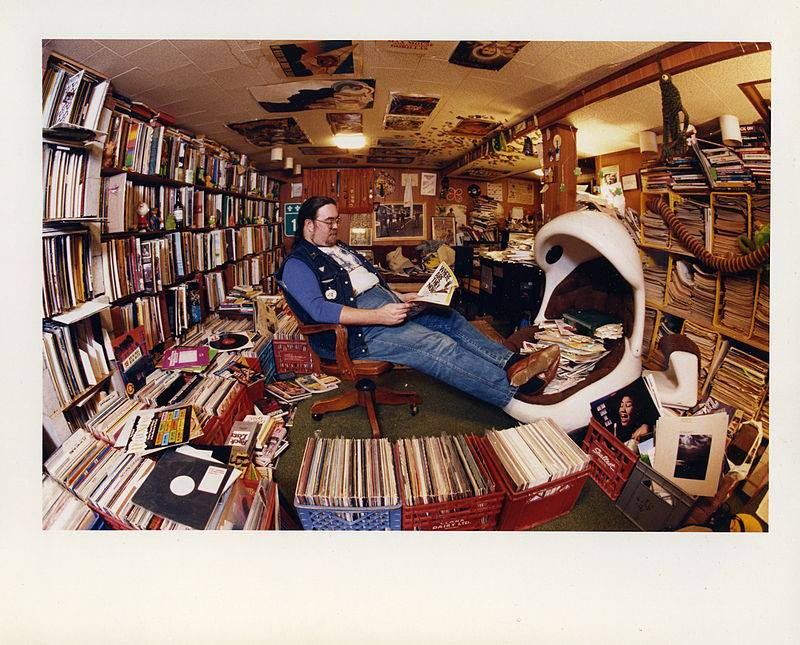 After Brian Murphy (above) was made redundant from his treasured job at CHEZ-FM in the summer of 1993, we regularly spoke on the phone about music and musicians. Brian was "The Source," the font of all musical knowledge. Music wasn't simply his life; it was his body and soul.

"Murph" was 64 when he died at the Civic campus of the Ottawa Hospital yesterday. He was proud to have been born on the same day as Bob Dylan, May 24, 1941.
The cruel loss of his CHEZ-FM job in that early 90s recession marked the start of a slow decline in Brian's health. He was lonely, sometimes grumpy, but never a person with whom you could have a quick conversation about music. You didn't call Brian unless you had at least the next hour to spare. You didn't call before noon.
He spent some of his spare time mixing compilation tapes for the lucky few. He made several for me, including a fabulous mix of the incomparable Little Feat and a mix he called Christmas Blues, which gets pride of musical place at my house from Christmas through New Year. All he ever asked in return was a pack of blank tapes.
Brian was an artist, says George Pollard, his friend and colleague for 40 years.
"I have never met anyone with such a vast range of knowledge about so many aspects of music," says Pollard. "And with Brian, it wasn't superficial. He knew how things fit together -- rock, pop, blues, jazz, ragtime -- he could put together different styles so they sounded as one. He was a wonderful guy, if you could overlook his eccentricities, which not everyone was able to do."
Brian started in the music business at record retailer Treble Clef with owner Harvey Glatt.
"His body and being were music," says Mr. Glatt. "I first met him almost 50 years ago, when he was a 16-year-old, buying records. I remember him being in one of the listening booths, moving around to the point that he almost caused a disturbance with other customers."
When Mr. Glatt launched CHEZ in 1977, the Murphy style had already been well honed during his overnight weekend show, Free Form Radio, on CKBY. His musical mixes, the seamless blending of diverse album cuts, were where his skill and knowledge met. He perfected the slow, methodical way of speaking that was very hip in the early FM days, and while he might have enjoyed his audience thinking otherwise, the deliberate, risque-sounding intakes of breath were not the inhalation of some illegal substance, but more likely Brian attempting to suppress the adverse effects of too much Diet Coke, which he drank copiously.
At CHEZ-FM, he was the staple of weekends, hosting and choosing music for The Source, Blues-FM and Jazz-FM. Listeners either loved him or didn't understand him, but he made a big enough impression to become one of the best known area radio personalities of his day.
Steve Colwill, current CHEZ-FM music director and only one of two original staff members at the station, was closer to Brian than most.
"It was a privilege to know him," he says. "Brian was a pretty intimidating guy, and could be overwhelming when he talked about music, but music was all he was. At his house, there were albums everywhere. His basement was floor to ceiling records. They were on his stairs and in hallways. I've never seen so many albums in my life."
(He sold most of his record collection in dribs and drabs in recent years, because he needed the money).
One of Mr. Colwill's more vivid memories is of Brian backstage at a Steve Miller concert, lecturing the mesmerized star about the Grateful Dead. Brian knew more about the Dead than the Dead knew about themselves. They were his favourite band.
He loved jazz, but it irked him that the purists -- jazz ayatollahs or weasels, he called them -- didn't take him seriously. They didn't appreciate that he considered jazz pop music.
"Nothing makes me angrier than the jazz ayatollahs," he told the Citizen's Jay Stone. "They are people who are so structured in their musical taste. I've always gotten from certain people in the Ottawa jazz scene -- the ayatollahs, the weasels -- the feeling that they really can't take me seriously when it comes to jazz. Why? Because I like rock 'n' roll."
A few years ago, before the Internet became so smart, I called Brian looking for a song I had loved for years, but had never been able to find. The song is called The Blues Run the Game and it was written and performed by an obscure sixties folkie named Jackson C. Frank.
I last saw him about a month ago, while I was driving along Wellington Street. He was shuffling a little; warning the same rumpled outfit he always wore, but generally looked healthier than he had in a while. I was going to stop, but couldn't find a parking sport. I made a mental note to call him, but waited too long.
A note posted on the CHEZ-FM website last evening says, "Heaven has just welcomed its new music director." Undoubtedly, the heavenly entity will not be in eep conversation with Jimi Hendrix, John Lennon and Jerry Garcia and, with all the time in the world, enjoying himself immensely.
Brian Murphy passed away 31 October 2005.
-->