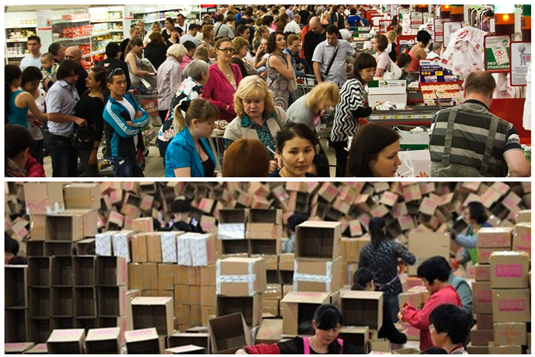 I love to shop online, especially when I don't have the time to go to a store to buy what I need. That's one reason I joined Amazon Prime, two years ago. Sometimes, I need something fast; with one or two day delivery and the best price, how can I go wrong with Amazon?
---
Radio Shack was always had what you needed.
---
Before Radio Shack went out of business, I could and would go to a brick and mortar story for most any type of audio or video cables I needed. Radio Shack prices were reasonable, too. These days, Best Buy, Walmart and Target also sell cables, but certainly not the same selection of Radio Shack.
In one of my recent columns, I lamented over several pieces of audio equipment going bad at the same time. This led to a need for a few RCA to 1/4" jack adapters. I bought these cables when I got the new mixing board at Guitar Center. I needed more and got them inexpensively from e-Bay, as it was less expensive than was Amazon.
The last cables I needed were two twenty-five foot double male 1/4" cables to run from the new mini mixer to the Mackie mixer across the room. It's easy for me to run cables, as there is a dropped ceiling in the basement. I got those cables from Amazon, because they were less expensive than on e-Bay.
I overheard an interesting conversation, today, when I was in a store. A woman was telling a sales associate how she hated the mattress, which she bought on-line, a year or so ago; she couldn't return it. She loved the one she was on, at that moment, in the store, but wasn't prepared either mentally or monetarily, to buy it. That is one regretful consumer.
Here's something I don't get. How could anyone buy a product as personal as a mattress online? You certainly can't lay down on your computer keyboard or your phone. What makes consumers think it will be comfortable for them?
Consumer Reports always says to go into at least three stores and lay down, on each mattress you're considering, for at least five minutes. That doesn't mean to try out every single mattress in the store; that's confusing. Be selective and thorough.
Don't buy an item, as personal as a mattress, based solely on price; ever. Comfort is the biggest part of shopping for a mattress; putting both your hands down on a mattress and pushing on it doesn't do a thing. That's like sitting behind the wheel of a car and not driving it or even moving the seat to see if it fits you. Lie down on the mattress; give it a thorough test drive.
---
Don't buy a mattress based on price.
---
Many years ago, I made the mistake of buying a new mattress based solely on price and it was a mistake. I was so uncomfortable and miserable. Luckily, the store exchanged it even after their grace period and, although I spent a little more money, on another mattress, I still wasn't happy.
We had that second mattress for several years into our marriage. I finally said enough is enough and we upgraded from a full to a queen. What a change that was; we finally had a comfortable mattress.
Since then, we've replaced our mattress twice. Each was my choice, as I'm the one with a bad back. My wife can sleep on anything, anywhere.
It pains me when I see parents telling a salesperson they want the cheapest mattress for their children. Are you kidding me? Don't you want your children to grow up straight and strong, with well-adjusted back? A cheap mattress won't do that. If you don't want to sleep on it, don't make your kids do it.
I readily admit I am a great shopper. I look for the product I want and then find the best price, even if it takes me days. Sometimes, I'll scan the websites of retailers, such as Kohls, Home Depot or Michaels, to find just what I want.
Then I'll order it online and have it shipped to my local store for pickup. Sometimes the store doesn't even stock it, making an online order the only way to go. I had to do that with our new closet doors; Lowe's didn't have four doors in stock at any one store and I wasn't going to run around to two different stores.
If you have a favourite store, make it your starting point four your journey to find the product you want. Find the price and then shop locally to see if any store has it. Even if it's a little bit more and the product is a little different, if you're happy with it, buy it.
One website I see constantly advertising is Wayfair, touting their free shipping if you spend $49. Yes, it a great gimmick, but their prices aren't particularly inexpensive, especially if you're looking for a larger item. I needed a new television chest a few years ago and found it on one of the sites that I visited. Nothing was under $700.00. I got it at a very well know national chain for less than $250.00.
---
Be wary of slick advertising.
---
Don't be tricked by slick advertising. Buy what you want, and buy what you like that's in your price range. Just don't under buy, because you will regret it later.