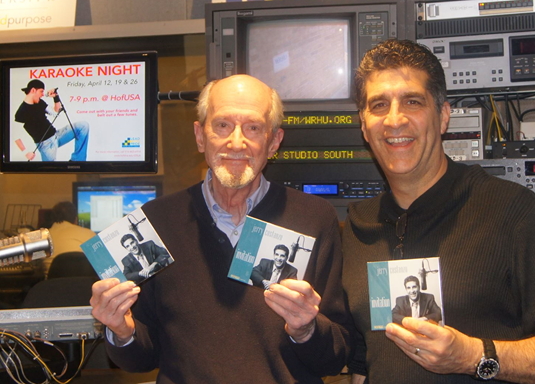 John Bohannon with Jerry Costanzo
Let's take a trip back to 2003. I was planning the WNBC reunion, which turned into the WNBC-AM and WYNY-FM Reunion. Do you have any idea what it takes to track down for station employees, correspond with them, negotiate a day, date and place; get a price and then have all those people pay and commit to attending? I didn't.
► A logistical nightmare.
The Reunion was a logistical nightmare. Thankfully, my friend Lauren in Connecticut offered to help. She's a radio junkie, as am I, and it gave her something to do. She helped me track down people and designed the invitations.
The idea of the reunion came up as I had just found my friend Allen Beebe in College Station, Texas, of all places. We became friends in 1977, when Bob Pittman hired him to work at the All New WNBC-AM. In fact, I became friends with most of the on-air staff at that station, but Beebe and I hit it off the best.
I broached the idea of a reunion with him. Although he couldn't commit, he thought it was a great idea. He gave me plenty of names and helped me track some people down.
The reunion took place in New York City at Hard Rock Cafe on 57th Street on 20 June 2004. You can check out pictures and the list of attendees here.
One of the former employees I found was newsperson John Bohannon. As it turned out, he lived in the same town I did and, of course, we knew many of the same people. We had lunch a couple of times before the reunion. Bohannon said I should contact his former co-worker, Sam Hall. I knew Sam, him of the deep voice and smooth news delivery.
John Bohannon and I stayed in touch for a while, but life gets in the way. A quick hello every now and one more lunch, I think in 2006, and that was it. I was thinking about him a couple of weeks ago and thought about calling and saying hello.
On 9 January 2019, a Facebook posting reported John Bohannon passed away. At that moment, I truly regretted not staying in touch and having lunch again. He was one of the smartest, wittiest and most articulate people I've ever met. John was 81; he had been in poor health that forced him to use a wheel chair.
John Bohannon spent more than forty years in commercial radio, mostly in New York City; mostly as a news correspondent for the three major networks. His career spanned all the major news organizations. John started in radio, in 1955, in Tampa, Florida. He first worked at WHBO, a country station and then at the good music station, WPKM-FM.
Bohannon remembered the owners of WPKM-FM, Frank and Eloise Knorr, as exemplary broadcasters. When he landed a job at the Tampa Daily Times-owned, WDAE AM and FM, in 1956, the Knorrs took him out to dinner to celebrate after he turned in his notice to them. Interestingly, while at WDAE-AM, his job was control room operator for 'Salty' Sol Fleishman, who hosted the AM Drive.
One morning, staff announcer Mark Swingley told John that a new man, Pat Chamburs, would be taking over mornings. Bohannon was thrilled beyond measure. He had listened to his idol, Chamburs, for years on WFLA-AM. He also recalls WDAE AM and FM programme director (PD) and afternoon drive voice, Vince Meloy, hiring Bob Hoffer from WTSP-AM, in St. Petersburg, Florida, for afternoons. Chamburs eventually put Bohannon on his morning show doing weather and other features; he was also instrumental in getting Bohannon a weekend jazz show on the station.
The years at WADE AM and FM were formative for Bohannon. He said he didn't think he would have been as successful in radio without his time spent with Pat Chamburs. He has many fond memories of the station and, of course, his old hometown, Tampa."
Bohannon left WADE AM and FM for New York around 1958. He settled on Long Island where he became morning drive host at WBAB AM and FM, in Babylon, New York; then morning drive host at WGBB-AM, in Freeport, New York. Neither station exists today.
► A Bohannonism: getting older feels like the morning after, but you didn't go anywhere the night before.
After roughly fifteen years working Long Island radio, Bohannon moved on to New York City and joined ABC Network Radio as a news correspondent, then NBC Network Radio, as a correspondent on "Monitor," the network's weekend news service, and, finally, he worked the CBS Radio Network. During his time with NBC, he also worked WNBC-AM the network flagship station, where he became the first news anchor for Don Imus. At CBS, in December 1980, he broke the story of the murder of the John Lennon.
In 1991, after more than twenty-five years as a network news correspondent, John retired from commercial radio. Starting in 2013, he hosted "The Jazz Café," which aired Monday afternoon on WRHU-FM, the Hofstra University station. He wrote two books, Kickers: all the news that didn't fit and Abracadabra: you're dead as well as articles and humour columns for national magazines and newspapers. John was also a magician. He was a former president of the New York City chapter of the Society of American Magicians and a member of the International Brotherhood of Magicians.
As an aspiring DJ and radio fan, I was certainly familiar with John and his time at WNBC-AM. I'm an air check collector. When I scope, that is, edit, and air check I remove the commercials and newscasts. At moments, such as this, I'm sorry I do. I certainly would like to listen to Bohannon newscasts, which boomed with vocal quality and substantive content.
In 2016, Betsyann Faiella said, "John is smooth talking in the best way possible. His voice is soothing and controlled. His jokes on-air are brief, clean and subtle."
Many of friends and colleagues of John Bohannon posted remembrances on the New York Radio Message Board. Mitch Lebe said, "What sad news. I too first worked with John at WGBB and later at NBC Radio. He was a wonderful man, a talented broadcaster and magician. My wife and I went to a Christmas party at his home on one of our first dates. I had a great time playing records as a guest on his WRHU jazz program."
Herb Barry said, "This is very sad news. I had the pleasure of working with John at NBC. I was with WYNY while John was doing news at WNBC. Like many of the great pros I had the pleasure of crossing paths with, the greater the talent ... the nicer the person. John certainly fit that description."
Andy Fisher said, "Sad news, indeed. I had the pleasure of working with John at both WNEW and NBC. John's skill as a news broadcaster was marvelously complemented by his exquisite sense of humor. His book, "Kickers," was a grand collection of those end-of-newscast items we all enjoyed writing and reading."
Fished added that "One of our most memorable experiences working together happened at WNEW, when the Sunday-night DJ failed to show up. After his newscast shift ended, John shifted smoothly into DJ mode, and with our wives as producers, we put together a most credible show, celebrating afterwards with a late dinner at The Brasserie.
"John was always a pleasure to work with and a joy to socialize with. His passing leaves me with deep appreciation -- and sadness."
Wes Richards said, "John was a near neighbor on the South Shore of Long Island. He could do anything related to radio. And, yes, he was a fine magician.
"When both of us were working for NBC Radio in what were … its final days, we'd ride the train together on weekends. We kept each other awake with stories that maligned our management and ownership. I was his producer/editor. That was one of the easiest jobs in network radio because he always got it right and said it well. Always. I admire him greatly."
Richards added, "The other thing I regret is not watching John perform magic. That was not only his hobby, but a passion. Now I'll have to get a copy of his book, Abracadabra, You're Dead."
► The always affable JB signed off.
Jerry Costanzo, a great friend of John Bohannon, sums up his career, best, in his Facebook post. "[I] found out yesterday that my good friend John Bohannon passed away. The world has lost a warm, kind, funny and generous gentleman. They broke the mold when they made men like John. John ended every show at his "Jazz Café" radio program on WRHU- Hofstra, with these words, 'The always affable, JB signing off' The word 'Affable,' truly described the man."
Rest in Peace John, knowing many people are thinking of you and missing you.