Geoff Mack

Richard Patterson
1959 was the year, Geoff Mack, Australian Country Music entertainer, comedian and songwriter, wrote the Country Music Classic, " Ive been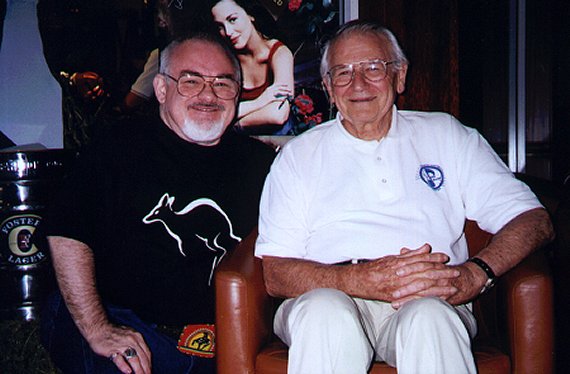 everywhere."

Geoff Mack (right) had been working a Holiday resort in Coolingatta in Queensland for several years, during that time Geoff had taken to serious song writing .

He received a offer to play a cabaret act in Sydney so he packed up his panel van and headed south. Arriving in Sydney in the wee hours of the morning he parked the van and settled back to listen to the radio while pondering what songs he would pull together to form his new Act .

At that time (1959) there were a lot of corny twelve bar novelty songs to be heard on the radio, songs like " See you later alligator" and " Witch Doctor" songs that did not impress the budding songwriter, so he started to scan the radio dial looking for a better quality of songs to relax with.

As the dial hit the local ABC station he felt confident that he would find a better presentation
of songs than what he'd heard from commercial radio. However no luck , the ABC were offering much the same.

Thinking that tunes like this must be the popular trend he thought to himself, well then Ill write a song like this, a song with little tune and nonsensical lyrics .

There were several road maps next to him on the front seat of the van and as he glanced at them he saw that many of the names of the towns rhymed. Two and a half hours later Geoff had put together sets of three town or city names that matched in rhyme, names like "Wollongong," "Geelong" and "Kurrajong."

The original opening verse to the song that Geoff had decided he would use as opening song in his new cabaret went something like this, " Its Nice to be back in Sydney and you ask me what Ive seen , if you settle back and listen Ill tell you exactly where Ive been "

Geoff titled the new song " The Swagman Rock " A swagman is a Aussie Hobo.

Well as luck would have it this little, almost throwaway song that he would open with, would become one of his most requested numbers in his show. Many times he would have requests from the audience to repeat the tune, however as Geoff says it was his opening song and was not really a finished song with proper verses, so he declined the many requests .

New Zealand Publisher Johnny Devlon contacted Geoff and asked if he had some songs that he would consider placing with his company, so Geoff took Johnny five of his best. However after listening to the songs he asked Geoff, " what about that song with the names of the towns ? "

Geoff replied, "Well nobody would want to record that song, that's just my personal opener and I haven't even got proper verses to it " " Well write one " replied Johnny. So right there in the office Geoff sat down to finish off the tune while all along thinking that it was a wasted effort because the other five songs he offered where far better than " Swagman Rock."

In 1961 Geoff presented the his songs to the A&R manager at Festival Records in Sydney. He told Geoff that the title of the song would have to be changed from the " Swagman Rock " to " Ive Been Everywhere " because Rock and Roll will be dead in a year. So that's how and where the title got changed .

The song was first recorded by Australian " Lucky Star " in January 1962 and the song went straight to number one on the Australian Music charts and stayed at the top for fifteen weeks.

With the chart success of the Lucky Stars recording publisher Johnny Devlon requested that Geoff rewrite the song with rhyming names of towns and cities in the United States.

Then Lucky Stars manager requested versions of the song with New Zealand and United Kingdom rhyming lyrics, that were to become the basis of a four track extended play single that would be titled, "Lucky's Been Everywhere."

The Canadian connection to HANK SNOWS 1962 version of the song came about when Devlons publishing company had been bought out by Belinda Music, a sister company of Canada''s Hill and Range Publishing. That's where the request for a Canadian version of the song took place and as they say the rest is History!

Geoff first met Hank Snow in the middle 60s when Hank toured Australia as part of Australian Country Music star "Reg Lindsay's" National tour.

With the royalties to this one song, that had been written just for fun, with no other intent than being an opening song for Geoff's cabaret act, its been paying the rent for Geoff and his charming wife all these years.

His other remaining legacy, due to the success of "Ive Been Everywhere," has been to acquire the nickname of "Tangle Tongue," for obvious reasons.
A Juno Award winning musician, Richard Patterson performed with Tom Rush and "Three's a Crowd," among other recording and touring acts. He lived in Ottawa.
More by Richard Patterson:
Tell a Friend
Click above to tell a friend about this article.
Recommended
Recommended
Recommended