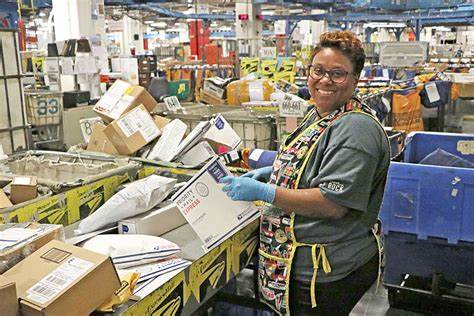 In August 2021, the United States Postal Service (USPS) applied for a temporary rate increase. It would be in effect from 3 October to 26 December 2021. Let's see if Trump appointee actually let's these run out or goes before the Postal Commission to make them permanent.
Replace the postmaster, please.
What surprises me is that President Biden hasn't replaced the Republican members of the Postal Commission, yet, with his own appointees. He cannot directly fire DeJoy, who has done a horrible job running the USPS. Remember the photos of large postal sorting equipment discarded outside distribution centers? There's only one person that can order that to happen.
Biden must replace USPS board members, get his own people in place and have them fire DeJoy. Then they can appoint someone who knows what they are doing. Will this happen?
I send a great deal of mail. Not only regular mail, but many packages, too. I sell on Facebook and e-Bay. Those package costs have gone up an average of 6.3%, with this latest increase. First class Forever Stamps went from 55 cents to 58 cents. It doesn't seem a big deal, but those pennies can add up quickly.
Although costs have gone up, quality has gone down because of previous cuts DeJoy has made. Even before they announced that mail travel times would take longer, they already were taking longer. Recently, I heard it took twelve days to deliver a letter three miles in the same zip code: how slow can you go?
Have you ever tracked something every day, only to see it stay at one distribution center for days on end? Then, suddenly, it moves on to the next place and sits, again, for days. Finally, it gets delivered, days after it was supposed to.
First class mail Used to take three days. Priority Mail took two days. The new times are roughly three-to-five days for first class and two-to-three days for Priority.
Sometimes if a letter or package is truly local, two days is good. I mailed something locally on Tuesday and hopefully it reached its destination on Friday. I'll call on Monday to see if they got it.
SPS ups the cost of online selling.
One of my hobbies is HO Scale Electric Slot Cars. I sell and buy in several groups on Facebook and e-Bay. A small box, which would hold up to six cars, used to cost $3.00-to-3.50 to mail. Now it costs $4.00-to-5.00. The transit times are longer, too. I've seen some tracking nightmares you wouldn't believe.
I recently sold a vintage WPLJ-FM radio poster on e-Bay to someone I know in Connecticut. Because I put the shipping label on the wrong way, it wouldn't scan at each stop. The clerk at my post office told me that, so I wasn't upset that it never updated.
No other clerk bothered to hand type the tracking number into the system. I'm sure it was delivered. I e-mailed my friend to see if he got it. I haven't gotten a reply, yet; I believe he did get it.
I sold the same poster to someone in Texas. This time, I put the label on the right way. It has updated and it left the Queens, NY, distribution center, but hasn't updated since Wednesday.
I wish I could have more faith in the USPS but can't. I keep hearing horror stories from friends in various Facebook groups of items that go missing and, suddenly, appear in tracking again, only to sit and sit until they finally leave that station. What's up, I wonder.
The Cleveland area seems to be one of the worst stations. It's where packages disappear into some sort of spatial black hole, then appear far from where they are supposed to be and circle back. It's a convoluted system because the Postmaster General is an idiot that has no clue how to run the system.
Louis DeJoy is the Grinch.
If you've waited until now to mail a package or to order something online from your favourite store, good luck in getting it on time for Christmas 2021. A T**** appointee is the Grinch that slowed Christmas, at least for this year. Louis may take the joy of Christmas for many.