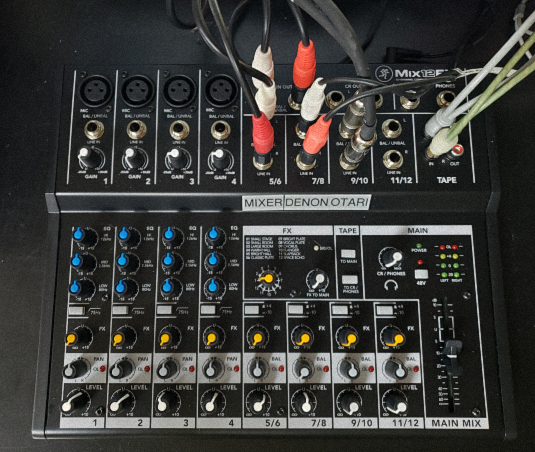 Mackie 12 Input Mixer
Has anyone had not one, but two pieces of equipment malfunction at the same time? I knew I wasn't the only one. What a pain.
---
A hum appears.
---
A few months ago, while recording the final hours of WPLJ-FM, I heard a hum coming into my Behringer mixing board. I didn't know at that point if it was the headphone jack output, the RCA cable or the board. I didn't really want to stop recording to find out, so I let it run and hoped for the best.
It turned out the hum was coming from the headphone jack, but the mixing board was also acting up. I managed to get the WPLJ-FM air checks from another friend. With the help of WPLJ Assistant Program Director and Night dj, Mike Allan, I was able to put all the hours together, split them up into one-hour segments and uploaded to bigappleairchecks.com to share with the world.
I decided to buy a mixing board. I found one on eBay for a reasonable price. I made an offer and it was accepted.
I eagerly anticipated the arrival of this board. Imagine my disappointment when I hooked it up and it didn't work. I returned it and got a full refund; I decided to buy a new one: a brand new Mackie 12 input mixer, with effects, would be perfect for my purposes.
I have a great deal of analog audio equipment, including three cassette decks, a DVD and CD player, turntable, 10" reel-to-reel, 7" reel-to-reel and an MD deck. I don't use them all, but they're nice to have. I use my Denon dual cassette almost every day for converting old cassettes to digital format.
Right now, I'm working on a project for Jimi Roberts, the afternoon DJ at WLIF-FM, Today's 101.9 in Baltimore, MD. He shipped me a big box of tapes containing his radio life, but the audio problems didn't allow me to do anything for almost two months. Now that everything is working again, I can start converting those old tapes. Jimi really gets a kick from those old airchecks.
---
A bulletproof JCV receiver.
---
The hum, as it turns out, was in the old board and in my Sherwood Stereo receiver. Since high school, I have had a JVC receiver, which is bulletproof. I installed it, there was no hum from the headphone jack and now it's where I get the audio to put into the mixing board. The Sherwood currently resides in the garage, attached to two outdoor speakers.
I forgot to mention that my old Radio Shack four-channel mixing board also died. The 7" reel, TV, VCR and one cassette deck were plugged into it, along with the receiver. Right now, I just have the audio cable plugged into JVC headphone jack so I can record out of that.
I wanted to put the television audio into the receiver, but all I got was a terrible humming again. I tried different audio cables and had the same result. Now, I'm thinking of buying a new Behringer 8 channel mixing board for everything to go into and then run the audio cable from that to the Mackie board.
I'm even considering another Radio Shack board; what's the point? I can spend anywhere from $25-to-$50 on it with no guarantee it will last. The smart thing to do is invest in the new mixer.
I had another piece of equipment, which I haven't used, even though it connected to the old Behringer board. It's a Lexicon processor, which I'm selling on eBay. With my re-sale money, I will buy the new Behringer 8 channel mixing board. Why not buy another Mackie, well it $25 more and doesn't have the effects feature that the Behringer does.
The only other piece of equipment I had to buy was a pre-amp for the turntable to work. That goes between the turntable and board and amplifies that sound into the board. Now I can easily convert old vinyl records, as well.
The only format I don't have is a DAT deck. One day I'll find a DAT deck for a reasonable price and add it to the defunct audio collection. Then I will be complete.
---
Murphy's Law strikes.
---
Remember, Murphy's Law says anything that can go wrong will. Well, Murphy hit me three times in one day. That's enough punishment for anyone, at one time.