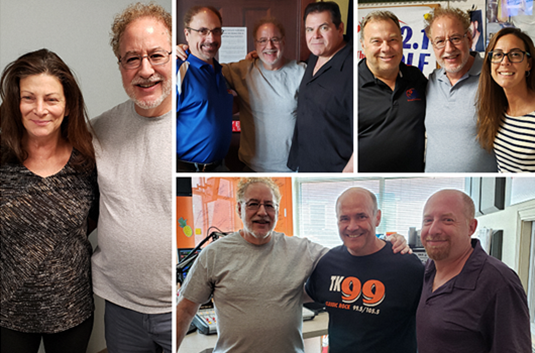 Left, Mimi Griswold with Matt Seinberg. Top Centre, John Carucci, Matt and Gary Dunes. Top left, Skip Clark, Matt and Heather Daley. Bottom, Matt, Gomez Adams and Scott Fybush.
My father lived in the same apartment building, in Syracuse, New York, for the past thirty years. The building has changed hands several times over the past ten years. There were many management changes, too; none for the better. He was ready to move out.
• Dad decides to move.
The latest owner of his building in Syracuse, Greenland Property Services (GPS), is former football player Tim Green and his family. From what I was told and read in various places, Green is suffering from ALS, Lou Gehrig's disease. I suspect he was not actively involved in managing the building where my father lived.
That doesn't excuse him or his company. They turned this high-rise apartment building into a slum. Yes, I said it, a slum.
GPS doesn't seem to believe in basic maintenance or renting to what I call normal tenants. This building is a steady and reliable source of income because it rents to different charitable and city run programmes, per Section 8; it never knows who exactly is in one or another apartment. Why is that, because the lease is to an organization, not a single tenant?
These tenants often are "ex" drug addicts, alcoholics, prostitutes and homeless. I believe in second chances and all that, but when they disrupt the lives of regular tenants, at all hours of the day and night, there is a problem. There's no two ways around it.
Two years ago, one of these agencies brought a homeless man into the building. Within days, there was a bed bug infestation, which took months to clean up. Once bed bugs infest a bed, there is no getting them out, permanently, without regular extermination. Even then, a recurrence can happen at any time.
The timing was right for my father. My daughter, Michelle, told me, almost a year ago, that when she graduated college she was going to move out of our home. I began talking to dad regarding moving in with us. At first, he was hesitant, but after seeing the direction his building was going in, he decided, finally, and his move was on.
Originally, I thought I would go to Syracuse in July, but June worked out better. I arranged with all my radio friends to see them, as this was going to be my last visit up there, forever. Well, maybe, I shouldn't say forever.
Thus, as soon as Michelle gave me a move out date, we hired a repairperson to paint the house and do some other work. Click here to read of my adventures in house painting. Click here to read of my adventures in house painting.
I made a one-way plane ride up, since dad and I were going to drive back down. I can't stay in his apartment; I stayed in the local Hampton Inn. A great buffet breakfast always is a good thing.
• Fave restaurant in Syracuse.
In Syracuse, my favourite place to eat is Dinosaur BBQ. That's where dad and I met Dave Frisina, from therebelrocks.com, and Skip Clark from WOLF 92.1 The Wolf. Each has been in broadcasting, in Syracuse, for over 40 years. One thing I've learned about the Syracuse radio market is this, once you're in it at a young age, you don't want to leave.
Radio is an ever changing and Syracuse is a vibrant market. Dave Frisina just had a huge change. His station was owned by Cumulus Broadcasting, which sold WXTL 105.9 The Rebel to the Educational Media Foundation (EMF), a non-profit Christian broadcaster that collects all its revenue listener donations, not through advertising. They must be doing something right, as they bought six stations at once from Cumulus, in Syracuse, New York City, Atlanta, Washington and Charlotte, for $106 million dollars. That is a fire sale price.
Cumulus decided to keep The Rebel as an on-line only radio station. Dave Frisina said its gaining listeners every day from around the country. I wonder if the gain will ever be enough to finance the on-line station.
Later the same day, I went to the Cumulus building. I saw Operations Manager Tom Mitchell and 93Q afternoon DJ Rick Roberts. I've known Tom for at least ten years; I met Rick two years ago. In fact, when I was at the station two years ago, I gave Rick a couple of old air checks from previous visits.
I also met promotions director, Janice, who gave me a nice swag bag before I left. In fact, she told me to contact her in a couple of weeks and she may have some more stuff. This is why I love to make friends with the promo people, always some great swag.
Next, it was down to the inner harbour, where studios for The Wolf, The Dinosaur and The Beat are located. I wanted to see Skip Clark, again; I had some old air checks, from 2006 and 2007, I wanted to give him. I forgot to bring them to lunch, so this was just an excuse to see the stations again.
I finally met another Syracuse radio legend, Bob Brown; he does the afternoon show on The Dinosaur. My other long-time friend, John Carucci, was there and we made lunch plans for Wednesday.
The other person I wanted to see was the mid-day DJ for The Wolf, Heather Daley. She is by far one of the sweetest people I met. She's a great DJ, too.
• Wednesday was full of radio people, too.
I had a full day planned for Wednesday, starting with meeting fellow radio nerd Scott Fybush, at Armory Square, where Galaxy Broadcasting is located. I had plans with another long-time radio person, Glen "Gomez" Adams, to meet him at the stations, too. While I waited for the call from Gomez, Scott and I had coffee and talked radio.
Gomez finally called. We met him outside and had the fifty-cent tour. I had been there two years ago, but Scott had not seen the stations. One of the first people I saw was another long-time area DJ, Mimi Griswold; she told me that next Friday, 28 June, is her last regular mid-day show. I'll be recording that for sure.
Then we met afternoon DJ and production director Rick Deyulio. What a cool fellow. We talked music, airchecks and production. I think we could have done that all day.
I met Josh from WTKL KRock last time I was there and we had a quick hello, as we were going to the WZUN Sunny 102.1 studio. Unfortunately, it was empty. Diane Wade the mid-day DJ only comes in twice a week to voice track her show and afternoon DJ Rick Gary was on vacation.
I also brought some old airchecks for Gomez. I had some for Rick, as well. I hope Gomez remembers to give Rick his CDs.
As we were wrapping it up, we met Promotions Director, Zach, whom I asked for t-shirt. He had one TK99 shirt. I told Scott, "Sorry, this is mine since it's my last visit."
We said our goodbyes and it was on to my next adventure. I was meeting John Carucci and Gary Dunes at Tully's, a local chain on Genesse Street. It seems everything is off that street.
John and I caught up and Gary Dunes showed up an hour or so later. He had some chores to take care of, so I was happy he was able to make it, at all. John is working part time at 94.1-95.3-103.9 WSEN The Dinosaur. They call it Classic Top 40 and the station is doing well.
Gary is working at WMCR 101.1 The Wave, out of Oneida, but their offices are in North Syracuse. Gary and the rest of the DJs are voice tracking their shows from their homes, since the station is just starting out. As Gary has also been in Syracuse radio for over 40 years, he knows everybody and everybody knows him; thus, he also sells advertising for the station. Gary also has two bands, Code Red and the Gary Dunes Band, both of which he is the lead singer.
• Hitting the road with a parental unit.
In between all of this, I helped dad pack and prepare to leave on Thursday. I arrived at his building a little before 9 am to get started; his friend John was there to help, too. When we're in the lobby, talking to the woman in the office, arranging for a dolly and hand truck, two neighbours, Lewis and Donna, offer to help. I was very happy, as this saved a great deal of time.
In the apartment, Lewis starts to load all the boxes, as Donna is moving things into the living room. Dad tells them they can take pretty much whatever they want. VHS tapes and DVDs are everywhere; dad is leaving most of the movies behind. He also has a microwave, sheets, towels and other household items, which others may have, as thanks for helping out.
It was pouring rain at this point. I pull the car into the garage to start loading it. Dad has a 2017 Chevy Cruze hatchback; I have it loaded to the gills. I packed everything and could barely close the hatch.
Off we go. I figure it would take four or five hours, depending on traffic, to get to our home. Dad takes the first part of the trip out of the city; we switch after an hour. I drive for two hours; dad takes the final ninety minutes. We made two rest stops for a total of twenty minutes.
I had Google Maps going and a print out of an alternate route. Somehow, we missed the turn, exit or whatever after Binghamton and stayed on Route 80, which took us to the George Washington Bridge and the dreaded Cross Bronx Expressway.
There was traffic almost all the way home after the bridge. It took us five and half hours door to door. Boy, were we tired.
My younger daughter, Melissa, was a huge help. She unloaded most of the car and helped dad unpack pretty much everything.
To all my Syracuse friends, thanks for everything and we'll meet again in the future.