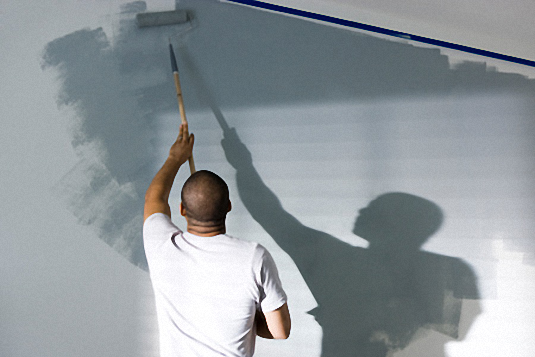 Every few years, three words send a chill up the back of every man. Those words are interior house painting. Usually, the wife says, "Honey, it's time to paint the house. The colours are old and worn. I want a cleaner, more attractive house."
► I started but didn't finish.
We haven't painted our house in six or seven years. The last time, I started the project, but didn't finish it because I hurt my back and was in bed for a week. I started in the dining room and ended up in excruciating pain. My daughter, Melissa, and wife, Marcy, finished the job, but not very well.
I'm good at painting, but never enjoy it. I found the prep work takes almost as much time as the actual painting. This is because I use painter tape on everything for a nice crisp line.
This time, I knew we had to hire an expert to paint the entire house. Yes, I said the entire house. The living room, dining room and hallway were going to be one shade of blue, the kitchen would be a light gray, the back bedroom another blue; Melissa wanted a darker gray and our room would be blue, as well. This time is would be a little darker than before.
Melissa insists her room is blue. If you stand at her doorway and look at her room and the hallway, you see the difference. It's a matter of light refraction and eyesight, I think.
I interviewed at least six painters and one company. The first painter set the price, in a way that came within our budget, but did not include paint. By the time paint was included, he went over budget.
The second estimate was from two painters that had no reviews, yet. After seeing their price I could understand why, they came in at over $10,000. I laughed when I read their email.
A couple of other painters came in around the same price as the first one. Another one never got back to me with a price. A fourth called after I made my decision.
The one company I called sent a commission-based representative; he emailed me a price the next day. Again, he came in over budget. He followed up, saying he was willing to "work with me," but I don't think he was going to lower his price by a $1000.
Let me add that not only did we need the painting done, but also some carpentry in the master bedroom, three new fans put up and one relocated. We also wanted to put up a new light in the dining room and two sconces in the entry area.
► The recommendation of a friend got the job.
A friend from high school and college gave me a recommendation of painter he used. I called to make an appointment. Robert, the recommend painter, came over the next day, looked around and said that for the amount of work we wanted, he would do it all for a flat rate per day. Since he could do all the work, we agreed.
Two weeks later, we agreed on a start date of 3 June 2019. A week later, he told me his granddaughter was going to help him and she would be getting her own rate per day. I thought that was okay, since the job would go faster and still would be within the budget.
The granddaughter was a nice young woman, but her painting skills were not the best. We had to point out various areas that had to be touched up and even now, a week later, I see spots I must re-paint. I wanted the small crown moulding and window in the bathroom painted. She didn't do those. She also didn't paint any of the windows in the bedrooms.
Robert, however, did a great job in our room with the crown moulding, new moulding around the doors and baseboard. He also installed four new six-panel pine doors as sliders for our closets. My summer project will be staining them. I've done those doors before and they're easy, just time consuming.
I did use Home Advisor and Angie's List for the first few recommendations. Both are somewhat limited in my area, so I had to dig deep and put in several zip codes to find enough people. The first fellow told me that for every lead he gets, he pays $150 to Home Advisor. Now, I don't know if that's just for the lead or after he gets the job. I was too stunned at the amount to ask further questions.
The funny thing is, out of the people I met with, only one followed up and asked for the job; that was the rep for the company. Are these painters so busy with work they can afford not to follow up or offer a better price? To me, a better price is more than $200 off, which was less than 5%.
When doing a job like this, you have to look not only at the price of labour. You must factor in paint and the other accessories. We spent $500 on paint, $434 on the doors, $260 on the moulding and $450 on the fans and fixtures. That stuff adds up fast.
► Lesson learned.
In the end, it was all worth it. We're happy with the result. The lesson from my adventures in house painting is to do a little homework to find the person or company you feel comfortable giving your hard-earned money. Have I mentioned how much I hate painting?