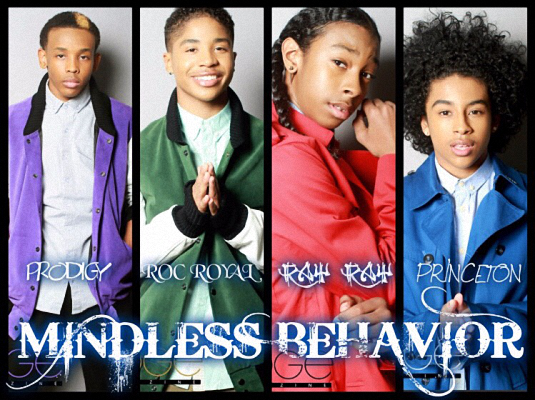 Mindless Behavior, teen boy-band sensation widely known for hits "My Girl" and "Mrs Right" as well as the 2012 BET Viewer's Choice award, came to an all-too-soon end after each of their members left, one by one. Why did the members of Mindless Behavior leave the band? Who might be to blame?
► First to go.
Lead singer, Prodigy, was the first to leave Mindless Behavior. He was also the only group member that could sing. Officially, he left to pursue a solo career, which is a common move. He took to the stage name "PradaG" for his unsuccessful solo career.
Fact is bulling pushed Prodigy out of the group. Walter Millsap, CEO of Interscope Records, to which Mindless Behavior were signed, tried to turn the rest of the group against Prodigy. Manager Keisha Gamble and songwriter Vincent Herbert reportedly were also involved in forcing Prodigy out of Mindless Behavior.
After a series of run-ins with the law, Roc Royal was out of Mindless Behavior. In 2014, Roc Royal stole the car of his producer. In 2016, he faced robbery and assault charges; he beat up a homeless man over ten dollars. On this charge, Roc Royal took a two-year plea deal and released, for good behaviour, in the summer of 2017. Manager Keisha Gamble was responsible, at least implicitly with keeping Roc Royal in line, but she didn't or so it seems.
Roc Royal returned to jail in October 2018; there are rumours he is out, but no confirmation. Roc now goes by the stage name "Santo August," in his unsuccessful solo career. Roc has two sons, Royal, age five, and Bron, age one.
Ray Ray, the lead dancer, rapper and background vocalist, was third to leave. Although he never explicitly said why he left, he posted to Twitter, in February 2018, explaining his grandmother died, at the end of June 2014, three days before the all Around the World Tour. Gamble and Millsap apparently told him to suck it up and do the tour anyway; the show must go on.
He didn't get to mourn his grandmother until the end of 2015. That's a long time to wait to grieve. Ray Ray occasionally throws shade on the group, as since his reason for leaving was gross negligence. Ray Ray gave up music for a long time, but is now pursuing a solo career. Ray is also a father to his now two-year-old son, Sane.
Princeton, the spokesperson, background vocalist and dancer was the only member of the original four to stay. He formed a three-person group, with Mike River and EJ, Elijah Grant, also a one-time member of Mindless Behavior. River and Grant were background vocalists and Princeton was lead singer. This cripplingly terrible version of Mindless Behavior recorded one album full of trash music before breaking up to pursue even worse solo careers.
► Princeton became Princeton Perez.
Princeton adopted the stage name "Princeton Perez." Supposedly, he is trying to develop a solo career. He has barely released one song and still has Keisha Gamble as his manager, which is no accident.
Mindless Behavior was the creation of the same person that destroyed them, Keisha Gamble. She, it seems, is the one that broke up the group. Although no one was willing to see it, Gamble appears to have done them in, ruined their careers and, perhaps, their lives.
As soon as the money slowed down and began to dry up, Gamble ruined Mindless Behavior. She chose to rip the hearts out of the chests of the members one-by-one. If this is true, one wonders why.
Gamble manipulated the members of Mindless Behavior, controlled them at every turn and critically overworked them. She worked the band, as if they were dogs, for two years before Mindless Behavior launched and throughout the life of the band. Gamble convinced them extreme hard work was best for their careers. She pulled the strings in everything they ever did.
If you research the net worth, of Mindless Behavior, for each of their years, you will see the amount is depressingly low. This may mean Keisha Gamble embezzled money from them. No one knows, for sure, what Gamble may or may not have done, but suspicions exist.
Keisha Gamble also started rumours that Prodigy left to pursue a solo career. She always painted herself as the hero of Mindless Behavior. She built this reputation on her own, therefore, it's hard not to believe she's capable of hurting them; Gamble was the one sabotaging them right under their noses.
Part of the reason she wanted Mindless Behavior broken up is to manage the one she really wanted: Princeton. Keisha remained the manager of Princeton, for a second time, because Princeton was easy to manipulate, as a kid and as an adult.
Princeton throws shade on Mindless Behavior in all of his interviews. He does this because Keisha convinced him it will help his solo career if people believe his problem, in the music industry, were a result of being in Mindless Behavior. His solo career, it's implied, will be problem free.
► The evidence seems compelling.
Keisha Gamble, it seems, robbed, manipulated, overworked, controlled and, ultimately, destroyed Mindless Behavior. If history repeats itself, which it often does, the same thing will happen to Princeton. His career will be great for a few years, exploited to the maximum and, at some point, he and his career disappear.