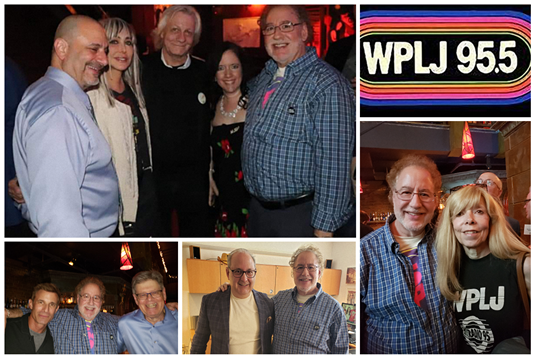 Top left: Ray Rossi, Carol Miller, Jim Kerr, Ruby Tuesday and Matt Seinberg; Lower left: AJ Hammer, Matt Seinberg and Fast Jimi Roberts; Lower Centre: Dave Labrozzi and Matt Seinberg; Right: Matt Seinberg and JJ Kennedy.
Previously, I wrote of the impending demise of WPLJ-FM, in New York City. Cumulus Broadcasting sold the legendary radio station to the Educational Media Foundation. Henceforth, its format is contemporary Christian pop, K-Love; rumour is that call letters, "PLJ," now stand for "People Love Jesus."
► Why discard the legendary call letters?
I don't understand why Cumulus didn't want to keep those iconic call letters, as intellectual property, perhaps. It could have parked WPLJ-FM on any number of other stations it owns, including Love 105 in Minneapolis, MN. The iconic call letters, WLUP-AM, the Loop from Chicago, Illinois, are in hibernation up there, now.
Roughly, two weeks ago, I received an email from Scott Lakefield asking if I could provide WPLJ-FM air checks for a project he was working. He gave me a list of what he wanted. I said sure and started to upload them as fast as I could.
In his next email, he told me why he needed the air checks. Scott is the Assistant Programme Director for WOR-AM and his boss is Programme Director (PD) Tom Cuddy. Cuddy was once the Vice-President of Programming for WPLJ-FM; he was organizing a farewell reunion of past and present staff for 21 May 2019.
I had read of that party on AllAccess.com and considered writing to see if I could attend. I never did. During that week, though, I was chatting with a Facebook friend, Ruby, and she invited me as her plus one. Woohoo; it was certainly a way in the party.
In one of my emails with Scott, I asked if I could attend; he replied that he would ask Tom. A couple of days later, I heard back that I was in on my own. I told Ruby the good news and now she could bring another friend.
Ruby and I arranged to meet at the venue, The Cutting Room, in New York City, before the gates opened at 6 pm. Here's an entirely incidentally note: Chris Noth, of Law and Order, Sex in the City and The Good Wife, among other television shows and films, owns the Cutting Room.
I kept sending audio to Scott; he turned it into a two-minute montage of many of the past WPLJ-FM disc jockeys (DJ). He sent me a copy, which I have yet to hear. It was impossible to hear the montage the night of the party, as a room full of DJs is necessarily raucous.
I also discovered my friend, Bob Gilmore, was going to be the official photographer of the event. We made plans to meet at the radio station. WPLJ-FM is located at 2 Penn Plaza, right above Pennsylvania Station, where the Long Island Railroad arrives.
It took me a few minutes to locate the entrance. I texted Bob and Dan Kelly; he's the production director of WPLJ-FM. Dan and I have been Facebook friends for many years and it was only now that we were getting to meet, face to face. He arranged me to get into the station.
Dan gave me the fifty-cent tour. First, we ran into Bill Ayres, formerly "Father Bill." He hosts a one-hour public affairs show Sunday nights at midnight. Although I hardly listened to him over the years, I certainly knew who he was and it was an honour to meet the longest running air personality on WPLJ-FM. We took a couple of pictures and moved on.
The next stop was the production studio, where we ran into Mike Allan, the assistant PD of WPLJ-FM as well as voice-tracked night DJ. When we were in the studio, Katie Neal, the midday DJ from WNSH-FM 94.7, walked in to say hello and goodbye. The next day, the station was relocating to the Entercom facilities on Hudson Street. Katie is such a sweetheart and I got some pictures with her as well.
► Race Taylor was on the air.
The next stop was the main WPLJ-FM air studio where Race Taylor was on the air. Again, although we had never met, we were Facebook friends. He thanked me for doing what I do for radio, which seemed the sentiment of everyone I met. I guess Big Apple Airchecks is more widely known, more respected, than I thought.
Bob Gilmore was taking pictures; of course, I had him take a few of me with Race. The next thing I know, in walks another Facebook friend and fellow WEBE-FM alumnus, Robbie Bridges, with his fiancée, Rochelle Gagnon. He's the only one that still calls me Magic Matt.
All this time, I'm getting text updates from Ruby on where she is in her journey from Brooklyn. We were on time to meet after five, at The Cutting Room.
Dave Labrozzi, the current PD, of WPLJ-FM, came into the control room to say hello. I knew of him because he was the PD of WLIF-FM, in Baltimore, where Jimi Roberts is now working. We had a first-hand connection. I wanted to talk with him more, but Dave had to leave.
After hitting the men's room, I see Labrozzi in the hallway and we start talking. We go into his office, where he plays me what the last song they are going to air on WPLJ-FM. I suggest he should also play The Big Montage, which Pat St. John produced in the 70s.
The Big Montage is twenty-two minutes of music clips that all have themes. The next day, I sent Labrozzi the download link; I hope he uses it. It would be the perfect finale to the end of WPLJ-FM. I also posted the link on Facebook that day and there were so many downloads that it ate up all the bandwidth for the entire month.
The next and last stop was the 94.7 control room, where I met long time afternoon DJ, Jesse Addy. This was his last day in the studio, which used to be Rocky Allen's afternoon drive studio. We took some pictures, talked about mutual friends and so forth.
It's time for Bob and me to hit the road to meet Ruby at The Cutting Room. The walk only takes a few minutes. While Bob gets a drink, I look for Ruby.
It turns out she was in a doorway right before The Cutting Room, which is why I didn't see her. We hugged like two long lost friends who haven't seen each other in years. Her mother was afraid of her going to this party alone, so I had to promise to watch after her as long as she introduced me to people.
As we were waiting outside, I saw an older fellow walking down the street. I tell Ruby I recognize him. As he passes by, I say hello, and ask, "Are you Allen Shaw?"
He smiles and says yes. I introduce us and say how it's an honour to meet the father of WPLJ-FM. Allen is the man who chose the call letters and initial air staff.
Then my old friend Ray Rossi shows up. Then Art Vuolo, "Radio's Best Friend," comes out from inside The Cutting Room. I had told him of the party and asked him to get me into the Room. I never heard back from him. He did admit that I am the air check audio king, whereas he is the air check video king. I'll take that title any time.
The doors finally open and people start streaming into the Room. The first person I met was Scott Lakefield; he thanked me profusely for helping him with the project. I thanked him for getting me into the party.
► Next up was Dave Stewart.
The next fellow I saw and had to meet was Dave Stewart, the current overnight DJ on WCBS-FM and the former long-time overnight host on WPLJ-FM. He asks if we had met before; we hadn't. He's going to do the June intro for Big Apple Airchecks. He did one about four years ago, so it's time for new one.
Then I see my old friend Fast Jimi Roberts arrive with his wife, Sarah. Right behind him, a surprise friend, AJ Hammer, who I haven't seen since 1990-something. He goes for a bro hug and I said, "Fugeddaboutit" and gave him an old friend so good to see you hug.
I got an email from Jimi Roberts a few days earlier, but he didn't give me any indication that he was going to the party; it was a great surprise to see him. I hadn't seen Jimi in years, though we had been corresponding and talking often. He sent me a box of cassettes containing his radio life, which I am slowly converting to digital files. It was so nice to meet Sarah, finally, with whom I'm also Facebook friends.
Ruby introduced me to Tom Cuddy; he thanked me for helping with the audio project. I thanked him for inviting me. This is an event a radio geek, such as I, had to attend.
I also saw my very old friend Jim Kerr. We first met when I was still in high school; that was roughly 1974, when he first joined WPLJ-FM from WLS-AM in Chicago. I hadn't seen him since the WNBC-AM and WYNY-FM Reunion in 2004.
Carol Miller, currently at WAQX-FM Q104 was also there. We corresponded over the years, but never met. After I said hello and introduced myself, she says, "I remember you. You got my air check into the movie, Gracie." Oh my god, you remember that? It's so nice to meet you, finally.
I met Jamie Lee, the former host of Saturday Night 80s and saw Jimmy Fink, who I first met in 1978. I turn around and there is my long time radio sister, JJ Kennedy, with her husband Charlie. Talk about a hug that lasted. Every time I turned around there was a familiar face.
After I saw Jamie, there was Paul Cavalconte, formerly of WQCD-FM. It turns out he was an intern at WPLJ-FM and was making a quick pit stop at the party. I don't remember if we ever met or not, but we greeted each other like long lost friends as well.
Scott Shannon was there. I got a quick hello and picture. He was in such demand that it was impossible to get any face time with him. My old friend Jimmy Diele, "Cousin Vinny" to some, was there, too. He travels more than anyone I know and always posts pictures with many celebrities.
In the 1980s, a DJ called himself Sky Walker. Well, that was Blair Garner; he now hosts an overnight country show for Westwood One Radio Networks. Again, I introduced myself and told him he had to meet Sky Walker #2, also known as Jarrett Galeno, who does weekends on WPLJ-FM. I later saw Jarrett. I told him Blair was there and they should meet. I don't know if that happened.
Bill Evans, the new owner of WLNG-FM was there and Ruby got a photo us. One fellow that I recognized was Peter Bush, formerly of WEBE-FM. I introduced myself; he gave me a huge hug and thanked me for everything I do for radio. Funny, I kept hearing that all night. I must have more renown than I thought.
Here are some other radio folks I met and had photographs taken with: Joey Kramer, Ralphie Aversa, Tony Banks, Danny Meyers and Alex Bennett. With over 400 people at the party, it was next to impossible to see everyone.
► A proper send off for a legendary radio station.
I heard from Bob Marrone the next day saying he saw me, but couldn't get over through the crowd. I didn't see him; otherwise, I would have waded through the crowd. A fun night was had by everyone and a legendary radio station is getting the proper send off by the people who it, and each other.
To me, though, it's always, "95.5 ... WPLJ ... New York's Best Rock."