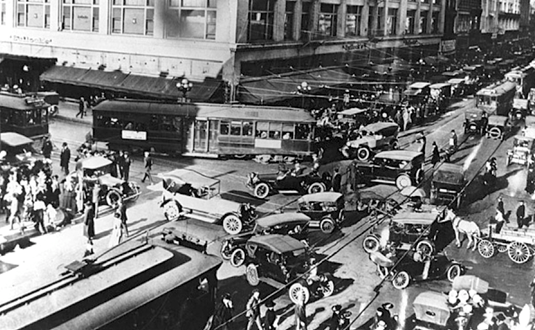 Over the next year or two, it's going to get busier and busier in downtown Picton, Ontario. The Royal Hotel will open. The renovations to the Picton branch of the Prince Edward Count (PEC) Library will take place. Condominiums will appear in the upper and lower parts of downtown.
► A crimp in downtown urban-chic.
It all promises to be very urban-chic. Yet, there still seems to be something missing. Call me a lunatic, but I find the lack of a pedestrian crossing at the Town Hill intersection of Main Street, the Loyalist Parkway and County Road 49 a serious crimp in downtown style of Picton.
The intersection is bad enough from a traffic standpoint. The uphill traffic coming from the south has the right of way to turn left at the top of the Hill. This is a holdover, I understand, from horse-driven days: you need momentum to carry you over the hilltop.
Turning right, whether you're coming from the south, east or west is relatively straightforward. Still, it's vaguely unnerving to wait as traffic whizzes up the Hill and through the intersection, without stopping or slowing. Walking across this intersection might be a viable Olympic sport.
Turning left, whether from the east and going south or coming from the west and going east, is a dicey proposition. There is no intersection-specific rule of automotive priority, so you must use the default rule of first arrival. Who decides who arrives first?
A friend lives near the intersection. He fancies himself as an amateur anthropologist and thus likes to categorise what he sees. He says priority is to or taken by gravel trucks, farm equipment, 4x4s with jacked up suspension, especially if covered in mud or without a functioning muffler, stretch limousines, motorhomes, RVs and trailers, which is too long a list to formalize on a road sign.
The intersection gets even worse for the pedestrian. They must anticipate traffic from all three directions before venturing forth. The anticipation can make you late, keep you waiting.
I assume we would have seen a traffic light or pedestrian crosswalk at the top of Town Hill years ago, if it were a simple matter of just installing one. There must be a rule about angles of incline or something similar standing in the way. Still, you would think that these days, with so little equine traffic and so few cars having slip-able clutches, that shouldn't be a problem.
Perhaps, it is necessary to consider more options that are imaginative. What of a pedestrian footbridge, for example, the one in Pickering, which crosses 14 lanes of Highway 401, is almost complete. It looks like a Slinky toy on its side and even though construction was delay for years, it's about finished. It should be a piece of cake to build one spanning two lanes, in downtown Picton, even though it needs to have three entry points.
► A low bridge, a high bridge or no bridge.
I suppose there may be a slight problem building the bridge high enough that traffic passing underneath it doesn't knock it out of line. If built with as much clearance as the bridge at the Belleville train station, it might be too much of a challenge for those who have barely survived making it up Town Hill from the south, in which case, we should be talking about a funicular running up and down the Hill.
Still, our bridge doesn't have to carry the weight of automobiles. Why not incorporate the Murray Canal model; that is, a bridge that can swing on demand to accommodate extra high loads. Now that wind turbines aren't coming to the county, how many extra high loads can we expect?
Building the pedestrian bridge to a certain height could become an interesting design challenge. Why not, for instance, replicate the notorious "Maman" spider statue, which stands in front of the National Gallery, in Ottawa, with three of the eight drop down legs as stairs? It would be very Star Trekky. It could become a tourist attraction.
If the bridge is impossible, technically, why not dig a tunnel. They're considering that option to replace the Little Current swing bridge on Manitoulin Island. If they can do it, surely we can.
I'm not saying that a tunnel is the most romantic of venues. I admit it could become a haven for skateboarders and drug dealers. Still, with a little old-fashioned County gumption the project could work.
Who knows: meeting at the underground central chamber supplied by one of three feeder tunnels could become quite a landmark rendezvous point. Besides, skateboarders are not actually bad people. Marijuana is legal.
Whether bridge or tunnel, you must figure there's a federal grants programme waiting to dole out money for infrastructure, safety, transportation, environment or whatever. If Tony Clement can fund a gazebo under the guise of funding a G-summit, Neil Ellis should be able to think of something. Todd Smith is in-like-Flynn with Rob Ford, so we could call on him too.
► Urban sophistication ala Picton.
The main obstacle, it seems to me, would be jealousy from other communities in the county. Wellington still feels owed a roundabout after Picton got one at Sandy Hook road. Picton has two sets of traffic lights, whereas Wellington has only one. Maybe, if Picton is to get a bridge or tunnel, it might be necessary to put parking meters on Main Street, in Wellington, to make it feel as if it is keeping stride with its cousin in urban sophistication. That would be a small price to pay.
Some readers seem intent on nullifying the authority of David Simmonds. The critics are so intense; Simmonds is cast as more scoundrel than scamp. He is, in fact, a Canadian writer of much wit and wisdom. Simmonds writes strong prose, not infrequently laced with savage humour. He dissects, in a cheeky way, what some think sacrosanct. His wit refuses to allow the absurdities of life to move along, nicely, without comment. What Simmonds writes frightens some readers. He doesn't court the ineffectual. Those he scares off are the same ones that will not understand his writing. Satire is not for sissies. The wit of David Simmonds skewers societal vanities, the self-important and their follies as well as the madness of tyrants. He never targets the outcasts or the marginalised; when he goes for a jugular, its blood is blue. David Simmonds, by nurture, is a lawyer. By nature, he is a perceptive writer, with a gimlet eye, a superb folk singer, lyricist and composer. He believes quirkiness is universal; this is his focus and the base of his creativity. "If my humour hurts," says Simmonds,"it's after the stiletto comes out." He's an urban satirist on par with Pete Hamill and Mike Barnacle; the late Jimmy Breslin and Mike Rokyo and, increasingly, Dorothy Parker. He writes from and often about the village of Wellington, Ontario. Simmonds also writes for the Wellington "Times," in Wellington, Ontario.
More by David Simmonds:
Tell a Friend
Click above to tell a friend about this article.