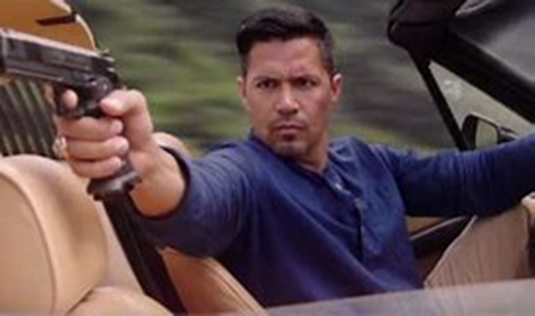 Jay Hernandez, as Thomas Magnum, in the CBS 2018 reboot of Magnum PI
Fall is my favourite season of the year. Not only for the cool change in weather; colourful leaves and apple picking, but for the debut of the new television shows that always happen in September. Even as kid, I loved getting the fall preview issue of TV Guide and devouring it from cover to cover.
Even now, as an adult of a sort, I still wait for this special issue of TV Guide. Last year, I missed it at the stores and my friend, Scott Fybush, sent me a copy from Rochester, New York. This year, I have a free subscription to TV Guide, courtesy of JetBlue points.
I think I have issues, of TV Guide, going back to 1978 or so. Maybe two or three issues are missing. I'll have to remember to sell the collection before I die.
So, an annual ritual, for me, is reviewing new show previews. Let's get on with my thoughts with this upcoming fall 2018 television season. I'll go over it night by night, with networks in alphabetical order. Unlike the old days, not every television network has new shows every weeknight.
Sunday
Fox has Rel, starring comedian and actor, Lil Rel Howery, as a husband and father living in Chicago when he finds out his wife is cheating. The show follows his life after the divorce. It's a mirror for any divorced man. My take is to try it out. If the first episode doesn't grab me, I'm done.
CBS has God Friended Me, which stars Brandon Michael Hall and is the other side of the cancelled Living Biblically. God befriends an atheist and life transforms for the latter, I guess. Is it possible that life will change for God, after meeting this atheist? I'm interested in how the life of an atheist transformed and do we really care?
Monday
CBS has a Magnum PI, a reboot of the 1980-1988 show. The reboot stars Jay Hernandez. The original starred Tom Selleck, who is firmly ensconced in Blue Bloods. Hernandez is a Navy SEAL that returns from Afghanistan to become a private eye. He won't replace Tom Selleck, but who can? Who will replace John Hillerman, as Higgins? The Magnum PI reboot comes from the same team that brought back Hawaii Five-O, successfully, a few years ago, so look for a crossover episode. My take is I liked the original. Bikinis on a beach, fast cars, helicopters and best friends solving crimes together should make for interesting stories, thus, what's not to like in the reboot.
The Neighborhood takes a man and his family from the Midwest to a neighbourhood in Los Angeles, which doesn't always appreciate his friendliness. It stars Cedric the Entertainer and Max Greenfield. My take is that Cedric is always funny and Max is annoying. Let's see that this combination does.
Happy Together, a new television serious, not the song, from the 1960s, by the Turtles, stars Damon Wayans and Amber Stevens West as a married couple rediscovering their younger, cooler selves when a pop star moves in with them. A pop culture note, Ms West is the daughter of radio legend Shadoe Stevens. My take is I'll try it and see what happens. Maybe I can become cool again, too.
NBC has Manifest, the story of an airplane that takes off one day and lands five years later. Think of the scene, in Close Encounters of the Third Kind, when the long-missing pilots and citizens disembark from the spacecraft. What happened to those people, afterward? Friends and family mourned those lost, but must accept they are back. Not all is, as it seems, at first. The returnees must accept their new reality and their destiny. My take is that it's much like Lost, but with time travelling. A sci-fi drama should find a home. I'll watch it once, for sure.
Tuesday
NBC has New Amsterdam, based on the famous Bellevue Hospital, in New York City, which sees the good, bad, the ugly and the even more ugly. My take is that if you like medical dramas, watch at least one episode. There are millions of stories in the naked city.
ABC has The Connors, a Roseanne return without Roseanne Barr. The network cancelled Roseanne after the insensitive, shall we say, remarks by Ms Barr. After she renounced all creative and financial control over the series, the rest of the cast and crew again found employment.
One potential problem for the reworked show is a lack of an obvious central comedic character. Roseanne centred on Ms Barr, a comedian with no particular ability to act, but surrounded by seasoned, A-list actors; all she had to do was hit the punch lines. This made the show work as it made Seinfeld work. My take is that I like John Goodman, so let's see him lead this motley cast to high ratings.
The Kids Are Alright, the title lifted from a Who song, is the story of a Catholic family living in Los Angeles during the turbulent 1970s, trying to raise eight children. Is it a mash-up of The Goldbergs and The Wonder Years? Didn't CBS try this a few seasons ago with the show set in Boston and cancelled it after less than one season? My advice is to watch an episode, of The Kids Are Alright, and see what's what.
The Rookie stars Nathan Fillion as forty-year-old rookie Los Angeles cop, John Nolan. To me, Fillion is still Castle, the mystery writer who worked with the NYPD. For him to be a cop here is quite strange. My take is the show will do well because Fillion has a television following.
Splitting Up Together stars Jenna Fischer and Oliver Hudson as a couple splitting up and still living together for the sake of their kids. This is a common circumstance, often abetted by economics. The possibilities are good, such as arguments over territory in the fridge and cupboards, sleeping arrangements and so forth. My take is a huge yawn.
Wednesday
ABC offers Single Parents by taking a group of parents of seven-year-old kids and stirring a pot full of stars, such as Brad Garrett, Leighton Meester and Taran Killam. Let's see what happens when they try to maintain friendships and sanity. My take is that, sure, why not? It's always fun watching parents trying to raise young children. Been there, done that.
A Million Little Things is the story of a group of strangers stuck in an elevator; they bond during the ordeal. When one of them dies, suddenly, after their rescue, it's the wakeup call they have all been waiting for to live their lives. My take is that A Million Little Things is another ensemble drama that wants to take on This Is Us and be another Thirtysomething.
Thursday
Murphy Brown returns to CBS. I loved this show, first time around, and Candace Bergen still has it. Murphy gets the old gang back together, which includes the son she had in the first go around. My take is this is a sure winner, big hit and a must watch.
NBC has I Feel Bad, a new comedy from Amy Poehler. The story follows wife and mom, Emet, portrayed by Sarayu Blue, as she discovers she's not perfect. Does Emet feel bad about having a sex dream about a man other than her husband? My take is not one of us is perfect, so why feel bad about it? Just go with it.
Friday
Fox has the return of Last Man Standing. It's not a reboot, but a pick up by Fox, of the Tim Allen and Nancy Travis comedy. ABC cancelled the show last season, ostensibly because of conservative political views held by Allen. My take is that it was funny the first time around and I hope it will be funny this time. The entire cast returns and it's always a pleasure to see Hector Elizondo get into it with Tim.
NBC has Midnight, Texas. The theme is that this small town has many creepy goings on. They try to fight off supernatural beings, violent biker gangs, corrupt cops and more. I'd like to know what the might be more is in this case. My take is it's another sci-fi drama, which hopes to snare a creepy audience.
That's it for now. More to come as other new shows find places on network schedules.