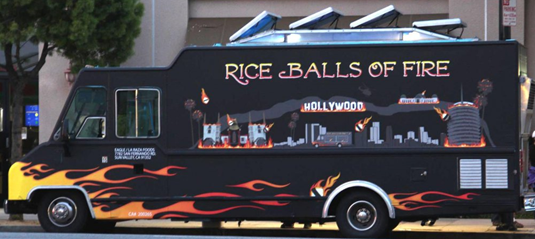 Within a week, I overheard the same conversation about the same subject, rice balls, in two different places. What are the chances of different people in two different locations talking about rice balls? I would think slim to none.
---
I love rice balls.
---
The first happened at work, when one of my female coworkers ordered some rice balls from the well-known Italian restaurant in our shopping center. When she brought them into the lunchroom, they smelled great. It was an order of three that she was going to share it with another co-worker. I think she said they cost $15, which I thought was expensive.
I mentioned how much I love rice balls. She smiled and nodded before cutting into one. The look of disappointment on her face told the entire story. She said that these rice balls were rather mushy, but tasted okay. That meant that they were undercooked. I told her she should call the restaurant to complain; maybe get a replacement.
My last comment was, "There's nothing worse than soggy balls." Dead silence. Then we both started to laugh.
She offered me half a ball. I agreed with her, the rice ball was soggy; it just tasted okay. There is nothing worse than soggy balls.
That happened Thursday afternoon. On Friday morning, I had an appointment at the podiatrist. As I approached the front desk, I heard one of the doctors mention rice balls, how the last batch he had were soggy. One of the women at the front desk agreed. I of course chimed in with "There's nothing worse than soggy balls."
They all laughed. I took a seat to wait. My mission of laughter, for the day, accomplished.
My daughter Michelle has a friend in middle school whose mother is a great cook. One day I went to pick up Michelle and detected something amazing wafting from the kitchen. Mom had just made a fresh batch of rice balls.
---
An almost perfect rice ball.
---
She offered me a rice ball. OMG, it was so good. It was crispy on the outside, firm and gooey on the inside. The rice and cheese and everything else melted together, just right, to form a little ball of heaven.
These were, by far, the best rice ball I ate, ever. Mom offered to send us home with some. Michelle declined; she knew I would take the offering.
Did I mention how much I love Italian food? A few years ago, I was having lunch with my friend, Al, at an Italian restaurant, which always keeps rice balls behind the counter. This time I decided to have one with a slice of pizza.
OMG, it was so good. It wasn't expensive at $2.75 each. For a normal person, it would have been a meal. For me, it was the appetizer. After the pizza, I felt stuffed.
For the graduation party for my daughter, Melissa, we ordered food from the same Italian restaurant from which we ordered before for her Sweet 16 party. I wanted to order half a tray of rice balls, but lost the vote. We ordered tray of chicken parmigiana, half a tray of eggplant parmigiana and half a tray of meatballs. My wife also made two trays of baked ziti; and only one got finished.
We had so many leftovers that we used every Rubbermaid plastic container we had and then some. Tonight I finished off the last of the ziti. I'm hoping there is nothing else left in that freezer. I love Italian food, but after all this, I can use break.
---
Rice balls must be firm.
---
Here's a last piece of advice before eating rice balls. Look at them to make sure they have a nice golden brown color, feel them if you can to make sure that they are firm. Then roll them around to make sure you can't easily squash them.