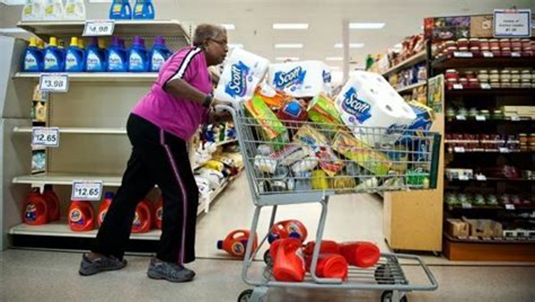 I have never warmed up to Costco. The warehouse shopping experience intimidates me and the crush of humanity gets on my nerves. That's particularly true when it comes to negotiating the parking lot.
---
Undercover operatives for auto body shops abound.
---
An undercover operative assigned to drive up business for an auto body shop seems to drives every fourth vehicle. Nevertheless, when a friend and I travelled to Kingston, a few weeks ago, we resolved to set foot in Costco to accomplish our assigned mission. That mission was to pick up a couple of bags of miniature dark Swiss chocolate bars.
The mission, accomplished without much fuss and bother, I felt a little sheepish carrying my purchase in my arms. Most people had carts loaded with big screen televisions, barbeques and frozen turkeys. Oh, yes, a stamped, to discover the best food sampling station of the day, almost trampled me.
I made a vow, at that moment, I would only return if hell froze over and I needed some road salt to traverse it.
---
Dark Chocolate Nuggets, with Coconut and Superseeds.
---
My friend, acting on an impulse, as good shoppers do, took a couple of packets of something we had never seen before and thus never craved: Dark Chocolate Nuggets, with Coconut and Superseeds, made by Innofoods of Coquitlam. BC. It consisted of clusters of coconut chips blended with pumpkin, sunflower and chia seeds, covered with Couverture Callebaut Belgian chocolate; the latter is apparently a very high quality chocolate with high cocoa butter content, used by culinary experts. Wearing more badges than an over-achieving boy scout, the product represented itself to be certified entirely organic, non-GMO, kosher, gluten free, vegan friendly and devoid of artificial ingredients. True, it had 110 calories per serving, but made in Canada, with imported ingredients. The British Columbia Buy Local programme supported the product.
All that package buildup suggested that the product itself would disappoint, but boy was I wrong. The Dark Chocolate Nuggets, with Coconut and Superseeds was sublime. We now have to ration it.
As I haven't found the dark chocolate nuggets, with coconut and super seeds, anywhere else, I am looking for an excuse to go back to Costco. Somehow, I will manage to overcome my reservations about the place. Food, especially recreational food, has a way of doing that to you.
Costco also has a way of sucking up the supply of foods to which it takes a hankering. Our local grocer can no longer stocks Sprague's Gourmet Butternut Squash and Sweet Potato Sauce. Costco takes all of Sprague's production.
All of which got me to thinking how vital it can be to have an association with a signature food. Would Montreal matter a hill of beans without Montreal smoked meat? Would Nanaimo make it on to any recognized map without Nanaimo bars? Where would Digby be without its scallops; Malpeque without oysters; Ottawa without beaver tails; Belleville without Hawkins Cheezies and, now, Coquitlam without dark chocolate nuggets, with coconut and super seeds.
I suggest Wellington County could benefit from having a signature food. Look what happened in the Kawarthas when they came up with the idea of the Buttertart trail or Warwick, Quebec, to which is attributed the origin of poutine. There was a tourist explosion.
Maybe our County signature food already exists and we just haven't recognized it. Perhaps it is coconut cream pie, touted by the Waring House as its perennial bestseller, or apple dumplings, brought to the table by the Hillier Women's Institute and already lauded in this column. Perhaps it's your neighbour's lasagna.
Maybe we should just come with a recipe that is tested and true. Then we can then give it a fanciful name. For example, take your basic pound cake recipe, top the product with a glaze of grape jelly and call it Athol Loaf, to give it that whiff of historical association with the County.
---
Athol Loaf capital of the world.
---
After that, set everyone loose. The idea is to come up with personal takes on the recipe. Soon, you'd attract food writers sniffing out the next big thing, and before too long you'd have foodies lined up to get over the bridges. After a while, the County would be the "Athol Loaf Capital of Canada, thereby cementing its place in the list of top 10 attractions in Eastern Ontario, right behind Costco.
Some readers seem intent on nullifying the authority of David Simmonds. The critics are so intense; Simmonds is cast as more scoundrel than scamp. He is, in fact, a Canadian writer of much wit and wisdom. Simmonds writes strong prose, not infrequently laced with savage humour. He dissects, in a cheeky way, what some think sacrosanct. His wit refuses to allow the absurdities of life to move along, nicely, without comment. What Simmonds writes frightens some readers. He doesn't court the ineffectual. Those he scares off are the same ones that will not understand his writing. Satire is not for sissies. The wit of David Simmonds skewers societal vanities, the self-important and their follies as well as the madness of tyrants. He never targets the outcasts or the marginalised; when he goes for a jugular, its blood is blue. David Simmonds, by nurture, is a lawyer. By nature, he is a perceptive writer, with a gimlet eye, a superb folk singer, lyricist and composer. He believes quirkiness is universal; this is his focus and the base of his creativity. "If my humour hurts," says Simmonds,"it's after the stiletto comes out." He's an urban satirist on par with Pete Hamill and Mike Barnacle; the late Jimmy Breslin and Mike Rokyo and, increasingly, Dorothy Parker. He writes from and often about the village of Wellington, Ontario. Simmonds also writes for the Wellington "Times," in Wellington, Ontario.
More by David Simmonds:
Tell a Friend
Click above to tell a friend about this article.