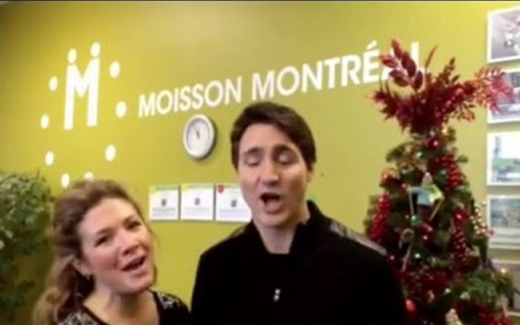 Sophie Gregoire and husband, Justin Trudeau, Prime Minister of Canada, duet on Jingle Bells.
In recent years, one of the talents Canadian public figures have acquired is the ability to charm with a song. Think of Margaret Trudeau, some years ago, she made up for the wife of the president of Venezuela or of the foray into song of her daughter-in-law, Sophie Gregoire Trudeau, on Martin Luther King Day. Think or cringe at the rendition of, 'When Irish Eyes Are Smiling," delivered for the benefit of Ronald Reagan on his visit to Canada by then Prime Minister Brian Mulroney; his performance was reprised for a few weeks ago at a charity fundraising dinner attended by Donald Trump. Think of Stephen Harper trying to humanize himself with his performance at the National Arts Centre of "With a Little Help from My Friends."
---
Music, today, is more important, diplomatically, than are the issues.
---
More often, these days, it seems the medium of diplomacy is music. We've come a long way since the days when oratorical skill and a familiarity, with pressing issues, were the main prerequisites to political success. Is it now becoming more important for would-be politicians to practise their musical chops than, say, to read up on macroeconomics?
To find out what the latest trends in political training for raw recruits are, we talked to independent consultant Jerry Mander, who runs the little known Toronto School of Political Arts. Says Mander, "We teach the softer skills, such as making a warm introduction; gripping with a firm handshake and looking people in the eye; remembering a name; moving around a room; holding a baby without making it cry or leak; posing graciously for a selfie with admirers; talking down to people without insulting them; appearing interested at church teas. Perhaps most importantly, we teach singing in public."
Tell us more about the singing, Mr. Mander.
"Well, you know what Maria von Trapp said, "Music acts like a magic key, to which the most tightly closed heart opens." Yet, you have to go about it deliberately.
---
Choose songs to sing, for diplomatic purposes carefully.
---
"First of all, you have to choose your repertoire carefully," says Mander. "You can't choose a politically incorrect song. That got John Crosbie into trouble years ago.
"You can't choose a song that dates you. I remember one candidate in the 2015 election breaking out into a Perry Como song. He had a great voice, but his repertoire sunk him.
"Nor should you choose music that's beyond your abilities. I had a student keen on Jimmie Rodgers, but he just couldn't yodel or, at least, he thought he could, but the voters disagreed.
"Moreover, you've got to sing with feeling, but you can't be pretentious and make like you're the original performer.
---
Know the message you want to sing.
---
"Second, you have to know the message you want to deliver to your audience. You can't insult people or hit them with a sledgehammer. I hear Mulroney's been working on, 'If I Ruled the World,' for his next gig in front of Trump.
"If I were advising Trump, I'd encourage him to woo the Australians by way of saying sorry to Mr Turnbull, for the telephone dustup, with a rendition of 'Political Science,' by Randy Newman. The song is about "dropping the big one," but there's a nice little bridge in it, which talks about saving Australia because we 'don't want to hurt no kangaroo.'
"If I were singing for the North Koreans," says Mander, "which would be a good entry point, if ping pong or basketball diplomacy doesn't work, I would choose, 'Let the Sunshine In'; it would convey a political message in the nicest possible way.
---
Sing with practiced confidence.
---
"Finally," says Mander, "you have to deliver the song with confidence. We start our students off with karaoke practice, in my office. Then they sing for other students, who can be the harshest critics. Then we take them down to a home for old folks, where the residents generally can't remember who they listened to, so if things don't go well, nobody is hurt. After that, they're as ready for prime time as I can make them."
Mander says that, "It sounds like a lot of work, and it is, but it can really pay off bigtime. I remember one Bay Street banker, a conservative candidate who was lagging way behind in the polls. That is, until he took off his jacket at a rally and launched into 'Bud the Spud.' He was unstoppable after that."
"Listen, I don't have much time left," says Mander. "Our new ambassador to Russia is holding on line two wanting some pointers. He's just about to do his version of, The Song of the Volga Boatmen.' for Vladimir Putin."
Well, thank you Mr Mander. Makes you think a bit, though. Maybe music does belong in our school curriculum. It might someday save the world.
Some readers seem intent on nullifying the authority of David Simmonds. The critics are so intense; Simmonds is cast as more scoundrel than scamp. He is, in fact, a Canadian writer of much wit and wisdom. Simmonds writes strong prose, not infrequently laced with savage humour. He dissects, in a cheeky way, what some think sacrosanct. His wit refuses to allow the absurdities of life to move along, nicely, without comment. What Simmonds writes frightens some readers. He doesn't court the ineffectual. Those he scares off are the same ones that will not understand his writing. Satire is not for sissies. The wit of David Simmonds skewers societal vanities, the self-important and their follies as well as the madness of tyrants. He never targets the outcasts or the marginalised; when he goes for a jugular, its blood is blue. David Simmonds, by nurture, is a lawyer. By nature, he is a perceptive writer, with a gimlet eye, a superb folk singer, lyricist and composer. He believes quirkiness is universal; this is his focus and the base of his creativity. "If my humour hurts," says Simmonds,"it's after the stiletto comes out." He's an urban satirist on par with Pete Hamill and Mike Barnacle; the late Jimmy Breslin and Mike Rokyo and, increasingly, Dorothy Parker. He writes from and often about the village of Wellington, Ontario. Simmonds also writes for the Wellington "Times," in Wellington, Ontario.
More by David Simmonds:
Tell a Friend
Click above to tell a friend about this article.