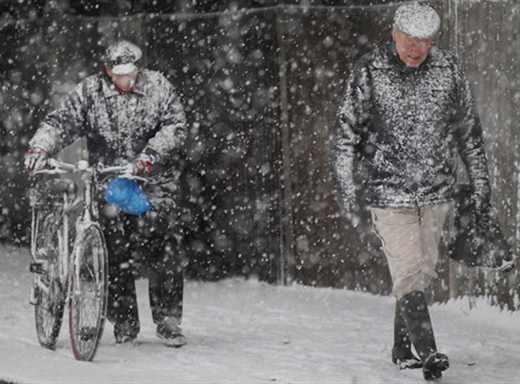 Frigid, artic, wind-chill three of my least favorite words, but alas, I hear them a lot since; it wouldn't be winter in Wisconsin without some combination of them, sometimes just for fun we throw in words like freezing, drizzle and whiteout.
This week it is a veritable smorgasbord of winter words, including frigid artic air and wind-chill, all on the same day.
Why, taking the dog out requires bundling up as if I am going on a spacewalk. As if reading my mind, the dog demands to go out. What does the dog care if it is 20 below zero? She has a nice fur coat.
I grudgingly put on my winter woolies and step outside. Good news, I don't immediately freeze solid-although, I think my left nostril did ice up. I am totally making one of the kids take her out next time (mom's privilege).
I hustle the dog around the yard, we make a brief stop at the mailbox and then it's back inside. One thing about the extreme cold, it makes the interior of my home seem like a sauna, instead of the frigid icebox that it normally feels like.
While thawing out I rummage through the day's mail and find a notice from my doctor. Oh joy; it is time for my annual probing. Really, again, so soon: oh how time flies.
This time my letter cheerfully announces that now that I am over forty--let's not be hasty I have 45 days left on forty here. Soon, I will be able to check the "over forty" box on surveys, just not yet.
I file the doctor's notice in the "do not disturb" pile and move on. Now, it's time to pay some bills. Is there anyone who does this cheerfully? I know I don't, I do it with extreme frowny face.
This week's bills include a bill for the playbook for the girls school play and here I thought drama would be "free" club. Apparently, in public school nothing is free. I also have to pay for the girls to participate in a choir ensemble program.
Again, I am the fool; I thought chorus would be a low cost after school activity. They already have their voice, I thought. What else could the children possibly need to join the chorus?
Ah well, so far, I've bought special T-shirts, black pants, black shoes song books and now the entrance fee to a sing off, think "American Idol," but with classical songs and no Simon Cowell.
Bills grudgingly paid, I am off to do something glamorous. No. Not really. It's time to fix the toilet-again. It is like old faithful, you can count on it needing "tweaking" every couple of days.
I can see your green with envy at my fantastic life…oh wait, you are actually more of a light blue from not breathing because you are laughing so hard…I see.
You know how some people are born under a lucky star? I got the plumbing trouble star. Every single house we've lived in has something wrong with the plumbing. Had I known, I would have enrolled in a trade school to learn how to handle plumbing problems.
Currently, the only thing my skill set is good for is googling what's wrong with the toilet/sink whatever. I can't actually do more than poke at it with a sharp stick.
Usually, the thing wrong with the plumbing is its advanced age. Our current plumbing is this side of ancient. Therefore, it requires a lot of cajoling, sweet-talking, and occasional cursing to get it to do what it is supposed to do.
Well, at least it's an inside activity.