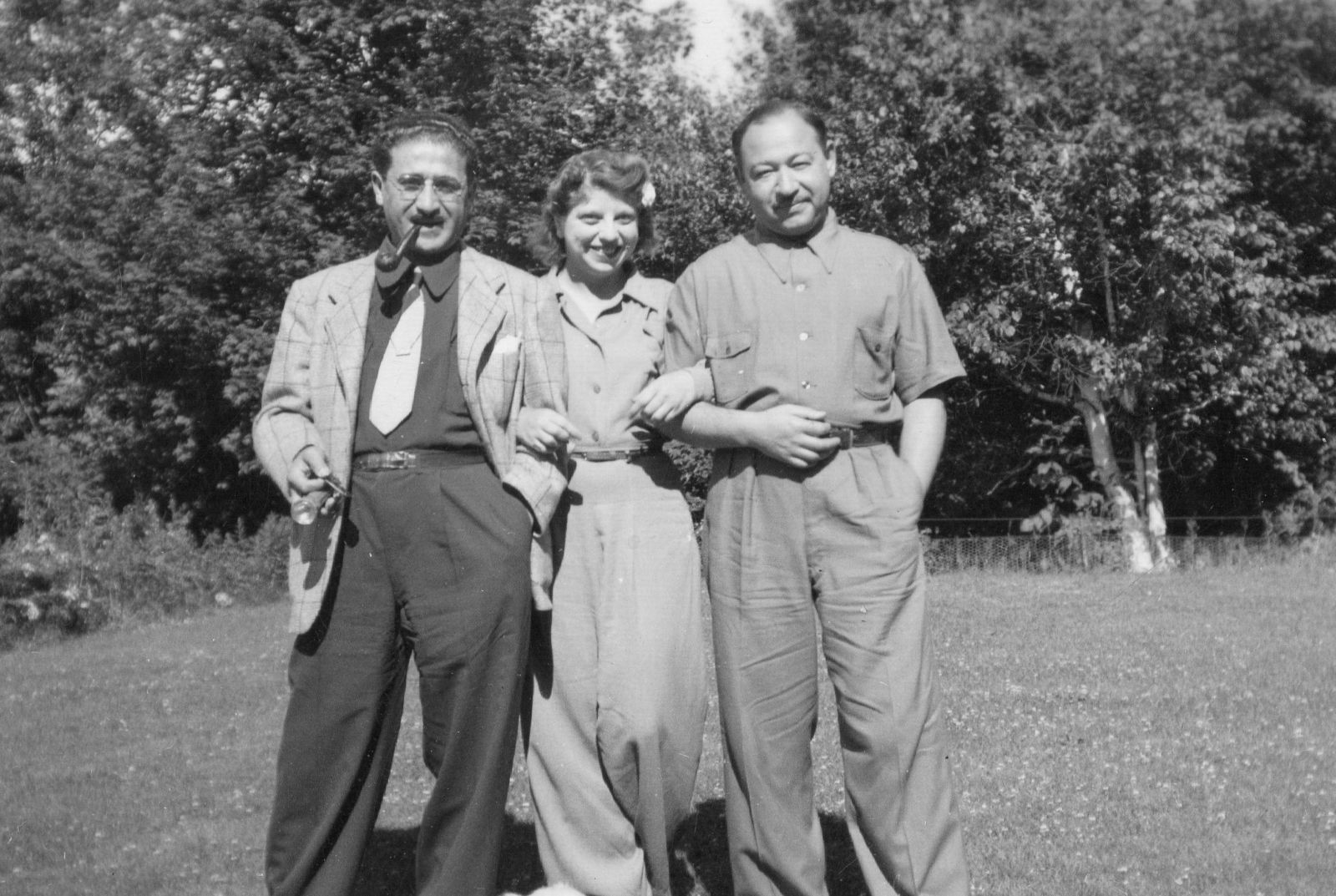 Going through boxes, "I came across a cache of old photos," to snatch a line from "Being Boring," by Pet Shop Boys. Most are vintage, from when I was a child up to just a few years ago. The question now is what to do with these photographs?
Photo albums.
The easiest solution is to start making up photo albums, which I did, with a bunch of photographs from my younger years; some with my sister. I tried to put them in chronological order, but then of course I would open another envelope and there would be more from earlier or a bit later.
I's just started another page of photo inserts. It's no big deal if some of them are blank, because it just leaves room for more should I find them.
One interesting photograph I found was of my late grandfather, Martin, with his friends Sam and Anna Morgenstern from April 1938. (See above) My father's best friend was their son, George, who died eleven years ago. I sent the photograph to his wife, Barbara, and daughter, Elise, who said that didn't look like her grandmother.
The mystery opens. I have no answer, only what is written on the back of the photograph. Nonetheless, they were happy to receive the photograph. I had it sitting on top of my printer for a couple of months and finally scanned it.
After all the photographs are put into albums, do I start scanning them into the computer and make virtual albums? That is a lot of work, which eventually I will do.
There are so many older vacation photographs that I printed. This was of course before digital cameras were a big thing and bringing film to Costco, Walgreens and so forth to get double prints was the way to go. I'd give the doubles to family and friends that were in photographs and make albums from the rest.
After I got my first digital camera, I printed out the best ones at home and then made albums. Then I realized the amount of money I was spending on ink and almost had a breakdown. Although printers are not that expensive, ink is oh-so expensive. I started to use Walgreens down the block whenever they had a sale and had them print them out my photographs. Theirs came out much better than did mine.
As I went through boxes in the basement, I found another stash of photographs and thought, oh boy. Do I start yet another album or redo the ones I already have and try to put them in some sort of order that makes sense? I still haven't figured out that question, yet.
I see you nodding your head in agreement though the screen, wondering what I'm going to do. Then of course I have the photograph CDs that Kodak put out years ago. I haven't dived into those yet, but I'm sure that there is some good stuff on them. Many are from 1998-2005 or so when the cost to get a CD was minimal, if not free.
As a test, I just put in one of those Kodak Photograph CDs and saw some photos from 2000. My daughter Michelle was only four years old and oh so cute. There is a photograph of her and my Uncle Jay in our backyard on the swing set, with her cousin Rachel, Grandpa Mort and some from my former job as store manager of Godiva Chocolatier in Roosevelt Field Mall with the employees.
Museum of memories.
Ah, the good old days. Photographs can bring back so many fond memories and sometimes sad or bad ones. I'll hope for the good ones I go through these CDs and photographs.