"A Tribute in Motion" is an ongoing celebration of the life, death and poetry of James Douglas Morrison (1943-1971). His ambition was to write, and his idols were Rimbaud, Blake, Keats, Nietzsche and Kerouac. He's remembered best as lead singer of the 1960's band, "The Doors."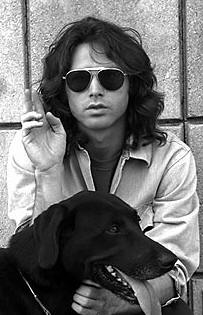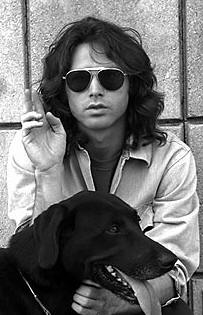 Morrison moved to Paris, in March 1971, to concentrate on writing, away from the distractions of celebrity, but died 3 July. The official cause of his death is "heart attack." He often said he was number three, after Jimi Hendrix and Janis Joplin: all were 27-years-old at the time of death.

On the anniversary of his death, people from all over the world come to the grave site of Jim Morrison, in Père-Lachaise Cemetery, in the eastern section of Paris, France. Fittingly, members of "The Doors" community gather to recite the poetry of Morrison. Mostly they honour Jim, his work and his legacy.
Click here to see the poster for the 2007 "Tribute in Motion."
Update: 4 July 2007

In the week leading up to the anniversary of the death of Jim Morrison death, on the July 3rd 1971, I visited many of his former haunts in Paris and the surrounding area. I tried to visit as many as possible on the same day he visited.

These locations are mostly bars, hotels and restaurants, such as Auberge de L'Oise (right), but also places he used to go to write, such as the Quai D'Anjou on Ile St. Louis, Sacre Coeur, overlooking Paris, and excursions out of the city, such as to Hotel L'Oise in St. Leu D'Esserent. It's been cool, in Paris, for this time of year. This is fitting as I, and those who flock to his grave during this time, try to unravel the mystery of one of the most charismatic figures in rock 'n 'roll history: less reason to sweat it.
Those who've visited the Morrison grave, in Pere Lachaise Cemetery, will agree the ambiance is peaceful. The cemetery is heavily guarded, with barricades everywhere. The grave is thickly covered; flowers, condoms, whiskey and beer bottles, acid sheets, joints and cigarettes litter the immediate area. Still, the feeling is one of contentment rather than anxiety.

A security guard at the cemetery told me the Morrison grave is the fourth most visited monument in Paris. Given the number of "must see locations," I found this quite impressive. Though the cemetery contains the tombs of many figures of historical importance, such as Proust, Chopin, Wilde, Delacroix, Balzac, Comte and Sarah Bernhardt, among others, the grave everyone wants to see is Jim Morrison.
At the grave, 'fans' read him poetry, leave a picture or note, drink a beer or smoke a joint.  Since the grave was washed of its graffiti and barriers were installed, there's little tolerance, by security, for Morrison fans.  Many people, at the grave, note the irony of the situation. In life, Jim Morrison defied the police and figures of authority. In death, he's surrounded authority and much of the same controversy.
Paris locations associated with Morrison include the "Rock 'n' Roll Circus," on Rue de Seine; his apartment on Rue Beautrellis, and "L' Hotel," on Rue des Beaux Arts, where Morrison and  Pamela Courson, his partner, stayed stayed in the same room where Oscar Wilde died. An intoxicated Morrison tumbled out the second story window. At "L' Hotel," the feeling is not peaceful, but eerie, and tragic, but inescapably compelling. You find you can't explain why you are drawn to these locations, but similarly, you can't adequately explain the draw of Morrison.
Why is Jim Morrison so compelling? Handsome, young rock 'n' roll stars are a dime a dozen, and not so to speak. Is there a longing for his wild, disinhibited stage antics?  Is it that he's called the Dionysius of Rock 'n' Roll? Is it his savage appeal in conflict with his keen sensitivity and brilliance?  Is it merely puzzling about his death?
Morrison flourishes in good company, Marilyn, Diana and Elvis. Each offers much more than a superficial once-over suggests. Hopefully, more will be revealed next week.  Next up-date is on the 'Feast of Friends' gathering!

Events: 3-4 July 2007
To commemorate the 36th anniversary of the death of James Douglas Morrison, we celebrate his life, work and legacy: "A Tribute in Motion."
"Riders on the Storm," featuring "The Doors" members, Ray Manzerak and Robby Krieger, play "Le Grand Rex" on 3 July at 7:30pm.

Addendum

Click here and here to read two additional postings on the iconic status of Jim Morrison.

Click here for more about the Morrison burial location and with whom he shares the space.