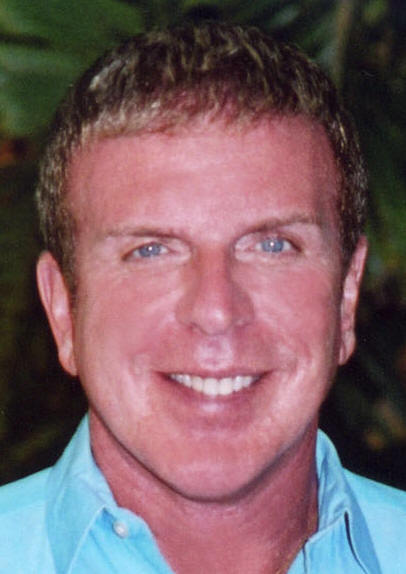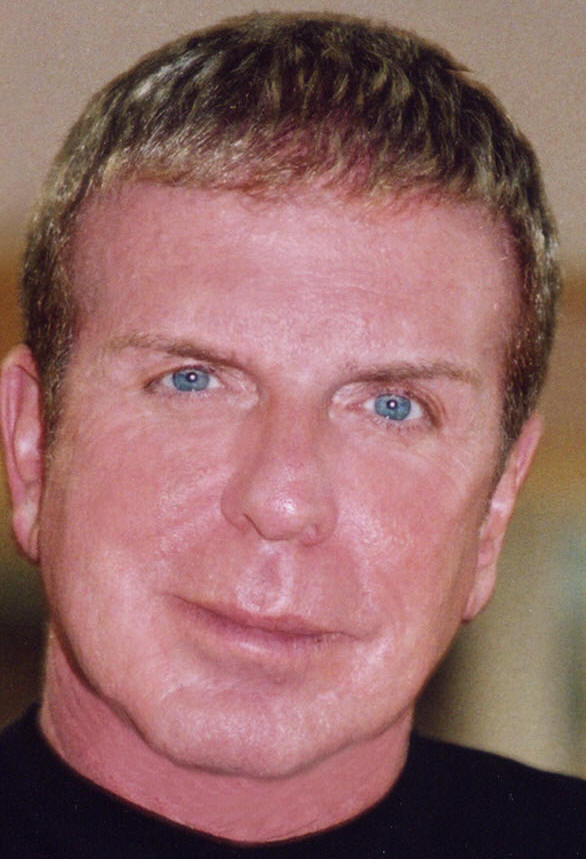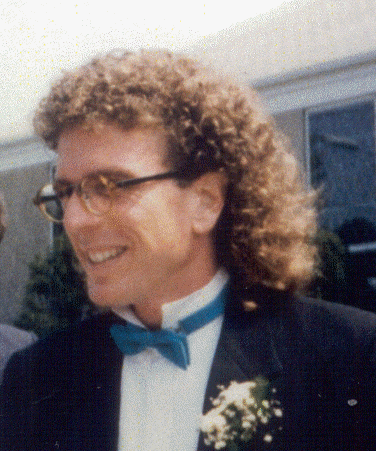 Introduction
"Tim Byrd (1954-2022) [was] the unknown A-list DJ," says New York media maven, Leroy Jones. "No, he doesn't work with a bag on his head, but he's among the best DJs. He's missing from top ten lists, too often."
"Tim Byrd, above, went one-for-one with 'Cousin Brucie,' for years," says Jones, "but when someone thinks of New York City radio, she or he overlooks Byrd. The only radio sin Byrd committed is not working Los Angeles.
"Working LA, with freedom, he'd give The Real Don Steele a run. I know it's a sacrilege to say any DJ is as good as was Steele," says Jones. "Yet, Byrd is in that league, with Rich 'Brother" Robin, Ken 'Beaver Cleaver' Levine" and maybe one or two other LARPs.
Comments about the radio work of Tim "Byrdman" Byrd seem deep in hyperbole. As Stan Klees, co-founder of the Juno Awards says, "If you did it and you tell, it isn't bragging." Tim Byrd did it and does it.
Early in his career, Byrd had an unheard-of 42 share, for his evening shift, on the renowned WAPE-AM, in Jacksonville. More recently, he took his evening show, on WRMF-FM, in West Palm Beach, from last to second place, in one rating period. The "it," Tim Byrd does, is the best music radio in America and listeners respond.
Dick Summer worked with Byrd at WPIX-AM, in New York City. He says, "Tim is the complete radio personality." Batt Johnson worked, with Byrd, at WKHK-FM, also in New York. He says, "Tim became my brother almost the day I met him.
"Byrd is fiercely fun-loving, hard-working and dedicated," says Johnson. "He's not afraid of his feelings. He's not afraid to be kind. He's not afraid to do right, on or off the air.
"There was an older African-American woman living in his building," says Johnson. "She became ill and couldn't work. Tim took it upon himself to pay her rent and give her money for food."
Matt Seinberg, of Big Apple Air Checks, tells a similar story. "My family and I were stranded, in Florida, near West Palm Beach. All the hotels and motels were full. Yeah, I know, but it was June.
"We had nowhere to go and knew no one, except Tim," says Seinberg. "I phoned him. In no time, Tim got us into a top hotel. We got much needed rest before the flight back to New York."
"Such acts define the person," says Batt Johnson.
Byrd made a career of hard choices. When others opted to take much abuse, to keep a job, Byrd quit. His career mixed small and large radio markets, without pattern.
For twenty years, Byrd worked New York City, the top radio market, in the USA. He also worked VH-1 for four and one-half years; he was the favourite VJ of Phil Collins and Carly Simon. The story of Tim "Byrdman" Byrd confirms talent and principle breed success.
In this exclusive, in-depth interview, Tim Byrd talks about how the only boy, of a preacher man, found success.
---
Every successful DJ knows
when to stop talking
---
Grub Street (GS) First, can we talk about "Planet Dance," on Voltage FM, in Paris, France?
Tim Byrd (TB) I had a brainstorm, when I was living in New York City. I was the first person to use "Planet" anything. I looked around and no one in New York City, which is most innovative, or anywhere in the country, was using "Planet" anything.
Now, there's "Planet Fitness," Planet this and Planet that. I used the word, planet, first. Simple word, with much meaning, but no one used it.
GS Why did you choose the word, "Planet"?
TB I was trying to come up with something with worldwide understanding and appeal, I guess. I wondered, "What sounds hip? What's cool?" I thought about other titles, such as "World Band," at first. Then I thought, "Planet." That was cool, for the 1980s.
I had a logo created. I owned it, legally, but the law firm, which arranged for the trademark and such, never mentioned renewing ownership. I didn't renew and lost it all.
GS This was the late 1980s.
TB Yes and I made crude little pins for people to wear on their clothing. The pins looked like a record, with "Planet Dance" written across it. I loved Dance Music and this was a new way to express that love.
I was working "Hot 97," WQHT-FM, in New York City, at the time. That was my dream job, the most fun of my career. There was great energy, in the studio, as the Dance Music played; it's such a pleasure to work that music. I'd go to nightclubs, for a promotion, dance with beautiful women and enjoy the incredible social life that went with an incredible job.
While I was at "Hot 97," I created "Planet Dance." Three visitors from France heard, in France, about our success, at WQHT-FM. They came by to find out what caused the fuss.
Air checks, which they heard, were one clue, but they wanted to see the station, at work. The production director introduced me as he was showing them around "Hot 97." I knew nothing about the visit.
They impressed me. I'm always interested in anything, with an international flavour. Later, I pitched them "Planet Dance."
We, the visitors from France and me, talked for a while. I told them about the "Planet Dance" idea, which had yet to have a moment of airtime. I said, "You guys should have it on air, in Paris. Your audience would love this cutting edge Dance Music."
They went for the idea, big time. I cut an "id" for them to take back to Paris. They left WQHT-FM happy, to say the least.
GS Did it take long for them to decide?
TB Three weeks later, I get a call from the programme director (PD), of Voltage FM, in Paris. He says, "My friends were in New York and came back telling me you had this radio show, 'Planet Dance.' We'd like to realize (sic) that here in Paris."
---
This when I met TJ Hammer
---
I said, "Well, I'd like to help you realize that in Paris." Voltage FM agreed to buy six four-hour shows, to start. This is where AJ Hammer, who's now doing "CNN Headline News," enters the stories.
Hammer helped me on those first shows. He has such insight. He wasn't afraid to say, "Nah, I think maybe we should try something different" or "Hey, that was great."
He's decisive. I trusted Hammer because I trained him; he wasn't afraid to decide and speak up. "Planet Dance" succeeded because he helped so much.
GS Last person you needed to work with, on "Planet Dance," was a lackey who never had an independent thought.
TB Right, creativity was the key and AJ Hammer was a huge part of those first shows; much credit is his and I won't deny it. I mentally organized the format and presentation, of "Planet Dance." Hammer ensured the shows worked.
The show changed, with time. Always, though, at the heart of "Planet Dance," was cutting-edge Dance Music. We did ids, for the show, that had a French tinge, such as "Nu-nu-nu-nouveau Tune," but we never tried to make it a French show.
"Planet Dance" was an US show in Paris. I'd use a few French words, here and there, to let the French audience know I was reaching out to them. "Aerosmith" performs in Prague; Steven Tyler says a few words, in Czech, and the audience roars, recognizing what he's doing. I dropped French words much the same way and it worked well.
GS How long did "Planet Dance" air on Voltage FM?
TB The show ran for about four years. The French Government passed legislation making it hard to keep the show going. The time might have been right to end "Planet Dance," anyway.
GS What was the best experience from working with Voltage FM?
TB To celebrate the start of the show, Voltage FM flew me to Paris, first class all the way. The station arranged appearances, for me, in two clubs. One was at a huge dance club, Metropole; this was mostly an audience promotion. The other was at a smaller, more intimate club, by invitation only, and everyone went out of their way to make me feel welcome.
A day or two after "Planet Dance" started on Voltage FM, I got a call from the PD. Instantly, I thought we're in trouble, but I was wrong. I would have given anything to be walking the streets of Paris during those days.
Here's why the PD called. I had a small role in a 1990 movie called, "The Ambulance." I played a DJ, who worked in a club.
GS That was creative casting.
TB There were many A-list actors, in the movie, James Earl Jones, Red Buttons, Eric Roberts, Jenine Turner, Megan Gallagher and Dana Delaney, who's now on "Desperate Housewives." In the US, "The Ambulance" went straight to home video, I think, and late, late night television. In France, the movie was a hit.
The PD at Voltage FM called to say, "All these people are calling the station asking, 'Is this Tim Byrd, the actor, who's on the radio? Is that same person? They're excited." I had long, curly hair, then, and was more recognizable, I guess.
AJ Hammer
GS The French understand how to make one feel welcome or unwelcome, for that matter. Let's talk about AJ Hammer.
TB Hammer (below) works at "CNN Headline News," anchoring its "Show Biz Tonight" show. I am proud of his accomplishments. I met him when he worked, as 17-year-old gofer, at WNBC-AM, in New York City.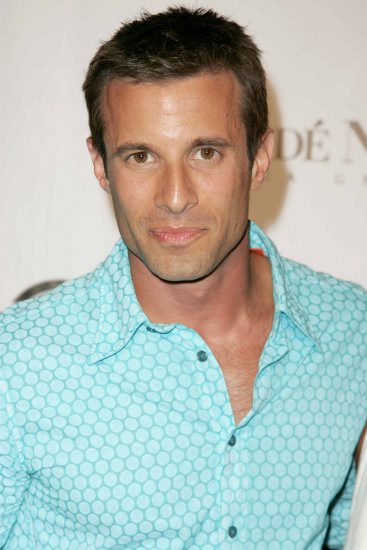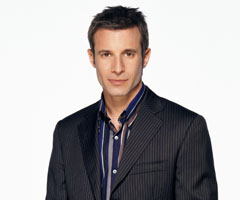 WNBC-AM was a union station. It hired women and men to do the most menial jobs, such as maintain the log or record meter readings and so on. Hammer, in high school at the time, had one of these jobs.
He was obviously hungry, with much energy and a smart man. His father is an A-list lawyer; I guess talent and ambition run in the family. Hammer impressed me and I had him help me as much as he could.
A few months go by and I get an offer from WPIX-FM, which is also in New York City, to host AM Drive. I need top associates to succeed at WPIX-FM. I go looking for AJ Hammer.
He's 17 years old, graduating high school. I say, "WPIX-FM offered me AM Drive. I want you to come, too, be my producer. I will teach you. I will train you. I'll work your behind to the bone. You think about it and let me know."
He says, "I don't have to think about it. I'm there! I'll put my first year of college off for this opportunity.
I say, "You talk it over with your parents, first.
He says, "No, no, no. I know what I want to do."
I say, "Okay, that's all I needed to know." I trained him. We had a great time and much success at WPIX-FM.
Stand-up Comedy
GS You also did stand-up comedy and studied with Lee Frank, in New York City.
TB I always love a good laugh. I have a healthy sense of humour. I learned a dual emotional response set, growing up in the South and then working in the North for so many years.
No one loses what their parents gave them. You can add much to it, when you move away, I guess. Moving to the big city likely adds most.
In the 1980s, when I took at shot at comedy, the material was hilarious and most everyone worked clean. Comedians weren't raunchy, as today, or rough. My sense was comedians knew how to rule a room, had firm control.
I took a shot at standup comedy, mostly to learn about control. Lee Frank taught standup comedy, in New York City. He writes for magazines and web sites, today, and knows what it takes to be funny.
The classes were great. Frank put students through exercises as a drill sergeant might. He made us write our thoughts, then hone and hone and hone. I quickly realized how difficult it is to be funny, to be a comedian.
GS Did you do any club work or take to the road?
TB I made a few appearances. I didn't stick to it. Guess I got what I needed, from the classes, and took it back to radio.
What I discovered is comedy is not easy. It's the scariest job you can have, bar none. You're working on a 4-inch riser, five feet from someone staring right at you, his or her eyes saying, 'Make me laugh."
I gulped and wondered, "Am I ready for this?" I emceed shows at Madison Square Garden, with an audience of twenty thousand, and didn't think twice. On a riser, before an audience of fifty, I thought maybe I should leave before they tossed me out the door.
Making a living doing standup comedy is a tough life. Twice a night, every night, the audience challenges you and you must win. It takes a special person to succeed in standup.
GS Do you have a favourite comedian?
TB Sure, that's easy, Bobby Collins. I think he's the finest comedian, ever. He took over a show, on VH-1, from Rosie O'Donnell: "Comedy Spotlight," and was outstanding on it.
I was working VH-1, at the same time, and met Collins on his first day. He's the all-time classic funny person. Collins is hilarious, polished and mostly works clean.
GS What did Lee Frank stress in his comedy class?
TB Lee had us read "Playboy" magazine, the stories, not the pictorials. The front of each edition contained interesting stories. Frank would say, "Take this story. Now, are you going to follow this path? Are you going to go this way, then change direction? Are you going to create contrast? Are you going to apply this to you or somebody you know?" There were so many choices, once you got into working these stories.
GS That's true.
TB Yes and it's up to you to decide what direction is going to get the laugh. Choice of words became so important. For a comedian, on the road, the words may change from city to city or no laughs.
Bobby Collins did a few shows in Palm Beach, not long ago. I was backstage, we were talking and he asks, "What's the name of the highway here?" The Turnpike is the major thoroughfare here.
As he's working, he used turnpike because it's relevant in Palm Beach. If he used the generic word, highway, his story would fall flat. He is sensitive to word use and gets tons of laughs for it.
GS Everyone should be so sensitive to the words we use. Let me pose a different kind of question. One of the difficulties, for standup comedians, is delivering essentially prepared material as if it's fresh, every show.
TB As if you just thought of it in the moment, right.
GS Yes, but when you're on the air you're improvising, maybe working from notes. I've listened to you and you don't work from a script. You might work from notes, but it's mostly off-the-cuff, whereas good comedy needs a script, of some kind. Can you talk a little bit about that? Does off-the-cuff make radio easier to do?
TB Well, neither one is easy. Each is hard work, in its own way. What every successful DJ does, on the air, relies on knowing when to stop talking. A script includes implicit or direct stops, but not radio; sometimes DJs ramble, too much.
When I worked WAYS-AM, in Charlotte, North Carolina, Jay Thomas did AM Drive. Thomas knew exactly what to say. He knew how long it should take to say. Most important, he knew when to stop talking and let the mind of the listener take over.
I never heard anyone, on radio, take control and command of a show the way Thomas did. He was curt, at times, but he was always funny. He didn't need to hit vocal to know when to stop talking.
Some radio talent can't stop talking. Sure, "Wolfman Jack" could walk all over a vocal or record and it was art. For the rest of us, knowing when to stop talking is most important.
Some never know when to stop. When I worked KKFR-FM, "Power 92," in Phoenix, Arizona, I coached Danny Bonaduce. As an actor, he used scripts and didn't like talking off-the-cuff.
Bonaduce would hit a great punch line, some of the best, and keep on talking. He lost listeners. I'd say, "Danny, no, you don't get it. When you get to the end of the punch line, stop and wait for the laugh, say nothing; relax, let the silence punctuate the line and get out."
GS I think we sidetracked. What was my question? What's more difficult, improvising or working from a script?
TB Let me sidetrack the conversation, again, for a moment.
GS Of course.
TB That word, DJ, gets to me. The two letters refer to disc jockey, someone who ride herd on recorded music. This was true, in the early days of radio and, maybe, again, today, but in between, on-air talent, for the most part, were much more than DJs.
There's no way Dick Summer, "Wolfman Jack" or The Real Don Steele jockeyed the discs. They are or were intelligent, imaginative and creative talents, who conjured radio that no rider of the discs would or could imagine. I prefer the term "Radio Personality."
GS Okay, let's go with radio personality or RP.
TB Great, now back to your question about working off-the-cuff or using a script. It took years to develop good improvisation. I honed and honed what I wanted to say. I worked on how to say it, effectively, what words I needed to use.
A PD may tell an RP what to say. A PD may tell an RP how to say it.
GS They always do.
TB In the end, you, the RP, have to figure what works best for his or her style. This is the beauty of Top 40 and Dance Music: these are art forms. There are so many ways to do the job right, to entertain the listener, as long as you don't walk on the vocal, I guess, and even then.
I worked with Howard Stern, at WNBC-AM, in New York City. Not to detract from what Stern does, but he must fill so much time. When there's a need to fill time, to the extent Stern must, outrageous or tasteless stunts are unavoidable. Stern created a niche, of a sort, which he must find difficult to fill, sometimes.
When a RP works music, creativity takes a different form. Always, a RP must be entertaining, informative and, as possible, cleaver. To devise an idea, at any level, without sounding cheesy takes time and imagination, plus hard work.
RPs need to get an idea across. The idea must be clear, coherent and quickly grasped. The RP must also present as "cool," all the time.
By cool, I mean not sounding like a dweeb or fool, reading from a script. That's a huge challenge. Few RPs, today, are up to the task.
A women RP I know, we worked at the same station, for a while, scripted everything. I followed her, on the air, and when I came into the studio, she had notes all over the place. Every word she said, on air, she wrote out before, including her name; "This is WXXX-FM, I'm Mary Jones and it's [insert time]."
Her style appalled me. This was a top market. She worked as if she was in Biloxi, Mississippi. If you have to script every word, including your name, you're not creatively up to working the top market.
GS There are limits to every format and from the government. Maybe this she felt safe, pseudo-scripting her show.
TB This might be the case. A-list RPs improvise from some preparation. Still, as with Bonaduce, at first, she needed the instructions in a script, first. Jay Thomas thrived in a thicket of limitations, with 27 seconds to fill and his mind working overtime.
GS I often wonder what script-dependent RPs do when they have extra time to fill.
TB I wonder, too. Composers, in the West, at least, create inside a tight box, the twelve-tone scale. Thomas worked better inside limits. The limits forced him to create and he's A-list for that reason.
A script constricts. It squeezes the life out of music radio. Radio listeners love the a-live part, most, I think.
I suppose Rush Limbaugh works from a script, but he does a different style of radio. He lectures or instructs, so preparation is important for him. When he was a RP, trying to convince John Rook to let him work at WLS-AM, in Chicago, I bet he improvised much more.
First Radio Job
GS Let's move on by going back to WJES-AM. How did you get your first radio job at that Johnston, South Carolina, station?
TB The JES stood for Johnston, Edgefield and Saluta, the three towns served by the station. It was a mom-and-pop station, which Claude Casey owned. He had been a B-movie actor, and a bit famous for "Tarzan" movies and such.
The year before, when I was 14, I auditioned for a radio job, in another town, but didn't get it. My father is a pastor and he changed congregations during that year. Now, we were living in a different part of South Carolina.
Soon as we settle in Johnston, I start twisting the radio dial, hoping to hear a local station. I found WJES-AM, a daytime only station, using a block format: different music at different times of the day, mostly. Today, the WJES-AM format is Nostalgia and Oldies.
I gussied up and drove to the station to apply for a job. Legal driving age in South Carolina, at the time, was 15. I was 15 and ready to work WJES-AM 1200.
I walked into the small station, up to the receptionist. In my deepest, 15-year-old voice, I said, "Yes, I'd like to know if the owner is here."
"Well, yes, he is" the receptionist said. In South Carolina, most women and men are gentle, respectful of even a 15-year-old boy, especially if he gussied up before hand.
I say, "I'd like to speak with him."
The receptionist says, "May I say who's asking for him?"
"Yes," I say, "tell him Tim Byrd is here."
GS This story should be part of your standup act.
TB The receptionist says, "Wait just a moment, I'll see if I can get him for you." Out from the office area walks this big, tall, handsome man, Claude Casey, with silver hair brushed straight back. He says to me, "Yes sir, young man, how may I help you?"
I say, "Well, I'd like to have a word with you." I glanced at the receptionist. Then I say, "Privately."
Don't ask me where all this nerve came from. My father, Ben, is a Baptist minister. Such boldness was not his doing.
Casey says, "Well, come into my office, have a seat." I walk back, into his office, with him and start my pitch. I say, "Well, my dad's pastor at the church down the road and I want to be a radio personality."
He started laughing. I thought it an unusual response. I let him finish laughing.
Casey then says, "Well, hold on a second; let's get our PD in here. You can tell him what you told me. He fetches PD, Jim Calk."
"Tell Jim what you told me," says Casey. I gave Calk my story. He has a big laugh, too.
Once they finished laughing I say, "Gentleman, I don't think you understand. I'm serious! I honestly want to do this!"
Claude says, "Well, you know Jim, what say we make a tape of this young fellow. Maybe we can break him in on the weekends?"
I say, "Where's the tape machine?" Casey says, "Whoa, slow down, not so fast." I was ready to read wire copy or a commercial, on the spot.
Casey says, "If Jim thinks you're ready to make an audition tape for us, you will. Maybe you'll read some news and sports and that kind of thing. Once he decides for you to do the tape, we'll take it from there."
Eventually, I made the tape. Casey and Calk listen to it. Casey says, "We think you have a little resonance to your voice, maybe some possibility. Jim's going to work with you. When he thinks you're ready to go on the air, we'll put you on."
After school, every day, I meet Jim Calk, at his home. I read poetry, aloud, to him and into a tape recorder. He wants to work on my accent, pronunciation, inflection, diction, clarity and so forth.
Slouchy southern folks didn't run WJES-AM, only top quality broadcasters. They wanted me to say the words well, clearly and properly. I read poetry for two weeks. How was that for training?
After two weeks, WJES-AM gave me my first shot on the air.
GS Interesting people and it's an interesting story.
TB The first board I worked was a Gates, called "The Yard." The board had eight or nine pots and was maybe three feet wide. It was a tiny board.
First shift, Calk sits across a desk from me. Slow and clear were my goals. I say, "Johns-town wea-ther," and read the report.
While I read, my finger kept a slip-queued record from moving. I thought I was so smart, but fumbled a word or two in the weather forecast. As I let the record go, I said to Calk, "I really botched that up, didn't I?"
Calk tiptoes round the desk and flips a switch. "Always remember to turn off your microphone," he said to me. Then he left the studio and I was on my own.
WAYS-AM
GS It's a great story. You were only 15 years old. Whet behind the ears. How did you find your way, pun intended, to WAYS-AM, in Charlotte, North Carolina?
TB Two years or so later, I'm working in a little-dip town, called Eden, North Carolina. There were two stations, WLOE-AM and WCBX-AM. I worked both stations, at different times.
GS All these years later, WLOE-AM remains in Eden, airing mostly syndicated programming. WCBX-AM moved to Fieldale, Virginia, and WAYS-AM, after a moving the call letters to Macon, Georgia, went off the air on 4 September 2009.
TB How time changes radio. I was at WLOE-AM when WCBX-AM lured me away. What do you think of that? Those were the days, when stations thought enough of RPs to steal one from the competition, even in a small southern town.
A true southern person, a Mr. Bowlen, classy and kind, owned WLOE-AM; he was a great mentor. Yet, when I began working radio, I promised myself I'd move on when I learned all I could, at one station. That's what happened, WCBX-AM offered chances to learn new skills, which WLOE-AM could not.
After I left WLOE-AM, Bowlen wrote my mother, Beth, a letter. He said, "Tim is a great young man, he was brought up well, he has good morals and ethics, he's a hard working guy, it was a pleasure to have had him here." My mom still has that letter, after all these years.
GS What happened at WCBX-FM?
TB Management at WCBX-AM was a little unusual. They hired an old-timer, a "never been," bulky and hairless. He was terrible, on air, and used the on-air name, Jack Armstrong, if you can believe it: he had no idea what he was doing.
This new PD fired me and demoralized me. He said, "You have no talent, your voice is horrible, you should probably sell cars or something." I was 18 and I think I even had a tear or two roll down my cheek as he was demoralizing me.
GS You're a teenager, about to join WAYS-AM, a famous station.
TB While I was at WCBX-AM, WAYS-AM went on air. My father had a congregation about forty miles from Charlotte. When I visited my parents, I listened to 610 WAYS-AM, which had a booming signal.
WAYS-AM had it all together, cooking 24/7. The station had a great PD, Jay Thomas, good management and owners in the Kaplan family. This was where I wanted to work. I liked the sound.
While I was still at WCBX-FM, I asked John Lodge, who worked WAYS-AM, if he'd comment on my air checks. He agreed, but only if I sent him unedited tapes, of my work, not selectively edited tapes. I agreed.
GS What did he mean by unedited tapes?
TB Some on-air talent send tapes meant to sound better than they are, on air. As Bonaduce, they often don't know when to stop talking, but cut their air checks to make it seem they know what they're doing. You listen to the tape and wonder why their ratings are mediocre.
GS Some on-air talent get supposedly impartial third parties to edit and scope their air checks, which makes them sound all the better.
TB On air, he or she might introduce a record, "85 degrees at WXXX-FM. This is Billy Preston, 'Will it Go Round in Circles?" Then he or she stops the air check machine, but keep talking for twenty seconds, motivating listeners to change the station. I never worked this way.
Lodge wanted me to send honest tapes, not anything misrepresenting my work. I promised. His first two or three analyses were brutal, but what a wakeup call.
I tried to use what he suggested. I respected his authority. My on air work got better and better because of John Lodge.
GS Lodge was preparing you for WAYS-AM, if indirectly.
TB Yes and one day the nowhere person, at WCBX-AM, fires me. About 11 am, that day, I'm sitting around my dingy apartment, eating cereal, wondering what I was going to do. The phone rings. "Tim," says the familiar voice, "John Lodge here; hold on, Jay Thomas wants to talk to you."
Thomas takes the phone and says, "Hey Tim, Jay Thomas here. Am I pissed? My overnight guy didn't show-up for his shift last night. My evening RP had to work until 3 am. I had to go on at 3 am work until 10am. You think I'm a little pissed. I fired his %$#@ing ass!
"John tells me he's been talking to you. He says you're good. Here's the deal I'm offering you. Come do the all-night show, live. If I like how you work, you got the job. If not, go home to mama."
I said, "You got a deal."
Thomas says, "I'm going to give the phone back to John and let him work everything else out." John gets back on the phone and says, "All right, are you clear with that deal?" I say, "Yeah, I get it."
"Well," says Lodge, "what's the soonest you can be here?"
I said, "How about tonight?" He paused, shocked. He says, "All right, here's how you get here." The station was at 400 Radio Road in Charlotte. I drove from Eden to Charlotte on cloud 99, knowing I was going to work a top station after that "never been" fired me, saying I had no talent. Thomas and Lodge knew better, I can safely say.
That's how I came to work WAYS-AM.
GS Was Lodge as supportive as he seemed.
TB Yes and talk about a good person. Lodge stays with me until about 4 am. He wanted to make sure I was all right, comfortable. He handled my questions, told me to do this and don't do that, while he was in the other room doing some production and listening to me.
It was a huge comfort, for me, him staying to see me through the first night. I'll never forget Lodge; he's the one who extended his hand to help me. I'll never forget him. I'll never forget what he did for me.
Thomas walks in around 5:30 am. He says, "Tim, Jay Thomas, nice to meet you. You sound good. You got the job."
I half expected Thomas to thank me for coming to WAYS-AM as quickly as I did. He didn't, but I was all right, with it. After giving me the job, Thomas segued into his show preparation; later I wandered into town.
GS Do you think Thomas listened to you?
TB Who knows what he did, not me. Maybe Lodge, on my side, was enough for Thomas. I was 18 and this was top-notch radio, a well-known station, with a large and growing audience. I was ecstatic to do overnights.
WAPE-AM
GS How did the move come about to WAPE-AM 690 in Jacksonville?
TB At 18 years old, I was working in Charlotte. "I'm cutting with a pretty wide swath." I think I had just turned 18 or maybe about to turn 18.
I graduated high school. I tried college, but it wasn't for me. Radio was my career and I was happy.
Part of my deal at WAYS-AM was a promise for the first evening shift, 8 pm to midnight, when it came open. Overnight was as much a training ground as anything, a good way to break in new on-air talent. I understood and had no problem doing all-night, but stuck in that shift I didn't want.
After six months or so, the evening shift opened. I didn't get the shift, as promised. I was unhappy, but, at first, I let it go.
I grew discouraged. The all-night show was fun and many RPs make it a career, but not me. I resigned from WAYS-AM, saying, "I want the 8 pm to midnight shift, period."
"Well," said Thomas, "you're going to get it next."
I said, "Next, how do we know how long this guy is going to be here? I'm not willing to do that."
GS That was a gutsy move for a teenager.
TB At that point, I was seriously considering my life and career. My father is a pastor; I naturally thought about trying missionary work. Radio was among my career choices, not the only one.
I gave WAYS-AM notice. I didn't leave them in the lurch. I handled myself with class and aplomb.
A few days pass, less than week. I did much thinking about my life and career. The phone rings one afternoon.
"Tim," I hear a familiar voice say. "It's Jay Thomas." I wanted to say, "Not you again," but I didn't push my luck, as he could be curt, at times.
Thomas says, "I know you want to work 8 pm to midnight, but the all night guy at our sister station, WAPE-AM, in Jacksonville, is gone. We had to fire him. He's a moron."
GS I heard Thomas was tactful.
TB I said, "What did he do?"
Thomas says, "You don't need to know. We need somebody there now. I'm going to make you an offer. We'll pay you X dollars and you definitely get 8 pm to midnight, first time it opens up."
"We'll fly you to Jacksonville," says Thomas. "We'll pay someone to drive your car to Jacksonville from Charlotte. We'll cover all your expenses. Make a decision. We need you at WAPE-AM, now."
I said, "Give me a few hours." I talked, with my parents. Thomas offered too little money, for what WAPE-AM asked of me, but the station, which went to air in 1957, was seductive. Over time, many well-known and legendary RPs worked at WAPE-AM: Jay Thomas, Coyote McCloud, Cleveland Wheeler, Mark Driscoll, Kandy Klutch, Hoyle Dempsey, Tom Murphy, "JJ the Night Guy," Tony Mann, Mark the Shark, Billy Goat, Steve Sutton, Chris "Trane On The Radio" Trane and Chase Daniels.
GS Who would not want to be part of that legacy? I think Larry Glick worked WAPE-AM, in the late 1950s.
TB As well, the promise of the evening shift fogged my mind. I took the job. I was on a plane, to Jacksonville, in a New York minute.
WAPE-AM put me up in a motel, until I found an apartment. My father drove my car to Jacksonville and the station puts him up in a good motel, all expenses covered.
GS That was some compliment.
TB A crazy RP, who called himself Dr. X, worked WAPE-AM. He wore a white leather Luchador or Mexican wrassler mask. Once we met, I realized he was a tolerable freeloader.
Many mornings a week, Dr. X would drop by my motel for breakfast. "Hey Byrdman," he'd say, "I want to talk to you." He'd make up some crazy story, at 9 am, to get a free meal from me; at that point, the station still paid my tab.
As Dr. X, he did cheesy television spots and personal appearances to make the rednecks happy. Dr. X would show up at a mobile home dealership as part of an on-air promotion. He'd put on the mask and costume, which highlighted his girth. Then he spoke, in a deep, heavy voice, "Hey creep, what do you want?" Softening his voice, he'd say, "Oh, Dr. X, can I get an autograph?" He was weird, but effective, and it was radio.
GS Radio attracts characters.
TB Fast-forward to about the year 2000. It's the 40th anniversary of WAPE-AM and he's there, front and centre, not having changed much, including his mask. Dr. X attended for the free food, I guess.
GS Did WAPE-AM deliver on the promise to give you the evening shift, when it opened up?
TB Yes, this time the company delivered as promised. My ratings went through the ceiling. I had a 42 share, in teens, more than did Jay Thomas and he made his name being number one at WAPE-AM.
WIXY-AM
GS Your move from Jacksonville to Cleveland was a huge step, although WAPE-AM was super radio.
TB Before we talk about WIXY-AM, I should mention something about Stan and Sis Kaplan, who owned WAPE-AM, WAYS-AM and WROQ-FM, in Charlotte; probably the finest radio people, ever. Stan married Sis Atlas and used her money to start his radio empire. They loved each other, deeply, but Stan married money.
I can still hear Stan going, "Jay, Jay, where are you Jay? Jay, come to my office, right now. Come in here, I want to have a meeting." A crazy, wonderful radio person was Stan Kaplan.
Kaplan was a Liberal Democrat. He knew everyone in Florida politics, at all levels. He told a story about how a police officer pulled him over, one day, for speeding. Stan drove a big Mercedes and always drove fast. The police officer looked at his licence and said, "Oh, Mr. Kaplan, I'm so sorry. Have a nice day." Believe it; Kaplan had connections, high and low in Florida.
GS Why did you leave WAPE-AM? You describe it as almost radio nirvana.
TB I had a 42 share in teens, but my pay didn't show it. I needed to improve my standard of living. I said, to Kaplan, "I'd like to have a raise. I need a few more dollars."
After a day or two, Kaplan offers me a paltry raise, which I thought insulting. I said, "Please, I need better than your offering. I would really appreciate it and I need it."
For some reason Kaplan was reluctant to pay me more money. I said, "Ok, it's time for me to take things into my own hands." I got to working for me.
I probably should've stayed at WAPE-AM, but for my whole life, I stood on principle. Maybe it's the southern perspective. I'll leave everything behind on principle; it's how I am. Material items don't mean a lot, especially if someone demands I yield my principles.
I sent out tapes. I mean fast and furiously, working the phones, calling friends, getting referrals all over the country. It was crazy.
Eventually, Terry Stevens calls.
GS Terry Stevens, at WIXY-AM 1260, in Cleveland.
TB Yes, Stevens calls and says, "I've heard a tape of you and I've been checking you out. I hear good things about you, let's talk."
WIXY-AM gave me the 6 pm to 10 pm slot. It was the first time I worked outside the south. It was my first time away from the south, too.
GS WIXY-AM, I should mention, is now WWMK-AM, a Radio Disney affiliate. In the 1960s and 1970s, WIXY-AM was the top station in Cleveland, but by 1985, times changed and so did the call letters and format, to WBBG-AM using a Pop Standards format. In the 1990s, the call letters changed, twice, to WRDZ-AM and WMIH-AM, both using a religious talk and music format.
TB Yes, how radio changes, in such a short time. I recall arriving, in Cleveland, during the winter, wearing an unlined leather jacket and a hat. Winter meant rain, to me. Ice, snow and cold were foreign.
First book at WIXY-AM, my show was number two, in the 18-to-49 age group. I trailed WNNS-FM, the famous Album Oriented Radio (AOR) station. Still, Top 40 radio only wanted listeners in the 18-to-49 age group and, at night, WIXY-AM had a 5000-watt directional signal.
GS You delivered against big odds.
TB Yes, I delivered, but the WIXY-AM line up was a powerhouse. The late Mike Reneri did AM Drive. Dick Kemp did the midday shift. Stevens, the PD, did PM Drive. Then it was my show followed by Paxton Mills. We were a tight group, all friends.
GS Paxton Mills, now that's a name for a RP.
TB He was great. Truckin'" Tom Kent joined WIXY-AM to do the 10 pm to 2 am show about the same time I came along. He was working WHBQ-AM, in Memphis, an RKO station, but wanted out. WIXY-AM was his first major market job, in the north, too.
Kent was a bit cocky when he arrived at WIXY-AM, but soon found humility. WIXY-AM used idiosyncratic equipment, mostly built by the station engineers, and all the music was on cart. Kent played vinyl records up to this point in his career.
His first shift, Paxton and I are hanging in the studio. At 10 pm, Kent hits the air flying. When he pushes the cart button, nothing happens, total silence. Not used to carts, he hadn't pushed the music cart in all the way.
Kent didn't take our laughter personally. He, Paxton and I became thick as thieves. Kent and I remain good friends. Paxton passed a few years ago.
GS For all the bad equipment, which you talk about, playing records on carts in the middle or late 70s was innovative.
TB Well, true, but you get to the larger markets and stations are far ahead on technology. At the time, the investment in carts for music didn't make sense in Charlotte or Memphis. The recent move to digital is likely more widespread than the move to carts, all those years ago, because of the lower cost.
WAIR-AM
GS What got you to move back to North Carolina from WIXY-AM?
TB Stevens made changes, in the lineup of WIXY-AM, moving me to 10 pm to 2 am. I had a huge, loyal audience from 6 pm to 10 pm, why change me. Stevens says, "Ah, ah, ah, we don't think you have enough soul."
"Oh come on man," I said, "more listeners think I'm Black than think I'm White. What's wrong with you?" I gave it about minute, it was a on-air staff meeting, everyone in the room went silent, shocked; I needed time to think.
I said, "You know what, you can kiss my ass!" I walked out and never went back. Marge Bush, the WIXY-AM music director (MD), calls me and says, "Tim, I don't think that they're going to hold your job for you, you better come back and get it."
I said, "No, they need to come to me and put me back on 6 pm to 10 pm, where I was happy and pulled ratings for them. I'm not going to come back, Marge."
She says, "Well, you have to come back and get a check." I picked up my last cheque from her and that was that. I felt it was untoward to work 10 pm to 2 am, after what I did for WIXY-AM, in the earlier shift.
GS Your ideals fuelled your decision, again.
TB While I was at WIXY-AM, I turned 20. Now, I decided to return to North Carolina. When I visited my parents, after moving back from Cleveland, I wangled an interview with Nick Patella, of WAIR-AM, in Winston-Salem.
Patella, a former football player, had no idea of what it took to own a radio station, but he did hire me. This was my first PD job. It was a great job and fun, for a while.
I hired a RP from Des Moines, Iowa, Jerry Steele. I just loved his on air work. He was my midday RP. He did the basics, well. He was great in production. He worked his ass off; he did everything you asked him to do and more. He came in early. He left late. He didn't have a huge, big voice, but it was smooth on air.
Patella made me fire him. I say, "Why would I fire him?" Patella says, "Because I don't like the way he sounds."
I say, "But I do! I'm the PD. This is what you hired me to do. Let me run the station."
Patella says, "No, I want you to fire him."
I say, "Well, how about this, how about if I tell you I refuse to fire him."
Patella says, "Then I'll fire you."
I say, "This is not a good thing to do." At that moment, I knew I never wanted another job as PD. Patella was trying to force me to make a bad move, go against principle. Patella never understood, nor did he forgive me.
GS Did you quit?
TB Yes, but I was of two minds about it. The station didn't sound good. It was hard to find decent RPs. I was never sure how my decisions went over.
Yet, I started a show called, "Byrdman After Dark" (BAD), on WAIR-AM, which had much success. The show wove new Black music into Top 40. To this day, I'm not sure Patella or his friends cared much for BAD, but it worked, well, and I guess he overlooked it for that reason.
As the only radio show of its sort, in the area, BAD got much attention from the Black music business. A promoter, from Philadelphia, hired me to do the spots and emcee shows, featuring acts such as the "Funkadelic Parliaments" and Jimmy Casterbunch. These shows had almost exclusive Black appeal.
The local Coliseum held 8000 or so. These acts would sell out in a minute. BAD helped make Winston-Salem a profitable stop on such tours; it was good for WAIR-AM and for the city.
GS How did it end, with Patella?
TB I quit, despite conflicting feelings, given the good parts of the job, such as BAD. I said, "You know what, enough of this. Here's my notice."
WGCL-FM
I had planted seeds to go back to Cleveland, but not WIXY-AM. As much of a shock as Cleveland was for me, I enjoyed the big city. In Cleveland, I could go to The Agora, which featured A-list entertainment, and see the genuine act, not settle for a cover band, in a Winston-Salem club. It was great. Such benefits, of the major market, spoiled me.
While I was back in North Carolina, I stayed in touch with Charlie Meyer, a famous record promoter in the mid-West. When I was ready to move back to Cleveland, Meyer put me in touch with TJ Lambert, at WGCL-FM, owned by General Cinema Limited.
GS Lambert, who is now Chief Operating Officer of Radiolicious, a content aggregator, had a reputation in the 1970s. He was a great radio person, but a little wild or so I recall.
TB Lambert calls me and says, "Charlie Meyer tells me you're trying to get out of the southland, what's going on."
I say, "Well, I've had enough of small town radio and I'm ready to come back to Cleveland. I was there before and did well, but if I get on FM, we'll tear that town up."
Lambert, who was later Senior Vice-president of Drake Chenault Consulting, says, "I like to hear guys that talk like that."
I say, "Well, you got someone who backs-up what he talks about at least as far as someone who is committed to getting the job done. I can't guarantee, but I can promise that you'll never be sorry about the effort I put into getting this where I want to go.
Lambert says, "I can't ask for anything more."
We struck a deal. I did 6 pm to 10 pm, on WGCL-FM, and enjoyed each second. What a thrill. Huge ratings, again, and I had fun.
WGCL-FM promoted my arrival, in Cleveland. There were billboards, "The Byrdman is coming." The station held a contest, at Peaches, a local record store, asking listeners to draw a picture of how they imagined I looked.
The contest was fun and funny. Someone put together a mannequin wearing jeans and a sport coat, with a big beak on the head of a bird. If I remember, correctly, the mannequin won.
Dude Walker was one of the RPs at WGCL-FM, at the time. Shortly after I arrived, the station hired Lee 'Baby' Simms for AM Drive. He was a hoot.
GS Sims is an honest-to-goodness radio legend.
TB Yes, but on air, at WGCL-FM, he used the name, Dr. Matthew Frail.
GS You're kidding. He didn't use Simms.
TB First day on WGCL-FM, Simms as Dr. Matthew Frail pulls a simple stunt, more successful than anyone could predict. He went on the air, he said he had a bottle of vodka and shook a little bucket of ice for listeners to hear. Then he did antiradio.
Simms as Frail says, in a slow drawl, but no accent, "Good morning, this is WGCL-GM, "G-98," and I am Dr. Matthew Frail. Normally about this time of morning, what you want to hear is what's going on in Cleveland, today.
"This morning, I am going to read the newspaper to you. Do what you must do, as I read, and here we go. Ahem, the Cleveland "Plain Dealer," that's a nice name. I'd like to read you the headline."
He reads the headline and says, "Creative, creative. I'm sorry, bear with me just a moment here."
Listeners heard the top come off the Vodka bottle and Sims as Frail pouring into a glass, over ice. After a long, slow sip, he says, "Ah, that's better. Ok, where was I? Oh yes, just finished the headline. All right, first article, it says here …."
He continues, for four hours, reading the newspaper. He wouldn't answer the phone. After 8:30 am, the switchboard handles calls from irate listeners.
"Who is this guy," a caller asks. "What's he doing on the radio? Get him off."
Cleveland is abuzz about Dr. Matthew Frail. Sims knew what he was doing. Next day, half the town tunes to WGCL-FM, wondering he'll do next.
GS That's Lee 'Baby' Simms. That's great radio.
TB For some reason, WGCL-FM put together a tape of its RPs talking about the future of radio. When the interviewer got to Simms as Frail, he asks, "Dr. Matthew Frail, where do you think radio is going?" Frail, in his calm, southern style pauses before answering, "Radio, my friend, is going to Hoboken, New Jersey."
GS Old joke, but oh-so well placed and timed.
TB It was a moment. It was hilariously funny. People thought he was going to come out with a profound statement. It was a huge joke.
GS It was a prediction.
TB It was! Radio has gone to Hoboken and in a hand basket. To a company called Clear Channel, CBS or Citadel. You can't find good radio, such as Lee 'Baby' Simms, anywhere.
GS Why did you move over to WZZP-FM, which is also in Cleveland?
TB Once, again, problems about shift changes or money, I can't recall, for sure, led to my move to WZZP-FM as PD. That was mistake. I violated my personal policy, did it one more time and the station fired me.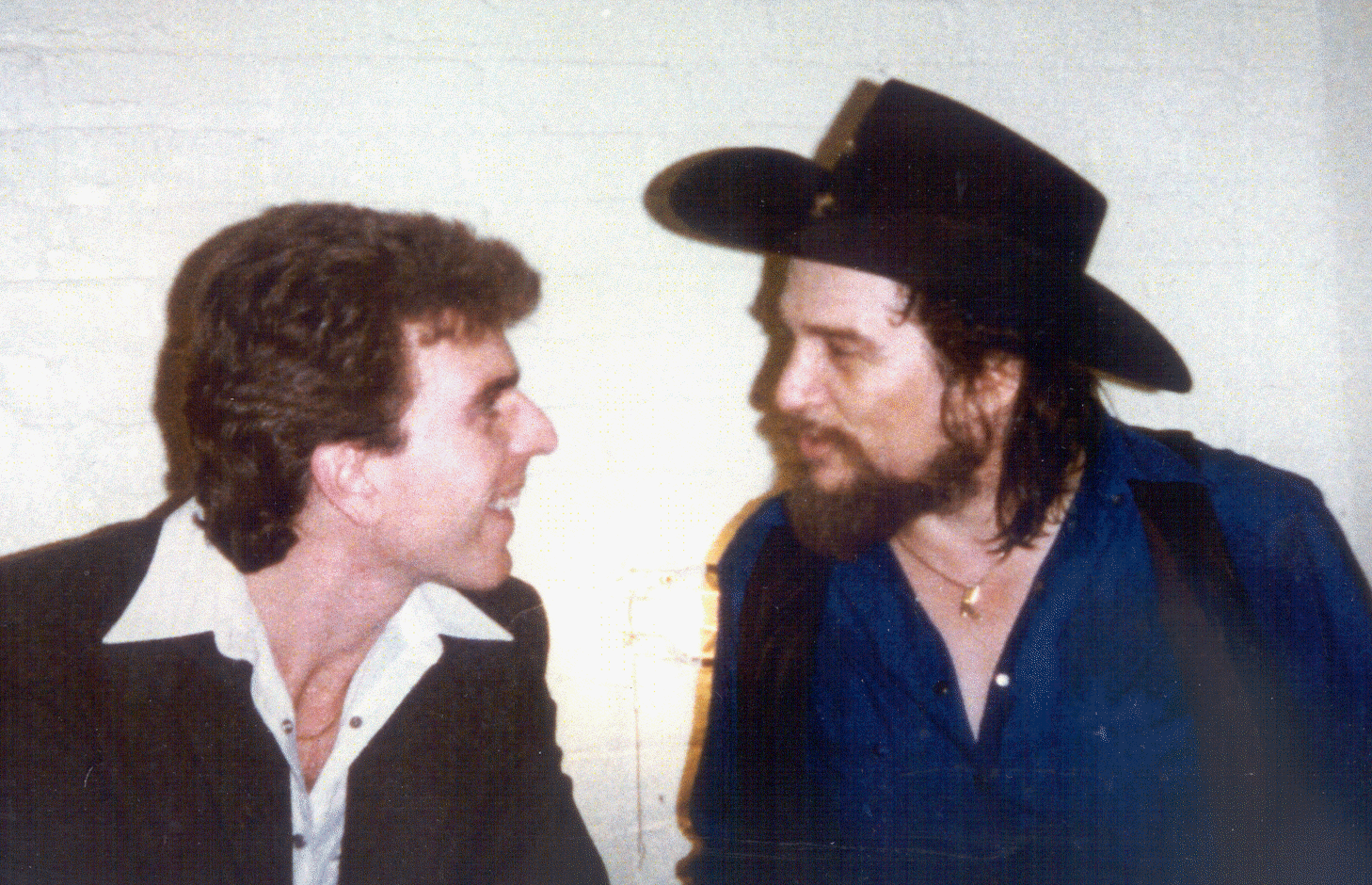 Tim with Waylon Jennings, circa 1983
WHK-AM
GSNext is a huge leap, for you, in Cleveland, to WHK-AM 1420. This was an h-u-g-e leap.
TB Yup, it was a big move. WHK-AM played country music, at the time; now it's talk. I had not worked Country Music. I knew nothing about it. WHK-AM was a new experience for me and it was good for me.
John Jaffey was corporate Vice-present of Programming for the company that owned WHK-FM. I came to know him during time I worked at WGCL-FM. He had long, mangy hair, wore spider rings and carried a shoulder bag, but knew how PD a successful radio station.
One day, long before I move to WHK-AM, Jaffey says to me, "Man, I just think you're the best evening RP in America. I wish I had a Top 40 station. I'd hire you in a minute, pay you as much as they'd let me and turn you lose."
I was the competition and Jaffey loves my work. We were friends, but his comment went beyond friendship. He was talking good business, for him.
When WZZP-FM fires me, Jaffey calls, almost immediately. He says, "I know you're going to need a job."
I said, "What do you have?"
Jaffey says, "Well, nothing that's going to immediately excite you, but you must work. I think you should take what I have for you."
I said, "What have you got for me?"
Jaffey says, "Music Director and the mid-day shift at WHK-AM."
"Man," I say, "I don't know. Maybe it's time for me to leave radio or Cleveland. I don't know."
Jaffey says, "Look, you've got me on your side. You know we have stations elsewhere. Down the road, if you're not happy, we move you."
I ask for a day or three to think about the offer and Jaffey agrees. In the end, I sensed I needed a dramatic shift, in my career. The problem was how to come to grips with it.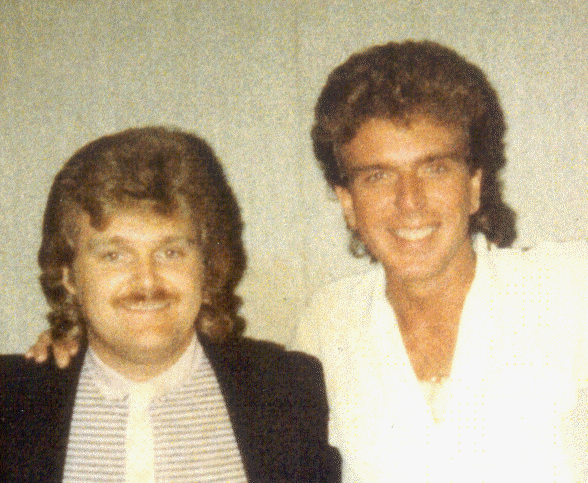 Ricky Skaggs and Tim, circa 1983
GSThat's some jump, from mainstream Top 40 to Country Music and MD, to boot.
TB For the first six months, I introduced records and turned down the studio speaker, which wasn't right. I was MD, adding records by chart position, not listening to the music or hearing how this record or that record fit or didn't fit the WHK-AM sound. It wasn't right. I felt phony and didn't like what I was doing or how I was doing it.
Over a drink or ten, one night, I mentioned my concerns to someone, but I can't recall whom. He said, "Tim, you need to go to the station, right now, and listen to "He Stopped Loving Her Today," by George Jones. My first thought was what I could do with that song.
The fellow says, "Just listen to it. Put on the headphones. Block out the world. Listen to what Jones sings."
I did. It rocked, not to pun, my world. Jones was singing about the day a man lost his wife; he stopped loving her that day. It was a tear jerk lyric, but a typical great country song about everyday life.
GS Jones opened your horizon. Country music was legitimate and meaningful, not only a mountain dew.
TB Right, and at that point I dedicated myself to studying the history of Country Music. I wanted to know its origins. I wanted to know about the singers and musicians who made the music what it is today.
Learning about Country Music was a wonderful experience. I changed my whole head. I did it myself. Nobody had to convince me. I turned myself around. I got to know all the artists, invited them all to come by the station.
At the time, in 1978 or 1979, WHK-AM was the Cadillac of Country Music stations in the USA. I was MD and important. That I made the effort to learn all I could about the music and the people, who made the music, silently impressed many, I think.
"Billboard" magazine gave much weight to the WHK-AM music list, in building its weekly Country Chart. WHK-AM was a six-point station and the most points any station got was six. WHK-AM was the only six-point country station, in the USA.
The most powerful Country Music station in America and I was MD. Everyone tried to get his or her record played on WHK-AM. Along the way, I met Mickey Gilley, Johnny Lee, Silvia, Willie Nelson, Meryl Haggard, Don Williams, Ronnie Millsap, Hank Williams Junior and all the Country Music greats. I'll always cherish my time at WHK-AM.
Today, WHK-AM is conservative talk radio. WGCL-FM is also talk. In Cleveland, there's much talk.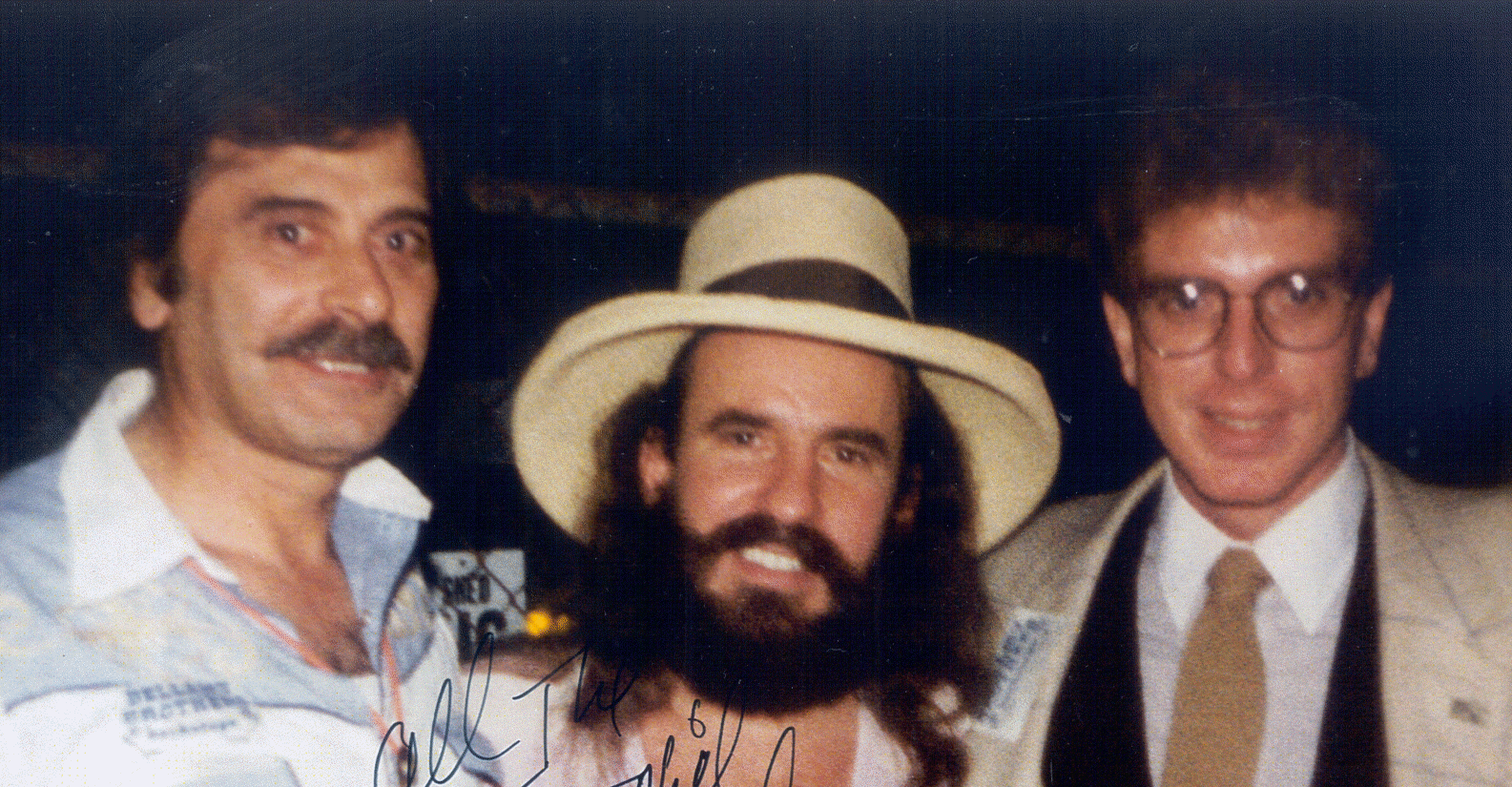 Phil Jacobson, Howard Bellamy, of "The Bellamy Brothers,"
and Tim, circa 1982
WKHK-FM
GS Seems the move to WKHK-FM, the country station in New York, was a natural.
TB For reasons unknown, WHK-AM hired a consultant. This was madness. Station ratings were great. WHK-AM was the number two station in Cleveland, at 1420 AM, which is dead-dial area and directional at night: we were doing most everything right.
The consultant says, "Oh, I'm better at the music than are you. We don't need you. You're fired."
I didn't do anything wrong. I was enjoying my time and everybody loved what I was doing, at WHK-AM. When the consultant came aboard, he got the keys to the station and I was a goner.
GS Consultant needs to make a move to justify billing. Wasn't this about the time M-105 was making a move, based on what an inept consultant recommended?
TB Yes and, strangely, I remember saying to someone, "You know, probably New York City is going to be my next thing. I don't know. I just have a feeling."
Bill Ford had been in Ann Arbor, near Detroit, while I was in Cleveland. He was PD at WWWW-FM and I was MD at WHK-AM. He's a wonderful person.
Ford calls me and says, "Hey, I've been thinking about you, man."
I say, "Well thanks, I appreciate that. What are you doing?"
Ford says, "Well, I accepted a position at WKHK-FM, in New York City."
I mention I left WHK-AM. Ford says, "Yeah, I know. We need an afternoon RP, in New York. Are you interested?"
"Absolutely," I say. Ford says, "How about I fly you to New York City and you do an on-air audition?"
I say, "No sweat." The last on-air audition I did was for Jay Thomas, at WAYS-AM, in Charlotte, and it worked out well. Still, this is New York City, the Big Apple, much different from North Carolina, and I'm nervous.
WKHK-FM flies me to New York. I meet Bill Ford. We hit it off.
Ford says, "You're my guy. I'm going to tell you everything that's going on. I don't ever want you to freak out. I never want you to go anywhere. I love the way you sound. I don't want you to feel like the earth is shifting underneath you. I will always tell you stuff I'm going to do before I do it, but you have to promise me you'll never tell anyone what I tell you."
GS Are you sure this was radio?
TB Of course and WKHK-FM had been a jazz station. The studios were in Woodside, Queens, in a tiny, dismal building. I arrive at La Guardia airport, expecting to go to a plush studio in Manhattan, but arrived at a shanty in Queens.
The control room, in the dank, tiny building, didn't impress me. The carpet was ratty, the chairs worn and when I saw the board, I thought, "I worked a board like this 10 years ago, somewhere."
Batt Johnson (below) was on air, when I arrived. "Black Ice" he calls himself, but he's a warm, wonderful man and a great RP. I watched him work for about ten minutes, asked a couple of questions, said thanks and turned to Bill Ford, saying, "I'm ready."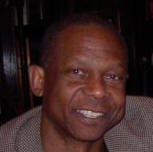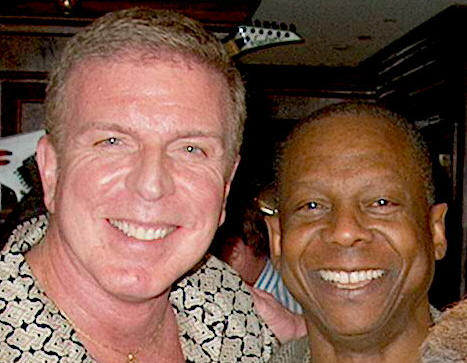 As soon as Johnson finished, I took over and knocked the socks off the station. It was New York City, but my Cleveland show worked. I had fun and everyone could hear the fun I was having, joking, laughing. I was being myself.
The next day, Ford says, "Man, I listened for about two hours last night. You're exactly what I want. I was really thrilled, but here's the deal."
GS There's always a catch when you're having fun.
TB The money was horrible, far less than in Cleveland. Ford says, "A little time and we can get more money, I promise." I was leery.
GS Be wary of a radio promise.
TB As usual, I needed time to think. Four or five days later, Ford calls me, saying, "Do you want to come to New York City?"
I say, "Yes, but we need to talk more about the deal." Over a few days, we worked out a deal and I moved to New York City, right into Manhattan. I figure, if I work in New York City, I must live in midtown Manhattan.
GS Were you shocked by the New York lifestyle.
TB Yes, I thought moving to Cleveland from North Carolina was a huge change, but New York was something else. I was not ready for New York, socially. It was wild.
I made the WKHK-FM deal work. I worked WKHK-FM for two and half years. What an experience, but, out of the blue, the owners decided to change the format, to "Lite FM," and I was out of a job.
GB The call letters and format were also out of work and moved to Richmond, Virginia. What was your next radio stop?
TB Kevin Matheeny, the PD at WNBC-AM, also in New York City, agreed to talk with me about a possible job. I produced an upbeat air check, from my work at WKHK-FM. The station, in fact, was a top forty pop format that used Country Music; my air check wasn't far-off what WNBC-AM was doing, at the time.
When I called Matheeny, he said, "We have some weekend time shifts. You never know what's going to open up." When I arrive, he listens to thirty seconds, of my tape; four stop sets, at most, and says, "Strong man, when do you want to start?"
GS The home of radio legends, such as Dick Summer, "Wolfman Jack," Don Imus and Cousin' Brucie, and Matheeny casually asks when do you want to start.
TB Right, I'm pinching myself. It was unbelievable. I say, "When's the first shift set to go?"
As we talk about WNBC-AM, Matheeny tells me, "It's good here because we have engineers. All you have to do is tell them what to do and they do what you say. If you can turn on the microphone, you can work this deal."
I think, "Now you're talking!" That was the tiffany age. I'm glad I was a part of it. That form of radio doesn't exist anywhere, any more.
GS Not anywhere, not even the unions can keep those jobs going I guess.
TB Yeah, WNBC-AM was a union shop, going back to the 1930s. It had unions for the radio and television, engineers and everyone. It was wonderful. This is how I met AJ Hammer, a teenager doing a menial union job at WNBC-AM.
On Saturday night, I'd tell the engineer do this, do that, do this. I'd lay down a couple of voice tracks on tape. Then I'd sneak up to the eighth floor, where I could watch "Saturday Night Live."
VH-1
GS You also worked VH-1, about the same time, didn't you?
TB Yes, I was one of the on-air Video Jockies (VJ), part of the original line up, in fact.
GS I recall singer, Rita Coolidge, was among the original line up. Who else was there?
TB Don Imus, who suggested VH-1 hire me; Frankie Cocker, the PD and RP at WBLS-FM; Scott Shannon, the PD and AM Drive RP on WHTZ-FM, also known as Z100, and John Bauman, "Bowzer" from the band, "Sha Na Na."
GS That was some lineup.
TB I was the first to audition for VH-1, which was a softer version, of MTV, aimed at an older age group. Lee Master, who later founded "E!" television, managed VH-1, at the time. VH-1 rented a suite at the Hilton Hotel, 56th and 6th, set-up its version of radio-on-television and ran auditions.
GS How do you think Imus came to recommend you?
TB The first time WNBC-AM fired Imus, he returned to Cleveland radio. At the time, I was doing radio and a daily television, "Weekday Fever," a dance show, in Cleveland. Guess Imus saw the television show.
Eventually, Jack Thayer found a way to get Imus back to WNBC-AM. When the VH-1 ideas came around, I was at WNBC-AM, too. Imus and I talked a few times, but I guess he remembered my Cleveland television show and, on that basis, recommended Masters audition me.
Fred Imus, brother of Don, worked the all-night shift at WHK-AM, in Cleveland. That's how I came to know Don. Fred Imus now runs the charity ranch Don supports.
GS It's interesting how music formats waver. When VH-1 began, it was music videos, 24/7, with a few interviews thrown in for good luck. Now, there's one 7-hour music show, "Fresh New Music," which runs 4 am to 11 am; the rest of the day, VH1 airs reality shows.
Let's talk about "Hot 97," WQHT-FM, in New York City. It was and is Dance Music, I think. You were at the top of your game at "Hot 97."
TB After a while on VH-1, I missed radio so much, I took the AM Drive shift at WPIX-FM, in New York City. Later, I did its PM Drive shift.
WPIX-FM didn't adequately promote my shows. Still, my shows were consistently among the top 20 or top 25 in the country, not only New York City. My quarter-hours were that large.
GS Another major achievement and you were working both TV and radio jobs.
TB Yes, but VH-1 eventually made it worth my while to work only television and I did. Then "Hot 97" signed on. First time I heard the station, I thought, "Oh, this is it. I must work there. Its upbeat dance, R&B, Pop and free style had my name written all over it!"
I didn't know the PD or anyone, but made it my business to find a way in to WQHT-FM. I called the station and made an appointment to go up there and see the PD, Joel Sulkowitz. It was that simple.
GS You were on VH-1 and known from local radio, you had some juice going in, I suspect.
TB I guess, so when I meet Sulkowitz, I say, "Listen man, I've worked at some hot Top 40 stations. I know Top 40 and 'Hot 97' are cooking."
Sulkowitz says, "You're right. We want everybody to cook their behind off here."
I say, "You're talking to the king of cooking. You put me on and we will cook." He did.
GS You have a way of convincing PDs.
TB I don't think I was as intimidated at WNBC-AM as I was at 'Hot 97.' The control room, the studio, was unbelievable. There were huge speakers, everywhere, blasting the music; this was a full sensory experience.
GS Not only could you hear, the music, you could feel the vibe, touch the vibe, maybe even see the music vibe.
TB Right and immediately my heart was racing. I had worked Top 40, but not Dance Music or this format. I was so beside myself, in that buffo studio, I missed my first commercial break. This new experience overwhelmed me that much.
Someone sticks their head in the studio, to chastise me, and I say, "No, no, sorry, sorry; I didn't have my headphones plugged in right" or some story I made up on the spot. I gulped and let it rip. After the first break, I was cooking.
By some point, I thought I'd get over the awe, of radio, but now I know it never happens. 'Hot 97' was such a great radio station. It was a sin, almost, to cash my pay cheque. What a rush.
GS Got to stay hungry, sings the Boss.
TB Yes and I have. I still have the passion.
KKFR-FM
GS Can we touch on Phoenix.
TB KKFR-FM, "Power 92," is the station in Phoenix, Arizona. I went to visit Phoenix and the city seduced me. The arid air, the desert cactus, the palm trees and mountains were beautiful.
GS Phoenix is a small big city.
TB When I heard KKFR-FM, I thought it's a great station, a tight sound. I called Ron Parker, who was the PD, at the time. He said, "Come by the station. We'll use you as an on-air guest." I did, but nothing came of it.
On another visit, to Phoenix, I called Steven Smith, who was now PD at KKFR-FM. We got together and I said, "I'd love to leave New York."
Smith, a New Yorker, wondered why I wanted to leave New York City radio. I said, "I'm tired of it, I just want to get out." I later regretted those words.
When I joined KKFR-FM, the format had shifted. When I took the job, the format was Dance Music. By the time I settled, the format was a hybrid of Dance and Hip-Hop.
The format change was a turn-off, for me. I moved to WASH-FM, in Washington, DC, almost the moment it made me an offer. Then I moved to WRQX-FM, "Mix 107.3," also in DC.
GS How long did you work in Washington, DC?
TB I was in DC more than four years, although it seemed much longer. After more than a decade in New York City, it was hard to settle elsewhere. Moving out of Washington was difficult; it seems once you work DC, you're not especially welcome anywhere else.
WRMF-FM
GS How did the move to West Palm Beach come about?
TB I always wanted to work in Florida. Miami was my goal, but an offer came from West Palm Beach that was too good. A friend was PDing a Country Music station, in West Palm. He put me touch, with Ken Payne, at WRMF-FM, "97.9," who was the PD.
On air, Payne called himself, "Major Payne." He's an excellent PD and among my personal top five favourites. I felt good at WRMF-FM.
The station was adult contemporary (AC). They hired me for PM Drive, but asked if I could do evenings for three or four months, to get the station through a ratings period. I did and WRMF-FM surged from thirteenth place to second place, in one book.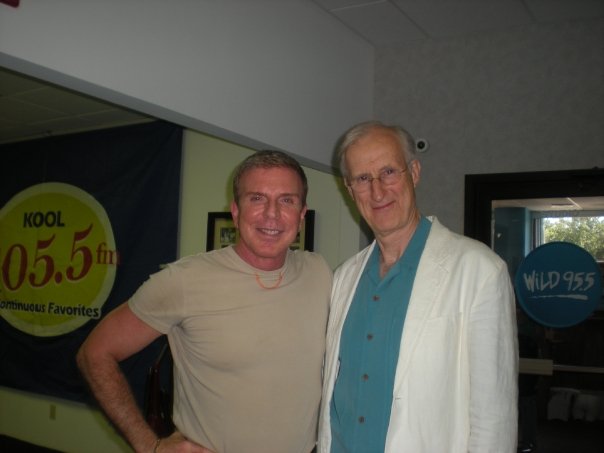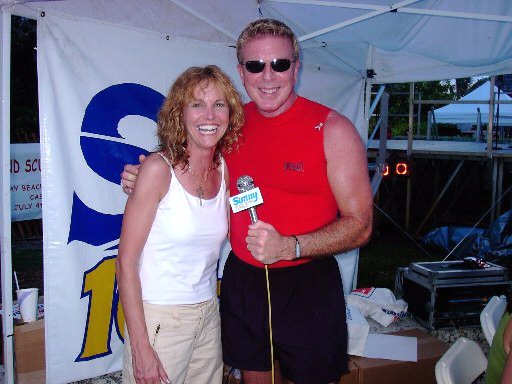 Tim with actor, James Cromwell, left;
with singer, songwriter, Kristy Jackson.
GS That's an accomplishment.
TB I did what I do. I worked hard. I paid attention to the shift and its audience, which I'm not sure the station had done.
I engaged, on and off the air, with listeners. There were offers for public appearances, for good causes, which I accepted. Someone would and say, "Hey, we're having this picnic; come over. We'd love to have you." I go and everyone leaves talking about my show.
GS How simple and effective is that?
TB My career route, what I learned from John Lodge, Claude Casey and others, what I did on my own, I love my listeners, comes together. Anyone can do it, but few bother. When you bother to care, to work hard and let listeners know you care about them, you have the makings of a great career as a RP.
GS Do you believe this approach would work in radio, today?
TB RP or janitor, when you engage people, when you let them know you care about them and about what you do for them, they respond. They tune into your show or become more careful about dropping icky stuff on the floor. Not everyone will respond or respond positively, but most will.
GS You joined WEAT-FM, also in West Palm Beach, in January 2000.
TB WEAT-FM was a great station. The year I joined, the PD, Les Howard, won the Billboard Radio Monitor Award for his work at WEAT-FM. He sometimes did an air shift as "Obi-Wan Jacoby," using his birth surname.
In the middle of March, 2006, I left WEAT-FM. What was once a warm, wonderful and supportive place to work had grown hostile and disrespectful. Two years without a contract and the relentless criticism was too much: I left.
The State of Radio, Today
GS Seems WEAT-FM was trying to force you out, which isn't unusual in radio, these days. What do you think about the state of radio today?
TB It's disgustingly vile.
GS Why do you think radio is disgusting and vile?
TB Deregulation ruined radio.
GS How did deregulation ruin radio?
TB When the Federal Communications Commission (FCC) deregulated ownership rules, big companies snapped up stations, one after another. The corporations either fired or forced RPs to leave. RPs, with 30-year careers, many of the most talented radio workers, head to selling used cars to pay their bills. Many RPs, PDs and MDs didn't want to contend with consultants or accounts, who took over stations.
Deregulation snatched the creative breathe from radio. What deregulation left was the brick and mortar and minimum wage workers. The corporate attitude is why pay money to a local RP when we can buy Ryan Seacrest drop-ins for pennies per station.
RPs that hung on had to take deep salary cuts. New on-air talent had fewer places to start. Too many new and on-the-way-up RPs worked second jobs, selling big screen television sets and home theatres, to survive, which turned them off radio.
GS I bet selling big screen televisions sets pays more than radio. Maybe, if the end rewards were reasonable and more stable, the sacrifice would balance.
TB Radio lost its appeal as a career. There comes a time when hard work and dedication must pay off for the RP, not only his or her employer. Such opportunities are scarce these days.
GS Howard Lapides and Matt Seinberg, among others, talk about the lack of imagination obvious in the PDs and MDs, of today.
TB I agree, but an owner has to allow his PD and MD to be creative. Most owners don't or won't take a chance on creativity, today. Too often, deregulation of ownership means one company owns the potential competition.
GS Yes, Lapides talked about that exact point. A PD can't do this or that, to make his or her station more competitive, because the competition is under the same roof.
TB At WAPE-AM, in Jacksonville, Stan Kaplan would supply bags of quarters. The RPs would go to restaurants or bars. We'd say to customer, who seemed to fit the WAPE-AM target audience profile, "Take these four quarters, play whatever you want, on the jukebox."
We'd make note of what they choose to play. What an inexpensive and effective way to find out about what music our listeners liked? Sure, jukeboxes are old fashion, today, but the principle works, with a tiny amount of imagination.
GS How smart is that?
TB It was a tool that worked. There are surely ways put the idea to work, with iPods, for example. "E-mail us your iPod playlist for a chance to win 999 iTunes."
No, radio, under corporate ownership, has different priorities. Corporations paid too much for stations. When the debt service came due, the interest payment, the bank account was bare.
To find money, to service the debt, corporations reduced costs. Career radio women and men lost their jobs or took deep cuts. Off-air creative women and men, such as copywriters and producers, also lost jobs, but likely had no chance to take a deep cut in pay.
What's left? Nothing creative, that's for sure. Sales teams expanded, but went on commission; cookie-cutter, canned programming fills most of the day and a laptop computer plays music and drop-ins through the night. How is this approach creative? How does this approach make money or attract talent?
GS Do you think radio can turn around?
TB Yes, but it won't be easy. First, the FCC has to force corporations to divest, that is, sell their stations. When the radio industry has many owners, which it doesn't, today, creative competition becomes a need, again.
If the owner needs one or two stations to profit, for him or her to survive, creativity will rule. In such circumstances, the most creative talent may not win, all the time, but they'll carve out moneymaking niches. When a 20-station market has 20 niches, listeners have choice, which is great. It's win-win.
GS That's a complex solution, but effective. Do you think it might happen?
TB I think corporate radio needs to fall apart, first, and then the medium may have a chance. The last gasp seems near and the pulse weakens, but who knows. A string of short-term solutions, band-aids, may keep corporate radio going for a generation or more.
GS John Rook is high on WiFi.
TB There's much potential in WiFi. When the USA fully WiFis, which won't be long, the market for satellite radio vanishes; who'll pay for what is free. Web radio then goes direct to your phone or radio, ostensibly free.
I realize there's no viable economic model for web stations, yet. When web radio becomes a reliable medium and begins to resemble regular radio, with voiced spots and so forth, a workable economic model is ready and waiting. Apply a version of what worked for terrestrial radio for three or four generations and web radio succeeds.
The Future
GS You left WOLL-FM, "KOOL 105.5," in West Palm Beach, in the spring. What's in your future?
TB Clear Channel laid-off about 900 staffers, all over America, in May 2009. For me it was weird, but not the first time I was winning the PM Drive slot, by a country mile, and was let go. I had much fun at WOLL-FM.
There's a bean counter, in the Clear Channel swamp, who doesn't understand what RPs do. He or she thinks what we do is the same as when she or he plays a DVD, at home. What we do is generate the revenue that pays his mortgage, the tuition fees for his children and his retirement.
GS Good grief is that naive or what.
TB I'm not sure there's room for radio in my future. I'm involved in many charities, in West Palm Beach. There's a possibility for a television show. For now, I'm concentrating on voice work.
Fast Impressions
GS Let's end in a different vein. I'll mention some names and you tell me your first thoughts. Let's start with "Wolfman Jack."
TB Honestly, he remains a radio legend, almost 15 years after his premature death. No one can copy him or his style. He was idiosyncratic and effective. He earned his legacy.
GS "The 60s on 6," which XM Satellite FM airs, uses air checks, of "Wolfman Jack," as regular programming, as if he were alive, going the shows.
TB I'm not surprised. When I worked WAIR-AM, in Winston-Salem, the "Guess Who" had a hit record, "Clap for the Wolfman." When the "Guess Who" came to town, "Wolfman" was part of the show, which I emceed. Just before the show started, "Wolfman" asks if I have a joint for him, thus ruining my heroic image of him.
Still, he was always entertaining, on air. He knew his audience, what they wanted and he delivered for them, all the time. There will never be another "Wolfman Jack," which is too bad.
GS Next is Dick Summer.
TB I love Dick. I worked with him at WPIX-FM. He is always far ahead of the pack, always unique, always creative. We got along famously, although I thought I might be too high energy for him.
Summer, as the "Wolfman," has a one-off style. He's almost impossible to copy. I guess if someone could tap his mind, the vocal style would come, but only maybe. Dick Summer is one of a kind, on and off-air.
GS Third is Carly Simon.
TB I had biggest crush on her, all my life. When I was working VH-1, I heard she was going to do a studio interview. I wasn't to interview her, unfortunately. I ordered a dozen red roses, which were waiting when she arrived. Seemingly, she got a big kick out of the thoughtfulness. I always played her songs, the hits and the stiffs.
GS The Real Don Steele is next.
TB He's a pillar of radio: great voice, sound and hard earned and well-deserved reputation as the top on-air act, in radio history, none better. He's the most air checked RP, in history. There's so much to learn from his air checks, no matter how many times you listen. He was an outstanding radio talent.
GS Alison Steele is next.
TB Never met her, but she was smooth. I worked New York City at the same time she did. She was another outstanding radio talent, but 180 degrees from The Real Don Steele. I'm not sure the Alison Steele style would work in Los Angeles or the Real Don Steele style in New York City.
GS The next name is Bruce Morrow, who's Cousin' Brucie, on radio.
GS He's a New York radio icon, a radio meg-star. There's an old radio adage: the RP who moves to the rhythm of the city wins. Bruce Murrow was the rhythm of New York City.
I never met Morrow, but I have a story. A few years ago, I was in Del Ray Beach, which is near where I live, in West Palm Beach. I was walking along Atlantic Avenue, looking in shop windows.
I went into a store that sold beachwear. The station I worked, at the time, was playing on a radio in the store. I complimented the salesperson on her choice of stations.
She said she liked the station a lot. I introduced myself. As we talked, she said she liked my show and that her father was in radio, in New York City. "That's great." I said, "Who's your father?" She says, "Cousin' Brucie."
GS Finally, a thought or two about Phil Collins.
TB Musically, one of my favourites and always has been. His solo sytle is much closer to my personal taste than is the band, 'Genesis." He, too, came by VH-1, for an interview, when I worked there. Again, I didn't get to do the interview.
Still, I wanted to meet Collins. While I was in make-up, getting prepared for my show, I called the control room, asking them to let me know before he leaves.
While I was in the make-up chair, I planned a speech. I'd introduce myself to Collins, mention how much I loved his version of "You Can't Hurry Love," and then let him go. I did not want to mess up this one.
As he's leaving, the control room calls and I walk out of make-up, the napkin pinned to my chest. Before I get close enough to shake his hand, Collins says, "Tim Byrd! You're my favourite VJ. I watch you, all the time." I swallowed my planned speech, what a thrill to meet Collins: the anti-rock rock star.
GS Thank you, Tim.
Click, below, to listen to a compilation of Tim Byrd, live on-air, at WGCL-FM, "G98," Cleveland; KKFR-FM, "Power 92," Phoenix; WQHT-FM, "Hot 97," New York City; WZZP-FM, in Cleveland, and voice over samples. Volume may vary from computer to computer. You may need to adjust the sound level.
Click here to contact "The Byrdman" via his web site.
Click here for a list of all Grub Street Interviews.
Interview edited and condensed for publication.