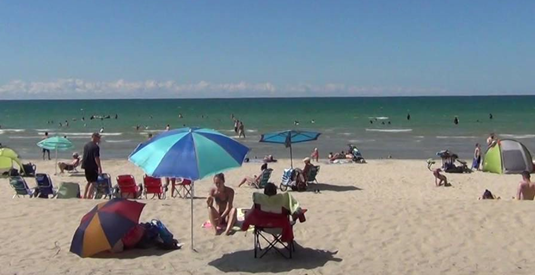 Paris is where you line up for three hours to get into the Louvre Museum. This gives you the opportunity to spend thirty seconds taking a distant glance at the Mona Lisa before you are hustled away. Add Venice and Amsterdam and you've named the three most notable places beset with over tourism.
Sandbanks and North Beach fill quickly.
You can add Prince Edward County, Ontario, to that august list. Sandbanks (above) provincial park gets full by-mid morning on weekends, leaving a long stream of cars in a lineup of hopelessness. North Beach fills just as quickly.
Wellington, Ontario, in Prince Edward County, is left to experience the bedlam that ensues from it being the beach of last resort. Once it fills, people become desperate. No-one can keep calm and carry-on, especially with the threat of a $300 wrongful parking fine.
According to Wellington Ward Councillor, Mike Harper, we are pushed over the tipping point by day trippers that decide one morning to go to the beach since the weather seems good and who have are therefore not going to simply turn around and go home because they would sooner fight the obstacles in the County rather than admit defeat and head home early. When they get here, however, they have no base from which to run. The result is over-tourism.
Over-tourism in the County reduces the quality of every tourist experience. Putting a cap on visits to the County, as is done at Bruce Peninsula National Park, is one measure that will be looked at by County staff in a report on tourism management due in January. But it is only one tool.
More tools for Country tourism.
I have in mind a measure that should appeal to every County resident who believes that tourism is crucial to our economy. The logic goes like this. Our beaches are full, so what.
There are many waterfront private residences in the County. Why not make your backyard available to a day tripper family, for a fee? Say that fee is $100.
This would entitle visitors to spend up to six hours using your driveway, patio, lawn and waterfront. The spare change that would land in your pocket would compare very nicely to an STA rental, without all the hassle of letting people into your house. The only necessary outlay would be for a portable toilet rental. The associated rental could possibly be picked up by the County.
Not have a beachfront property. Well, just drop your fee to $75 and offer desperate day trippers the use of your swimming pool or sprinkler instead. This still puts a nice chunk of change in your pocket. You could add a $25 upcharge for the use of your barbecue or the right to pick a couple of zucchinis from your vegetable patch.
I figure a system for matching day trippers with private residences could be administered by the County. You would just e-mail a form to the County showing the dates your property is available, the facilities you offer and the price. County employees, who could be students that missed out on the abruptly cancelled WE charity volunteer program of 2020, would be stationed at County entrance points to intercept cars that would otherwise be minded to turn back to offer them the alternative of the outdoor use of a private residence.
Just think of the message that would send to visitors. Instead of "We don't want you here, go away," it would be "We love you so much that we are prepared to allow you on to our private spaces." The County would quickly gain a reputation as the hospitality capitol of Canada; any potential association with the likes of Grand Bend, Wasaga Beach and Port Dover as places nobody goes to anymore because they're so crowded would be avoided.
Think of the upside potential. Maybe you'll take a shine to these visitors to your property and new lifelong friendships will develop. You may even get a return invitation to visit the outside of their house in Scarborough in February.
I appreciate insurance or zoning issues might prevent the programme from taking flight. Dealing with big issues requires you to put petty details aside. Does anyone have any better ideas?
Perhaps the County could install beach floodlights and run Sandbanks 24 hours a day. Do what Amsterdam has done and ban walking tours of our red-light district? Maybe end cruise ships off to our industrial areas as they've done in Venice?
Wellington could thus help crowd control in Paris.
If our programme works as well as I think it might, maybe we could arrange a visiting exhibition of the Mona Lisa in the Wellington Museum to show how well we can cope with the crowds. We could offer the Louvre a reciprocal visiting exhibition of our canning label collection. That would help Paris keep its crowds down.
Some readers seem intent on nullifying the authority of David Simmonds. The critics are so intense; Simmonds is cast as more scoundrel than scamp. He is, in fact, a Canadian writer of much wit and wisdom. Simmonds writes strong prose, not infrequently laced with savage humour. He dissects, in a cheeky way, what some think sacrosanct. His wit refuses to allow the absurdities of life to move along, nicely, without comment. What Simmonds writes frightens some readers. He doesn't court the ineffectual. Those he scares off are the same ones that will not understand his writing. Satire is not for sissies. The wit of David Simmonds skewers societal vanities, the self-important and their follies as well as the madness of tyrants. He never targets the outcasts or the marginalised; when he goes for a jugular, its blood is blue. David Simmonds, by nurture, is a lawyer. By nature, he is a perceptive writer, with a gimlet eye, a superb folk singer, lyricist and composer. He believes quirkiness is universal; this is his focus and the base of his creativity. "If my humour hurts," says Simmonds,"it's after the stiletto comes out." He's an urban satirist on par with Pete Hamill and Mike Barnacle; the late Jimmy Breslin and Mike Rokyo and, increasingly, Dorothy Parker. He writes from and often about the village of Wellington, Ontario. Simmonds also writes for the Wellington "Times," in Wellington, Ontario.
More by David Simmonds:
Tell a Friend
Click above to tell a friend about this article.