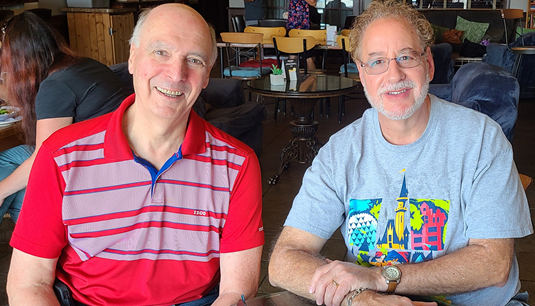 Ron "Buzz" Brindle, left, with Matt Seinberg
My younger daughter, Melissa, recently transferred, after graduation from the State University of New York (SUNY) at Farmingdale, to SUNY at Oneonta. She was so excited. My wife, her aunt and cousin also graduated from Oneonta; it's a real family affair.
Oneonta has a top music programme.
Oneonta is in central New York State, not far from Cooperstown, home of the National Baseball Hall of Fame. It is one of the northernmost cities of the Appalachian Region. Primarily a liberal arts school, Billboard Magazine for two years in a row, named SUNY Oneonta one of the top music programmes in the USA.
Move in day was 21 August 21, 2020. The trip from our home to SUNY Oneonta is a difficult one-day drive, as it's 3-to-4 hours one-way. We decided to make a mini vacation out of it, with a stop in Clifton Park, where my older daughter Michelle lives.
We left that Friday around 8 am, made a couple of rest stops along the way and arrived around 12:15 PM. Our move in appointment was 12:30, but no one was checking them or anything else for that matter. That should have been a sign of things to come.
At SUNY Oneonta, we met the parents of Melissa's roommate; they were nice. As soon as everything was in her room, Melissa wanted us out. She let us take one bad picture; "See ya, don't let the door hit you on the way out."
We went to the hotel and relaxed for bit, with plans to visit Chris, a former college roommate of Marcy, my wife, at 6:30 pm. Marcy had not seen the women in thirty-eight years; she was very excited. We stopped at a supermarket to pick up a couple of things, since her friend was bringing in food from a local legend, Brooks Family BBQ Restaurant. We had been there eight years ago and their food is great.
We made it to Chris's house quickly, even though our GPS didn't work too well. We were almost lost, as it's hard to navigate in an area you don't know. Still, we made it.
We didn't see a car in the driveway. We figured they had gone to get the food. We waited in our car.
A few minutes later they drove up, and Marcy and Chris hugged like long lost friends. I had never met Chris or her husband, Jeff, but we also got along like old friends. They are such nice people and wish they lived closer so we could hang out often.
The food, OMG the food. Chris bought two chickens from Brooks. I ate one half by myself it was so good. She had also bought a couple of sides including pasta salad, which is one of my favourites. I was hoping for ribs. If Marcy had mentioned that to Chris, she would have gotten those as well. Maybe next time.
Marcy and Chris gabbed away as old friends do, catching up on life and college days long gone. They talked of former roommates and friends and how they used to go out and have fun in town. Barley a breath taken.
We were there until 10 pm or so. I was fading fast. We said our goodbyes; they gave us better directions than the rural route we used to go up. This way would save us plenty of time to get to Clifton Park.
Saturday morning, we left around ten for Saratoga Springs to walk around and have lunch. Well, lunch turned out to be some very good ice cream at Kilwins, which we had been to previously. Who needs lunch when you can have ice cream?
We walked around town for awhile and visited a part of their park that we missed last time. They have a lot of nice memorials to their war dead. It's sobering.
We left Saratoga Springs around 2:30 pm and drove to our hotel in Clifton Park to relax. We had no plans that night, as Michelle wasn't coming home until Sunday. The toughest decision was trying to decide where to have dinner.
The Peddler restaurant had good food and fair prices.
The Springs has a Cracker Barrel restaurant, which we don't have on Long Island. The app said it was only a five-minute wait, but when we got there it was more like ninety minutes, so we left. We ended up at a restaurant called The Peddler, which we had been to with Michelle the year before. It's okay, nothing special.; the food is good; the prices are reasonable.
After dinner we went back to the hotel, and by 10pm I was out like a light. Sunday was a very busy day. I made plans for breakfast with one of my long-time radio friend, Ron "Buzz" Brindle, at local café; lunch was going to be at a park with another former roommate of Marcy and dinner was with Michelle.
We heard a lot of yelling, running and door slamming around 10:30 am. Marcy called the front desk to complain. They did nothing.
I took matters into my own hands. I opened our door and went all "DAD" on these two brats making all the noise. They looked embarrassed, as did the young lady who opened the other door. I told them get back in their rooms, stop running, yelling and slamming their doors; they weren't at home. It worked.
We got to Mocha Lisa's at 10 am. A few minutes later I saw Buzz arrive. I hadn't seen him since 1981 or so, but recognized him from his Facebook photos.
Buzz and I talked of radio, MTV, where he also worked, and our families. Playing catch up is so much fun. I love to catch up.
Marcy was bored to tears. She next door and ended up buying 2 pairs of shoes. Retail therapy is also good for boredom.
That afternoon we drove to Hudson Crossing Park in Schuylerville, which has walking trails and locks that connect it to Lake Champlain and the Hudson River. We met another former roommate of Marcy, Krystal, and her husband, Brian. They brought some good local pizza and we brought snacks and drinks.
The girls gabbed about college, their other roommates, and what they had been doing for the past thirty-eight years. It was like being in another time machine. Brian and I didn't even try to keep up and just talked about stuff that interested us, like cars and what we had done.
We walked the trails for a while after lunch and burnt off any calories we had consumed. Later we took a quick ride to a local farm stand Krystal and Brain told us of, but didn't have any of its famous melons left. We said our good-byes; the girls will keep in touch.
The ride back to the hotel was very scenic. One thing I've learned about Google Maps is this: it will rarely take you the same way twice. Instead of taking the Northway south to Clifton Park, we took Route 9 along the Hudson instead. It was very scenic, and a pleasant ride.
During this ride, we saw two company names and an apartment complex with the name of "Sheldon" in it. That told us that Dad is up there watching over Michelle.
We finally get back to the hotel and relaxing shower is calling my name. I had spoken to the front desk clerk about the incident the previous night; she told me that they had checked out. Thank goodness we wouldn't have to put up with that again. She also told me they had problems with them the night before.
The phone rings a bit later and it's Pam from the front desk. She says because of "the incident," they were giving us a 50% credit for that night. Sometimes it pays to complain.
I spoke with Michelle and we decided to go to Cracker Barrel for dinner, only this time I used the app to get on the wait list. For a chain restaurant, the food is good, but the service is very good. Our waitress was funny and friendly, which always helps.
More in part two of the road trip chronicle.
We always enjoy our time with Michelle and it's always hard to say goodbye. I don't expect staying in Clifton Park again until sometime in 2021. More on what happened in Part 2 of this chronicle.
Click here to read part two.