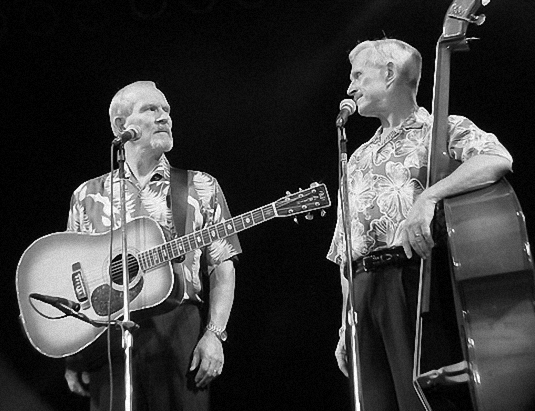 Tom Smothers, left, to brother Dick, "Mom always liked you best."
This pandemic has brought enough unwelcome news to last a decade. It also brought intrusive rules forcing me to change my behaviour. Who knew that you weren't supposed to cough and sneeze into other people's faces?
---
How to comply
---
I must know what the rules are. That's a big job. The rules themselves keep changing.
Stay at home. Do not go out. No, it's okay to go out, now.
You don't need to wear a mask. You should wear a mask. You can't come to our province, but I can come to yours.
You must socially distance yourself. No, you must physically distance yourself. You are encouraged to, no, you must, go into self-isolation.
Are we in Phase 1, Phase 2 or Phase 3? Depends where you live. Depends on what you believe.
Weddings and funerals are subject to three rules. First, the indoor ceremony rule, which is thirty per cent of room capacity. Second, the outdoor ceremony rule, which is fifty people. Third, the receptions rule, which is ten people.
It's all enough to make you dizzy. If life was confusing, now there are new, ostensibly temporary, norms. Who among us is cut out to be an eremite?
The Ontario government has come up with the idea of the "Social Circle," in which intimate physical contact, such as hugging, is allowed among a group of up to ten people that don't have to be related. There is five-step process for setting up your social circle. All the members of your household must be included in your social circle, but apart from that, it is up to you who you decide to include. You must only belong to one social circle. Other groups of up to ten people may get together, if they practice two-metre physical distancing.
---
The oozing problems of social circles.
---
Say you have a four-member family. Each of your children wants to choose a friend to be part of your family circle. Does the rule mean you have to accept the whole households, of those friends, into your circle?
The parents of the friends may want to start their own circle, which inclue their own kids. Your kids may be stuck with each other. Maybe great aunt Bessie, who lives alone up in Nipigon, is a better choice.
Let's say you're a widowed grandparent, with three married children and six grandchildren. There's not enough room to include all thirteen of you in the social circle. Who's going to be left out?
The excluded must sign up with someone or forego their licence to hug. But how are they going to do it, without offending grandma and her other children and their families?
You've got a potential case of Smothers Brothers Syndrome. As sure as night follows day, the rumbles, of "Mom always liked you best," will surface against the chosen sibling. Such forced choices may start a new industry of psycho-babble counselling: excluded from social circle dysphoria.
Maybe belonging to a social circle could well become a prestige badge, just like joining a fraternity or sorority in high school. Only the popular and good-looking kids are invited. Members of a circle will learn special chants, passwords and wear custom t-shirts to further enhance the distance between the in group and the out group.
Maybe Nike will approach them with a sponsorship offer. Maybe I will hold out from joining a social circle in the hopes I will get a better offer from a more prestigious circle. Maybe I will buy my way into an elite social circle.
Will social circles get special treatment at restaurants and be seated cheek by jowl, while the rest of us must yell to one another from two metres away to pass on a piece of gossip? What happens if they are not a real social circle, but a group of disgruntled social distancers pretending to be a circle to obtain intimate seating. Are you going to have to carry evidence of a Moody rating for your circle as reputable?
This raises the delicate question of registration. Are you prepared to cough up the information required to register your social circle? Wouldn't the government or Walmart or Amazon just love to get its hand on your data to keep you under surveillance or sell you something. Will there be a social circle algorithm to help with surveillance capitalism?
Don't get me wrong. I am not against nuanced rules that evolve to reflect the state of the war against COVID-19. It's just that I see the social circles rule collapsing under the weight of its good intentions unless it is applied flexibly and compassionately.
---
Mom always liked your social circle best.
---
Speaking of the Smothers Brothers, does anyone remember their routine about falling into a vat of chocolate? You can catch it on YouTube. Alternatively, you can image it from your position of isolation.
Some readers seem intent on nullifying the authority of David Simmonds. The critics are so intense; Simmonds is cast as more scoundrel than scamp. He is, in fact, a Canadian writer of much wit and wisdom. Simmonds writes strong prose, not infrequently laced with savage humour. He dissects, in a cheeky way, what some think sacrosanct. His wit refuses to allow the absurdities of life to move along, nicely, without comment. What Simmonds writes frightens some readers. He doesn't court the ineffectual. Those he scares off are the same ones that will not understand his writing. Satire is not for sissies. The wit of David Simmonds skewers societal vanities, the self-important and their follies as well as the madness of tyrants. He never targets the outcasts or the marginalised; when he goes for a jugular, its blood is blue. David Simmonds, by nurture, is a lawyer. By nature, he is a perceptive writer, with a gimlet eye, a superb folk singer, lyricist and composer. He believes quirkiness is universal; this is his focus and the base of his creativity. "If my humour hurts," says Simmonds,"it's after the stiletto comes out." He's an urban satirist on par with Pete Hamill and Mike Barnacle; the late Jimmy Breslin and Mike Rokyo and, increasingly, Dorothy Parker. He writes from and often about the village of Wellington, Ontario. Simmonds also writes for the Wellington "Times," in Wellington, Ontario.
More by David Simmonds:
Tell a Friend
Click above to tell a friend about this article.