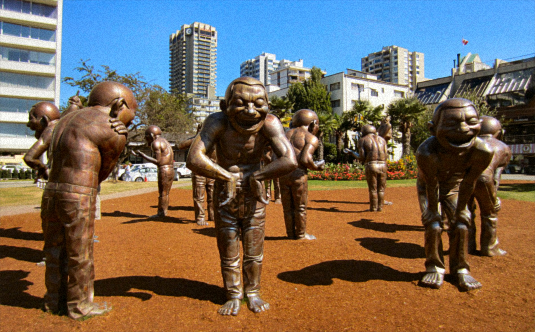 Few people care to stick their necks out and pontificate on what constitutes good art. I am certainly not one of them. I am prepared to say that if art, regardless of its intrinsic and skillful merits, makes people laugh, that is a good thing.
---
Vancouver art display.
---
Here's a case in point. The fourteen statues in Morton Park, which overlooks English Bay from the downtown west end of Vancouver, BC, by Chinese artist Yue Minjun; it's officially named, A maze-ing Laughter (above). Acquired by the City of Vancouver for a knockdown price of $1.5 million, the cluster of larger than life figures, of a man in various states of extreme laughter, draws a constant stream of visitors. The way most people react to the statues is uncanny: they let their guard down; they mug, grin and embrace. The per-visitor cost of the work just keeps going down as the good vibes dividend just keeps going up
Far be it from me to suggest we all travel to Vancouver to get in on the laughter. There's a piece of public art not far from Wellington County, Ontario, which engenders the same reaction. As I discovered last week, it's the Campbellford Giant Toonie Monument.
We had been driving to Frankford for lunch. Strangely, we developed a simultaneous hankering for cheese curds and chocolate. Thus, we decided to make a pilgrimage to Campbellford, to visit the Empire Cheese Factory and the World's Finest Chocolate stores.
As we had our daughter visiting us from Vancouver, we decided to show her the monument while we were at it: it would allow us to develop a cover story that we had felt it our duty to steep her in Canadian history. The cheese and chocolate purchases could be an afterthought (sic).
Not everyone knows Brent Townsend designed the toonie or that he's a resident of Campbellford. Nor do many know Campbellford was named the official home of the two-dollar coin, in 1997, by the Royal Canadian Mint. Mind you, not everybody cares.
We anticipated the monument would be worth a brief one-minute stop, so we were surprised to find ourselves spending a good half hour in its company. The reason is we encountered a sixtyish couple in gales of laughter. The wife was taking pictures of the husband mugging his way through a series of contortions designed to create the photographic illusion that he was lifting the coin, struggling with it on his shoulders, as a modern day Atlas, or balancing it delicately on his fingertips.
---
We posed with the Big Loonie.
---
When they saw us, they broke out into sheepish grins, but, to their credit, they carried on with their posing and. laughing despite the fact that they now had an audience. It was infectious and, after they finished, we tried our hands at posing, as well.
Our positive experience with the Campbellford toonie made me think that Giant-this and Largest-that pieces are more than reflections of civic pride: they are sure-fire laughter generators and people that laugh tend to part with their money more easily than people that frown. It made me wonder whether Wellington County is missing its chance to get in on the action.
I should point out that a smile is also greener than a frown. It takes sixty-three muscles to frown, but on thirteen to smile. Thus, a smile is better for the biological and social environments than is a frown.
Let's get back to municipal art. Sudbury, Ontario, for instance, has the Big Nickel. Wawa, Ontario, has the Giant Canada Goose and Drumheller, Alberta, the World's Biggest Dinosaur. I'll wager all three are glad they took the initiative.
There are all kinds of less well-known Big monuments, which Readers Digest has thoughtfully put into a list. There's the World's Largest Hockey Stick, in Duncan B.C.; the World's Largest Axe, in Nackawic, New Brunswick; the World's Largest Fiddle, In Sydney, Nova Scotia; the Giant Lawnmower in Enderby, B.C. I could go on.
So what is Wellington County to do? Move fast, but move purposefully for sure. The squid, mosquito and spider are in use.
Is there an object that symbolizes the County; that will qualify as neither good nor bad art because it makes people laugh, but will not compromise the hip aura the County wears these days? A giant grape is one idea, but somehow it doesn't capture the imagination: it might be mistaken for a giant prune. What of a giant corkscrew erected as our County monument? That would put the County squarely on the world oenophilic charts. If that is not feasible, what of a giant can of tomatoes or a monster size sheaf of barley?
---
The Big Apple in Colborne.
---
Having sat the cat among the pigeons, I will sign off so that I can finish all the cheese and chocolate from my Campbellford excursion and so I won't feel any guilt over not sharing them with you. Then I'm off to Colborne to see the Big Apple. I'm going to take the pictures. I'll let my wife pretend she's holding it up.
Some readers seem intent on nullifying the authority of David Simmonds. The critics are so intense; Simmonds is cast as more scoundrel than scamp. He is, in fact, a Canadian writer of much wit and wisdom. Simmonds writes strong prose, not infrequently laced with savage humour. He dissects, in a cheeky way, what some think sacrosanct. His wit refuses to allow the absurdities of life to move along, nicely, without comment. What Simmonds writes frightens some readers. He doesn't court the ineffectual. Those he scares off are the same ones that will not understand his writing. Satire is not for sissies. The wit of David Simmonds skewers societal vanities, the self-important and their follies as well as the madness of tyrants. He never targets the outcasts or the marginalised; when he goes for a jugular, its blood is blue. David Simmonds, by nurture, is a lawyer. By nature, he is a perceptive writer, with a gimlet eye, a superb folk singer, lyricist and composer. He believes quirkiness is universal; this is his focus and the base of his creativity. "If my humour hurts," says Simmonds,"it's after the stiletto comes out." He's an urban satirist on par with Pete Hamill and Mike Barnacle; the late Jimmy Breslin and Mike Rokyo and, increasingly, Dorothy Parker. He writes from and often about the village of Wellington, Ontario. Simmonds also writes for the Wellington "Times," in Wellington, Ontario.
More by David Simmonds:
Tell a Friend
Click above to tell a friend about this article.