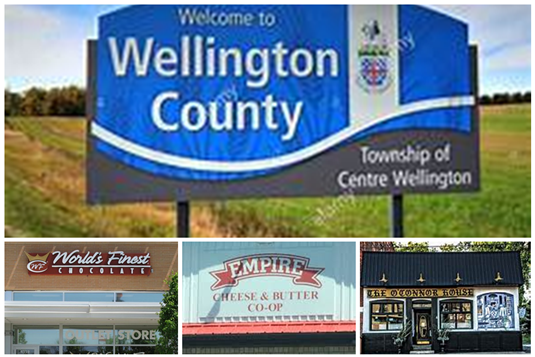 There is much in favour of living in Wellington County. I sometimes wonder whether we fall under the pleasant illusion of the rarefied air here; outside our boundaries is bleak wilderness. The truth is there are all manner of interesting places outside the County, within easy reach.
---
A load off my chest.
---
I'm going to share some of my favourites. I need to get a load off my chest. Call this the confession of a County loyalist.
I'll admit, at the outset, that my brief survey skews, heavily, toward bakeries and bookstores. Those of you looking for extreme adventure tips will find no satisfaction here. My survey is tame.
I want to acknowledge I get inspiration from the pages of three local magazines. without these publications, I would have missed such delightful events as the Warkworth Lilac Festival and the recent Castleton Yarns from the Mill Festival, held in support of the Mill at Piper Creek Arts and Heritage Centre. An important place remains for print media, at least in the County.
Watershed, which has a Cobourg and Port Hope orientation, delivers timely information about what's going on in Northumberland County and beyond. I held my breath when the publisher announced a few months ago that the then current issue would be the last, but there seems to have been a change of plan. Our own Conrad Beaubien is a regular contributor.
y Tracey and Jeff Keary, of Rednersville, publish Grapevine, which features contributions from our own Sharon Harrison. The third publication of note is County and Quinte Living, published by Metroland Media, a subsidiary of Torstar Corporation.
A fourth magazine is Country Roads, which focusses on Hastings County. I sometimes see copies of it strewn around the Via Station in Belleville. It doesn't seem to get regular delivery in Wellington County.
Let's get on my highlight tour. I'll start in the west. I enjoy the laid-back ambiance of The Loft Cinema in downtown Cobourg. It's an art house film and performance venue run by the genial Ken Prue. I have also sampled, on multiple occasions, to make sure my sampling was representative, the home cooking at the Buttermilk Cafe. I can move along to Grafton to try the Grafton Village Inn Cafe. If I'm just going to Brighton, I will be sure to stop at Lola's coffee shop and Lighthouse Books.
---
Trenton now Quinte West.
---
I will visit Trenton, oh, sorry; I mean Quinte West. There I can admire the acres of public parks and sport fields and catch the annual Scottish and Irish festival. I will drive to the northern limits of the town to visit the Bleasdell Boulder conservation area, and then a little further into Glen Miller, where I take in the occasional concert at the Old Church Theatre. I might drive through the immaculate landscape of Batawa and wish it good luck on its redevelopment or I might head north towards Stirling and stop at the Sager Conservation Areas to climb the impressive lookout.
If I'm feeling ambitious, I will mount an expedition to Campbellford to attack the twin delights of the Empire Cheese Factory store and the World's Finest Chocolate store, as well as to browse at Kerr's Corner Books. I might decide to go into Stirling and from there up to Madoc to grab a sandwich and some peanut butter cookies at the Hidden Goldmine bakery and pay a visit to the O'Hara Homestead Conservation Area.
I voluntarily visit Belleville to acknowledge its heroic efforts to refurbish the downtown core. While in Belleville, I can snack at Chilangos Mexican restaurant, visit the Glanmore Mansion, take a break at the Empire Theatre and, if it's March, attend the wonderful Belleville Downtown Docfest
To the east, I visit Desoronto for the O'Connor House Tea Room and Karen Brown's Antiques and Collectables, the largest antique store in eastern Ontario, where I get to buy back the everyday items from my childhood, priced as vintage. I'll know I'm really over the hill when I see them priced as antique. I'll go on to Nappanee and visit the Lennox & Addington County Museum & Archive and then head to Ellena's Cafe, the home of the best, and most generously portioned, coconut cream pie within an hour's drive from Wellington. Justin Trudeau visited the place, so be sure to take a selfie.
I'm overdue for a return visit to Tamworth, which packs a solid one-two punch of the River Bakery and great used bookstore, Tamworth Book Shop, as well as the woodwork burls Stinson Studios. I'm looking forward to going back to the annual Art among the Ruins show in beautiful downtown Newburgh, which also happens to have a bakery.
There are still some big gaps in my experience. Port Hope, Peterborough and Kingston are terra incognita. I've never done Tweed and haven't attended a performance at the Stirling Festival Theatre or at the newly renamed Westben Centre for Connection and Creativity through Music, nor have I seen a play at the Pinnacle Theatre in Belleville. I've never fully explored Amherst Island or visited the Wilton Cheese Factory north of Odessa.
---
Gaps filled with time.
---
I'll fill in those gaps slowly. After all, I don't want anyone accusing me of not being a County loyalist. I am.
Some readers seem intent on nullifying the authority of David Simmonds. The critics are so intense; Simmonds is cast as more scoundrel than scamp. He is, in fact, a Canadian writer of much wit and wisdom. Simmonds writes strong prose, not infrequently laced with savage humour. He dissects, in a cheeky way, what some think sacrosanct. His wit refuses to allow the absurdities of life to move along, nicely, without comment. What Simmonds writes frightens some readers. He doesn't court the ineffectual. Those he scares off are the same ones that will not understand his writing. Satire is not for sissies. The wit of David Simmonds skewers societal vanities, the self-important and their follies as well as the madness of tyrants. He never targets the outcasts or the marginalised; when he goes for a jugular, its blood is blue. David Simmonds, by nurture, is a lawyer. By nature, he is a perceptive writer, with a gimlet eye, a superb folk singer, lyricist and composer. He believes quirkiness is universal; this is his focus and the base of his creativity. "If my humour hurts," says Simmonds,"it's after the stiletto comes out." He's an urban satirist on par with Pete Hamill and Mike Barnacle; the late Jimmy Breslin and Mike Rokyo and, increasingly, Dorothy Parker. He writes from and often about the village of Wellington, Ontario. Simmonds also writes for the Wellington "Times," in Wellington, Ontario.
More by David Simmonds:
Tell a Friend
Click above to tell a friend about this article.