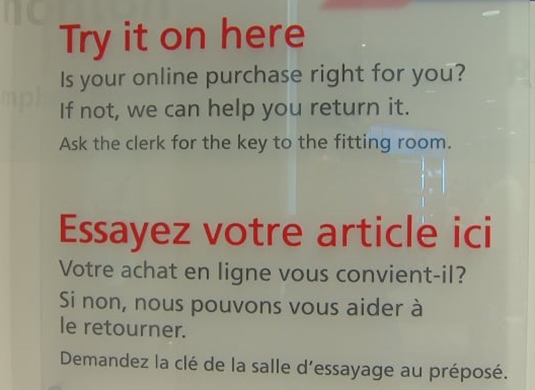 Sign outside a Canada Post fitting aka trial room in Ottawa.
If a stranger to our customs asked me how to go about buying a shirt, I would, until recently, have told him to go to the store and look at the selection, try a couple on, select his favourite, pay for it with cash or a credit card and then take it home and enjoy wearing it.
---
That's so old school.
---
In hip 2018, I am supposed to order a bunch of shirts online, pay for them with a credit card and arrange free delivery to a destination of my choosing. Then, I keep the ones I like and ship the rest back free, within 30 days, for a full credit card refund. The idea of a retail store with inventory is fast becoming extinct.
To know where our beloved Canada Post stands in this transition, all we must do is consider its corporate slogan, "Delivering the online world." Its new advertisement campaign forms around the tag line, "For everything you do online, we deliver."
The advertisement touts the establishment of new "Concept Stores," by Canada Post, in "select locations." These Concept Stores are "innovation labs" that allow Canada Post to "test exciting new services so you can experience the post office of the future, today." Unfortunately, our Wellington Post Office is not a select location, for Canada Post.
One element of the Concept Stores advertisement caught my attention. At the new stores, Canada Post is offering trial rooms also known as change rooms. These public change rooms will give you the opportunity to "open your new clothing and apparel parcels, try them on and return the good, on the spot, if need be."
Now, I am the first one to sympathize with the financial predicament of Canada Post. Its monopoly over the mail service has swiftly become irrelevant. Increasingly, people engage electronically and their parcels arrive by courier. The government expresses no interest in extending that monopoly to meet those new realities, which makes it harder to recover the costs of fulfilling Canada Post legacy mail obligations.
A Canada Post office with fitting or trial rooms: what will this entail? Will you have to pay for trying on more than three shirts? Will the next logical step be to hire advisors to help you select the right tie for you?
---
Expand use of trial rooms.
---
Maybe the trial rooms for clothing and apparel is just the beginning. Perhaps Canada Post plans to expand its change room concept to a trial room approach for the whole gamut of good you once could buy at a retail store and can now obtain online. Anything is possible.
Say you order a barbecue online. Before taking it home, you want to make sure all the parts are there and you know how to put the thing together. There's no better way to deal with your concerns than to let you test your new b-b-q. Allowing you to do so right at the at the parcel delivery point? Perhaps, having the trail room staffed by someone that has assembled a barbecue or two before?
Maybe you ordered five pounds of gourmet free-range sausage, online, from a specialty farm out west. Who wouldn't relish the opportunity to check out the freshness of the product in a Canada Post trial kitchen? Then you could return it on the spot, if it doesn't pass muster?
While we are at it, why not staff the kitchen with a nutrition consultant. She or he can verify your conclusion regarding taste. Perhaps you might have the chance to purchase some sauerkraut and potatoes to go with it.
Maybe sometime next year, when purchases have become lawful, you will have ordered online some Willie Nelson special blend cannabis. You'll want to make sure you bought the real McCoy. What better place to test the product than in a trial room right on site. This is especially true if an experienced user were on hand to help you with the quality assessment. You could imagine almost any online product having an associated trial room.
Maybe this is Canada Post's long-term strategy. To be the hub around which the online world delivers and readily takes returns, free, both ways, to and from the buyer.
---
Some trial rooms may hold inventory.
---
Maybe Canada Post sees the opportunity to establish itself in empty shopping centres, laid waste by the online trend and turn them into vast pickup and delivery centres with dozens of different trial rooms. Perhaps it won't be too much longer until someone has the bright idea that trial rooms could hold a certain amount of inventory to enable people to buy directly on site and skip the online intermediaries. By which point we would be back at retail. I could buy my shirts the way I always did
Some readers seem intent on nullifying the authority of David Simmonds. The critics are so intense; Simmonds is cast as more scoundrel than scamp. He is, in fact, a Canadian writer of much wit and wisdom. Simmonds writes strong prose, not infrequently laced with savage humour. He dissects, in a cheeky way, what some think sacrosanct. His wit refuses to allow the absurdities of life to move along, nicely, without comment. What Simmonds writes frightens some readers. He doesn't court the ineffectual. Those he scares off are the same ones that will not understand his writing. Satire is not for sissies. The wit of David Simmonds skewers societal vanities, the self-important and their follies as well as the madness of tyrants. He never targets the outcasts or the marginalised; when he goes for a jugular, its blood is blue. David Simmonds, by nurture, is a lawyer. By nature, he is a perceptive writer, with a gimlet eye, a superb folk singer, lyricist and composer. He believes quirkiness is universal; this is his focus and the base of his creativity. "If my humour hurts," says Simmonds,"it's after the stiletto comes out." He's an urban satirist on par with Pete Hamill and Mike Barnacle; the late Jimmy Breslin and Mike Rokyo and, increasingly, Dorothy Parker. He writes from and often about the village of Wellington, Ontario. Simmonds also writes for the Wellington "Times," in Wellington, Ontario.
More by David Simmonds:
Tell a Friend
Click above to tell a friend about this article.