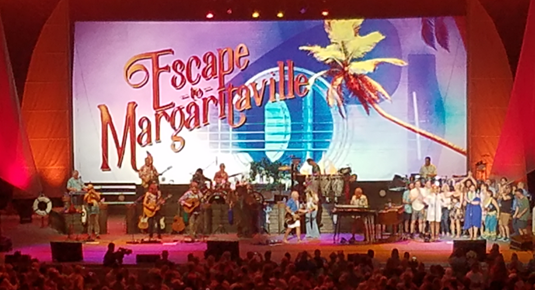 Every spring, I wait patiently for the announcement of Jimmy Buffett tour dates. I know he'll perform at the Jones Beach Theatre sometime in August; I want to know exactly when. Finally, on 2 March, the 2 August show announced. The 2018 tour, called "The Son of a Son of a Sailor Tour," celebrates the 40th anniversary of that eponymous album.
---
Tix bought in April for August show.
---
Tickets went on sale in April. I managed to grab mine the first Monday of the sale. My wife has no desire to see Buffett; I go alone. Well, not actually alone, as 10,000 or so other Buffett fans or Parrott Heads will be attending the Jones Beach Theater show as well.
This is the 32nd year Buffett appears at Jones Beach. I didn't know that. I attended at least ten-to-fifteen of the annual shows; no two are alike. Buffett always varies his shows enough to keep his loyal fans coming back.
Two years ago, I took the day off work to meet a friend, before the show, and tailgate with his friends. My friend said to bring something for the host. I brought a $40 bottle of tequila. What a waste; there was no food and all I got was a bottle of water. I told my friend I wasn't happy with the way this turned out.
Still, as they say on television, there's more. My friend had told me on Facebook Messenger that the ticket he could get from this same friend was $50. I immediately said, "Yes." When I got there, I handed over the money and got the ticket. A little while later, both of them came over to me and said the ticket was $100. I didn't have the cash and asked my friend if I could Paypal it to him. He said don't worry; he paid the other $50.
Fine by me, I had handed over that bottle of tequila and got nothing in return. Payback is a bitch, isn't it? I decided after that I wouldn't tailgate again, unless it was with a known group of friends that would have plenty of food and drink.
This year, I left work around 5 pm, went home, changed and had dinner. I got to the theatre around 6:30 pm and was very happy with my seat. It was smack in the middle of the theatre, one level up from the floor.
---
Always something to annoy me.
---
The most annoying part, of the show, was the woman seated in front of me kept getting out of seat. This forced me to stand every time. She did it at least twelve times.
Opening the show for Jimmy is new country artist, Caroline Jones. She performed for about twenty minutes. Her big summer hit is "Barefeet"; it sounds better live than on the radio. She also performed with Buffett on a couple of songs during the show.
The set list was awesome. Jimmy opened with "Livingston Saturday Night," and the crowd went wild. Other songs included "The Weather is Here, Wish you were Beautiful," "Boat Drinks," "It's 5 O'clock Somewhere," "Cowboy In The Jungle," in which he mentions my favourite character, Tully Mars; "Knees of my Heart," Come Monday," "Trip Around the Sun" and, finally, the song the tour is named after, "Son of a Son of a Sailor."
The next big hit he did was "Cheeseburger in Paradise." Next came one of my personal favourites, "One Particular Harbor." This song has a way of taking you down to the Caribbean and instantly making you feel good.
"Volcano" was up next, followed by "Grapefruit Juicy Fruit," "Coast of Marseilles," "It's My Job," "Fins," "A Pirate Looks at 40," and then, because he performed with The Beach Boys in Washington DC on 4 July, he did "Sail on Sail On Sailor," joking that he was a Beach Boy for of three minutes.
Then the highlight of the show was "Margaritaville," with some of the cast of his Broadway show, Escape from Margaritaville, joining Buffett on stage (see above). They also did "Let's Get Drunk and Screw." I think some of the audience was truly ready for that.
"Changes in Attitude, Changes in Latitude" was up next, followed by the Crosby, Stills, Nash and Young hit "Southern Cross." Wow, did the audience rock with that one.
The Van Morrison hit "Brown Eyed Girl" always has the audience singing along. Morrison says this is his favourite Jimmy Buffett song. Long Island singer, Nancy Atlas, joined Jimmy and the Coral Reefer Band for this one; she can really belt it out.
The last song was "Lovely Cruise." Jimmy and the band really put their heart and souls into this song, well, into all the songs.
If you've never been to a Jimmy Buffett concert, go soon. The man is almost seventy-two years old and he must stop touring one of these years. Then, again, Mick and Keith are seventy-five years old.
---
Fins up Parrot Heads.
---
Believe me when I say that I will go to every show at Jones Beach, unless I'm away. Even then, I wouldn't make vacation plans unless I know when that show is at Jones Beach Theater.