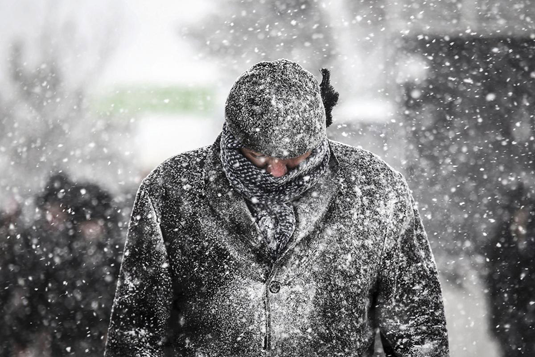 After living through Superstorm Sandy, in 2012, I hoped never to go through anything like that again. New York City missed most of the devastating effects of Hurricanes Harvey and Irma. All we got was some rain, whereas the Caribbean was devastated.
---
The buildup was huge.
---
Late last week, the weather people started to shout the alarm about this nor-easter. Late last week and with each passing day, the forecast became worse and worse.
I had a 4 pm appointment, with my physician, for Friday 2 March. His office called me at 9:15 am, asking if I wanted to come in early, as the physician, who lives in Manhattan, would be leaving early. I said I would be there in an hour. I really wanted to go, as this was going to be my last appointment with Dr Gene; he is retiring.
I also received a text, from a work friend, telling me how the weather was terrible in their area. We wouldn't be meeting for lunch later that day. That was fine with me, as the weather was supposed to get much worse.
After I got home from my appointment, I had some work to do on the computer, in my basement. All was well until 3 pm, when the lights flickered three times; the power went out and didn't come back on.
I then went to the website of Public Service Electric and Gas (PSEG), of Long Island, to report the outage. I got a text shortly thereafter saying that the best estimate of it coming back on was 8:15 pm. Okay, I could live with that, as going through the night without heat and television wouldn't be very pleasant.
I got several of those texts and then nothing. Their outage map wasn't updating, with any useful information. Michelle, my daughter, decided to go to the home of her grandparents to do some work and sleep over. Melissa, my other daughter, went to the house of a friend, getting home around midnight.
I napped from 4-to-6 pm, got up for dinner, which was a bowl of cereal. As I since I had a decent cell signal, the WiFi was out, of course, I decided to watch a movie. I put on Netflix to watch Pirates of the Caribbean: Dead Men Tell No Tales. After that, I read for a while in bed with flashlight. That's something I used to do as kid after my parents put me to bed.
Marcy, my wife, and I went to sleep around 10 pm, wearing layers since it was very cold in the house. The cats were in house trying, to keep warm, too.
Everybody vilifies PSEG for not providing enough information about power outages. This time was no exception. There were no more text or email updates. I posted on their Facebook page just to get it off my chest. I will also send something to the New York State Public Service Commission regarding their lack of information.
---
Surprise.
---
Imagine my surprise at 3 am when all of a sudden the lights and television came on. I checked the thermostat to make sure the heat was up, and we went back to sleep. I had told Michelle that if we didn't have power, I was going to my in-laws house for a hot shower and breakfast. Luckily, I didn't have to do that.
During Hurricane Sandy, we had little-to-no information given, as to when the power would return. After a week of no power, the pole and transformer down the block PSEG repaired the pole.
This time, we had no idea what was wrong. At least it wouldn't be a week.
I just got a private message from PSEG. Here it is with my reply.
"Hello Matt. We apologize for any frustration. Due to the storm, our restoration process is taking longer than normal. We did experience some issues with our outage alerts, and again apologize for the inconvenience. We will continue to make improvement with our outage alerts to avoid future errors. – AC"
After all the practice you had from Sandy and subsequent years, this system should be foolproof! There was no reason for such a lack of communication!
Reply: "While I appreciate an answer coming so quickly to my comment and private message, it's such a non-answer. I can only imagine how many complaints they got in total from their communication problem. Let's see what corporate drone will be fired for this mishap."
---
The storm is now at sea.
---
Life is almost back to normal and the storm is safely out at sea. I really want spring to arrive!