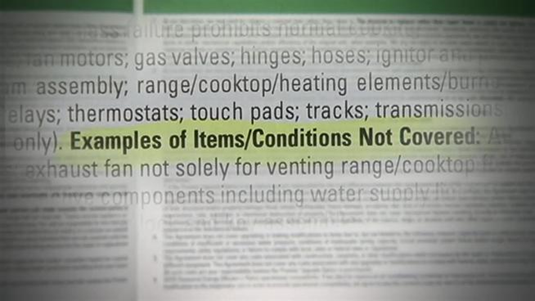 How many of us have purchased extended warranties on various products over the years, and have to make a claim during that period? On most electronics, I have, including an Epson printer, Vizio television, Samsung TV and refrigerator, Maytag dishwasher and the new washing machine.
---
Sometimes the claim process is easy, sometimes not.
---
Let's talk about the easy ones first. I bought a new Vizio 47 inch LED Television, direct from Vizio, about six years ago. I took the extended warranty because it was their first LED model, so I didn't want to take a chance.
Thank goodness I did. I had several problems with it. The first problem was with the picture flickering, so I called the warranty number and made an appointment for a technician to come out.
The tech diagnosed the problem as a bad power supply. He ordered a new one. A week later he came back to install it.
The next problem, with the Vizio television, was that it stopped streaming any services, such as Amazon On Demand or Netflix. For some reason, the firmware wouldn't update. I even had Amazon Customer Service on the phone trying to help.
The warranty company did an exchange on the television. The new television worked with the streaming services. Yay, problem solved!
Wait, there's more! A couple of years later, as I'm sick as a dog in bed, the picture, of the Vizio television, faded to black. I had been watching it for twelve hours or so and it probably overheated. The next day it worked, but it went black, again, after another full day of use.
I called the warranty company and my set was just out of the extended warranty period; they couldn't do anything. I even called the technician that had come over previously for his advice. He said it was probably the power supply again and it would be an expensive repair.
There was no way we couldn't be without a television in the bedroom. The next day, I bought a 50" Samsung television that has been a champion. When I needed a 39" for the living room, I went with a new Vizio and bought the warranty, but lost the paperwork.
---
My one Samsung regret.
---
The one Samsung product I regret buying is the refrigerator. This three-door French door, bottom freezer model has been nothing but trouble since we got it. The first thing that happened was the white door handles started to peel. We called that in and the technician was nice enough to order us the stainless steel handles after the first ones that showed up were the wrong ones.
The next problem was water collecting under the bins. I called that in and the technician said that's a "known problem" with this model. He had to order a little metal part that went into the back of the fridge so the evaporator wouldn't freeze up.
That took two visits to fix. The first time we didn't shut off the refrigerator and let it thaw long enough. Really! What were we supposed to do with all the food for two days?
Then the ice-maker broke, not once, not twice, but three times! That's it. I'm done with this thing. We had a three-year warranty on it and then I bought another two years. So when it happened a third time, the warranty was up, but as "a courtesy," they would do the service free. This took two visits, since the first tech diagnosed it as a broken water valve.
When the second tech came to install the new water valve, it still didn't work. He said the icemaker was indeed broken and he'd have to order another one. I had it, with lost days of waiting for service. I called customer service and get a rather rude girl. She kept telling me this fridge wasn't a lemon. Yes it is!
This customer service representative is making me mad. I tell her so. I ask rather emphatically to speak with a supervisor. She refuses, telling me that the supervisor would tell me the same thing. I still insist. Finally, a supervisor takes my call. She is just as useless. I tell her I want a new fridge and ask why I was not offered a new fridge, previously.
Niki is the supervisor. After going around in circles, I tell her, "I'm going to get what I want and I'll go so far over your head you'll feel my feet." She tells me to have a good night and I hang up. I'm steaming at this point, plotting my next move.
I find the name and email for the director of service for this rather large Long Island based company. I send a very detailed e-mail at 6 pm. I outline our problems and explain how rude the last two customer service representatives were to me.
Three hours later, I get a very nice reply, apologizing for the problems with the fridge as well as how the supervisor spoke to me. The director of customer service said I would get a phone call the next morning with a resolution to the problem.
At 10 am, the next morning, I did get the call, but missed it; later listened to the voice mail. It was his executive assistant, Joan. She asked me to call back to discuss this issue.
I called Joan. She was very nice. She, again, apologized for the problems with customer service and the fridge. She said they would take the fridge back, give me a full credit, no charge delivery and, if I bought the 5-year warranty, she would make it 10 years.
Bonus points here, she is very good friends with a manager I used to work with at my current company. We were now good friends, too. She sent me two emails confirming the conversation.
My wife and I decided that since our washing machine was almost twenty years old, it was time to change it, as it was acting up. Sometimes in between the rinse and spin cycles, it would just stop and need to be reset. My great fear was that if it wouldn't reset, we'd have a washer full of water and smelly clothes.
I went to the store. Two different sales men said it would be no problem to do the fridge and washer together, using that credit. When my wife and I went back, the third sales man said we couldn't do it. I insisted that the two other fellows said I could. This fellow went to talk to the manager who evidently approved it.
I still spent almost $600 out of pocket. That consisted of an icemaker, two warranties, hoses, delivery, installation and tax. I didn't care because I got what I wanted.
I hope Niki felt my feet hit the top of her head when we got the first delivery of the washer. The fridge was a special order, arriving in about 2-4 weeks. Then she'll feel my feet again.
My advice is always purchase the longest extended warranty you can for major appliances. One home visit can cost $150, whereas the ten-year warranty costs less than $300, usually. The warranty cost is worth it.
---
The Epson printer mini-saga.
---
Do you remember the Epson printer I wrote of buying? I took a three-year extended warranty. It died a few days after the Warranty expired, so I didn't get anything. I bought one on the replacement and that died within the one-year warranty, so I got that replaced free of charge.
Sometimes you win, sometimes you don't.