In the late 1950s, Stan Klees worked for McKay Records Distributing, in Canada. "I was doing promotion," he says. "My job was to handle acts appearing in the Toronto area. I'd take them to radio stations, set up interviews, make sure they got in and out of town, on schedule, and so forth.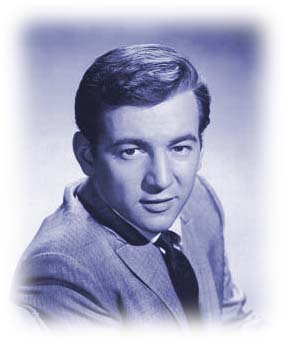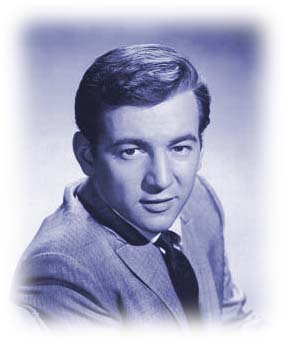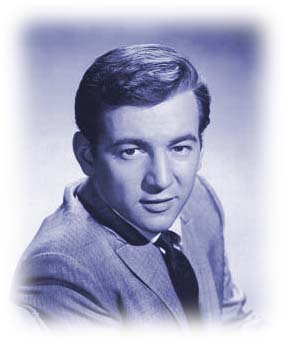 "McKay distributed Atco Records, which booked Bobby Darin, its top act, at the time, on 'Cross Canada Hit Parade.' Next to 'Hockey Night in Canada,' 'Cross Canada Hit Parade' was the top-rated show on the CBC-TV network[, the only network in English Canada, at the time]. I went to the CBC-TV studios, at Yonge and Marlborough, where the show taped, to dot the eyes and cross the tees. I thought it was all routine." (Click to enlarge photograph.)
Darin signed with Atco (Atlantic Records), in 1958, after a brief stint with Decca, where he released five singles, without a hit. "Atco let Darin write and arrange his music, as he wanted," says Klees. Radio and record buyers passed on his first three Atco releases: "I Found a Million Dollar Baby," "Don't Call My Name" and "Just in Case You Change Your mind." His fourth release, on Atco, was the top record of 1958.
Supposedly, a New York City disc jockey, Murray "The K" Kaufman (1922-1982), was behind the Bobby Darin hit. Kaufman had listeners from Labrador to Miami and Boston to Chicago. He took over the seasonal rock 'n' roll shows, at the Paramount, Brooklyn, when Allen Freed moved on. "Murray the K" was among the first Superjocks and a critical ingredient in any hit record, in his time.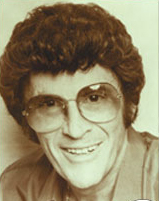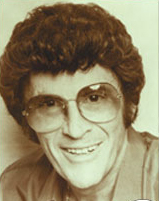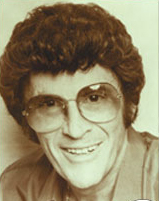 In the 1960s, Kaufman (above) called himself, "The 5th Beatle." He was the first media celebrity to meet "The Beatles," when they arrived in New York City, in February 1964. He did his show from their suite, at the Plaza Hotel. He was backstage when the band performed on the "Ed Sullivan Show." He shared a room, with George Harrison, after the Miami concert. During a press conference, held before a concert in Washington, DC, Ringo called Kaufman (right), "The 5th Beatles," saying, "He's always around, isn't he?"
During an on-air interview, with Darin, in 1957, Kaufman said Darin couldn't write a hit beginning with the words, "Splish splash, I was takin' a bath." Kaufman got the phrase from his mother, Jean, a former vaudevillian, with a great ear for the possible. Darin accepted the challenge.
"Splish Splash" took 12-to-35 minutes to write, depending on who asked Darin. He didn't seem to like reporters. The 45 RPM record sold more than a million copies and made Darin a star.
Best known, today, as a song for kids, "Splish Splash" was the top hit of 1958. A novelty song made a serious career. He shared his royalties, as lyricist, with Jean Kaufman. Given royalty payments, at the time, her share likely amount to $4,000.00, for a two-second throw-away line. "
Fittingly, the last song, performed by Darin, who passed, in 1973, at age 37, was a boogie-woogie version of "Splish Splash." That was on a 1973 television show. Last song, to end the last show he performed.
"While I waited in the Green Room, at CBC Studio 4," says Stan Klees, "I talked with 'Dickie Doo and the Don'ts.' Eventually, Drew Crossman, producer of "Cross Canada Hit Parade," and his writers, Saul Ilson and John Aylesworth arrived."
Crossan had bad news. "Darin wouldn't make the show. He's stuck in New York. The fog's pea soup, the airports are closed and his flight's canceled. We're looking to replace him, quickly," Crossan said.
"I called Bob Munro," says Klees. Munro was "Mr. Fix-it" at TransCanada Airlines, which is now Air Canada. 'Could he get Darin to Toronto from New York City, I asked. Munro took the number, sighing he'd call back. "
"When I got back to the Green Room," says Klees, "Crossan smiled, asking if I'd removed the fog." In a short while, a security man beckoned Klees into the hall, to take a call. Bob Munro said, "We got Darin on the last flight, out of New York, on American Air Lines, which flies in any weather." Leaving an amazed Crossan, Klees was off to bring back Darin from the airport.
"Shortly after I got to Malton Airport [now Pearson International]," says Klees, "Bobby came through the gate. He was wearing a beige raincoat, and carrying a small club bag. He wasn't as tall as I had imagined him.
"I introduced myself and off we drove to CBC." During the ride, Klees and Darin became friends, chatting "as if we had known each other for years." At Studio 4, Darin did a quick rehearsal, nailing it right off the bat. "He was a polished, get-down-to-business entertainer and the band was tops," says Klees.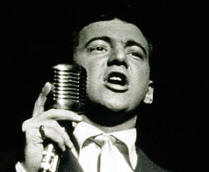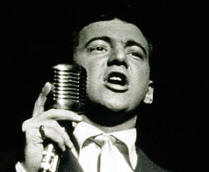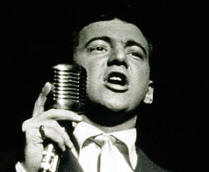 "Cross Canada Hit Parade" was a version of "Your Hit Parade," which NBC aired, in the USA. Milton Berle, Gene Krupa and were featured on "Your Hit Parade." Regulars on "Cross Canada Hit Parade" were up-and-comers, Robert Goulet, Joyce Hahn, Phyllis Marshall, Adam Timoon (1956-57) and Wally Koster (1958-1959). The MCs (Emcees), a quartet of singers (Harry Harding, Ken Reaney, Iver MacIver, Ken McRae), also appeared each week. The orchestra was lead by Bert Niosi. Austin Willis (1955-1958) and Bill Walker (1958-59) hosted "Cross Canada Hit Parade."
Before a live audience, in studio and across Canada, the regulars performed shortened versions of hit songs. "Cross Canada Hit Parade" often aired with elaborate productions. The first show, of the 1956 season, used a set that Crossan boasted as the largest used in Canada. It included "Conklin's Children's Carnival," three elephants and a roller coaster. Always penny wise and dollar foolish, CBC skimped on royalties, with shorten versions of songs, and went all out for a production, involving a full carnival.
In the early days of rock 'n' roll, most songs featured on "Cross Canada Hit Parade," were hardly hits. A hit song on "Cross Canada Hit Parade" was typically a show tune, such as "Isn't It Lovely," or light pop, such as "Singing the Blues." One show, Wally Koster unwisely gave "Hound Dog," the Presley hit, a try.
Booking Darin on "Cross Canada Hit Parade" was a major coup. Atco covered travel costs for Darin. CBC offered a paltry talent fee. When Darin performed, a different side of him emerged: "Every night, I hope and pray, a dream lover will come my way." He was gregarious: "A girl to hold, in my arms, and know the magic of her charms." He had a touch arrogant: "Cause I want (yeah, yeah), a girl (yeah, yeah), to call (yeah, yeah), my own (yeah-yeah, yeah)." When he sang, ""I want a dream lover, so I don't have to dream alone," he tore the house down.
Darin was flying back to New York City, after he sang. "As he finished," says Klees, "I called to confirm his flight. New York remained fogged-in; flights in and out were canceled. Dismayed, Darin asked if we could go to airport to wait for a flight, the next morning.
"In those days," says Klees, co-founder, with Walt Grealis, of the Juno Awards, "record companies didn't treat their acts like big stars." Atco covered the return flight from New York City to Toronto, but nothing else; not even food, it seems. "I got the feeling," says Klees, "that Darin didn't have money for a hotel room. I suggested he stay at my place, which wasn't far from the CBC studios, and there was a guestroom.
He hadn't eaten, either, since he left New York. In those days, Green Rooms offered little more than soggy sandwiches and tepid coffee. "Though it was late, I called my mother to tell her we had a guest arriving," says Klees. "She's the woman famous for making the sandwiches at the first Juno Awards. She made sandwiches and coffee for us, that night. We ate and drank coffee, sitting on the floor of my living room, listening to LPs."
Klees is an avid record collector. His collection is large and varied. Darin liked the choices.
They listened to French singers. "I'm a big fan Charles Trenet," says Klees, "Jean Sablon, Edith Piaff and Charles Aznavour, among others, too. Their phrasing, the ease of their vocalizing, is impressive. We also listened to Mel Torme and Mark Murphy, two jazz singers, whom I admire. We listened to Kurt Weill, 'Three Penny Opera' and others. We stayed awake until 3 am."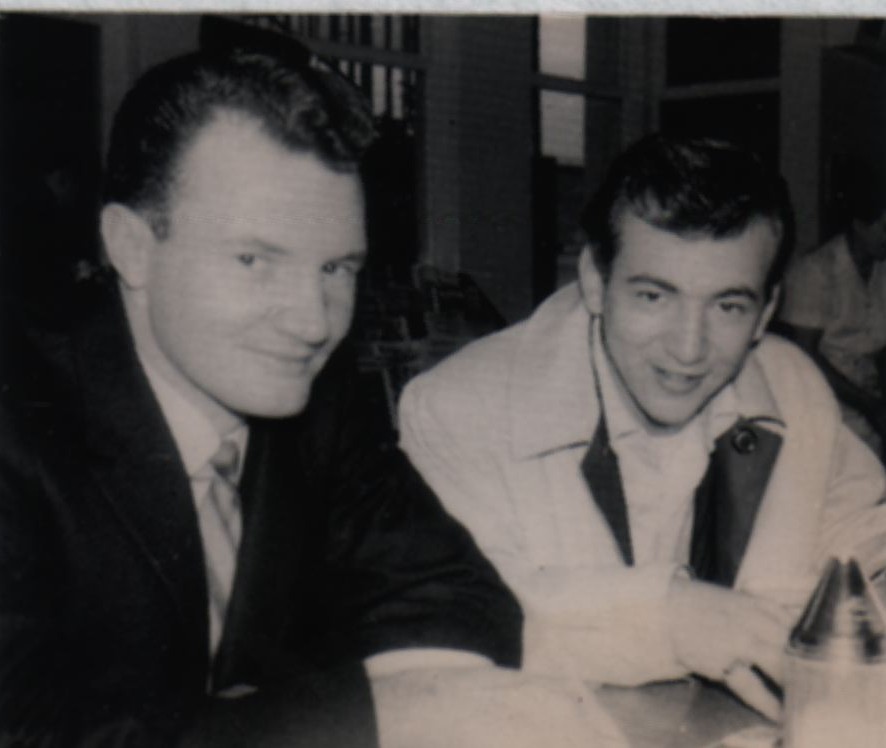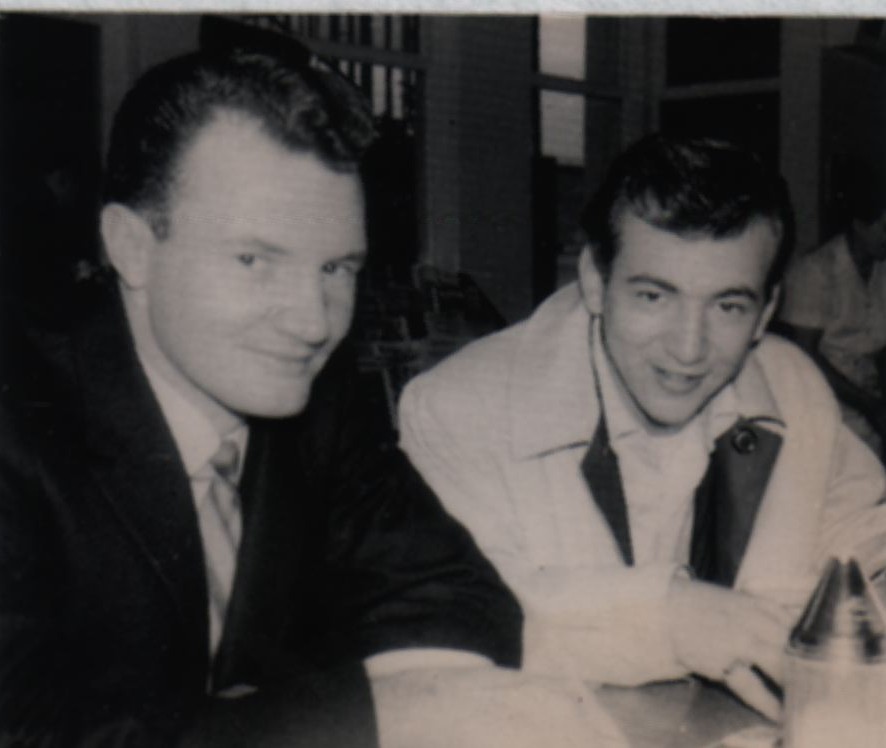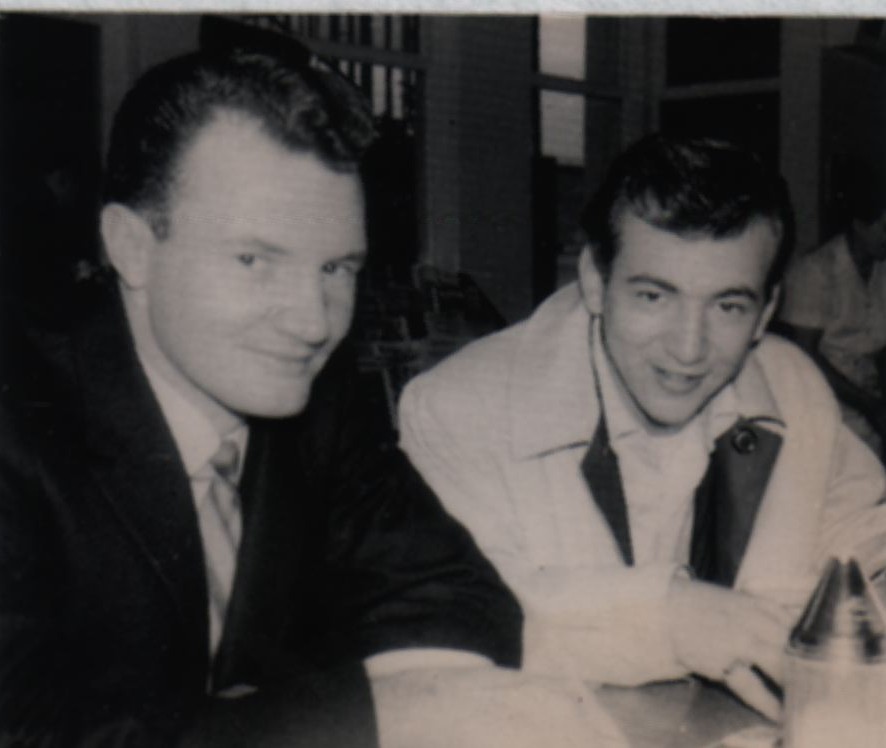 Walt Grealis with Bobby Darin
In the morning, I drove Darin to the airport, where Walt Grealis joined us," says Klees. "At the time, Walt was a doing much the same job for O'Keefe Brewing Company as I was doing for Atco Records." A few years later, Grealis and Klees founded "RPM Music Weekly." The magazine facilitated the Canadian Content Regulations and the explosion of the Canadian Music Industries.
"We [Darin, Grealis and I] had a quick breakfast before Bobby left for New York City," says Klees. "One thing that sticks in my mind, is Darin, as he walked through the door, to board the plane, turned, waved and said, 'Thank you.' He was a class act." Klees and Darin stayed in touch.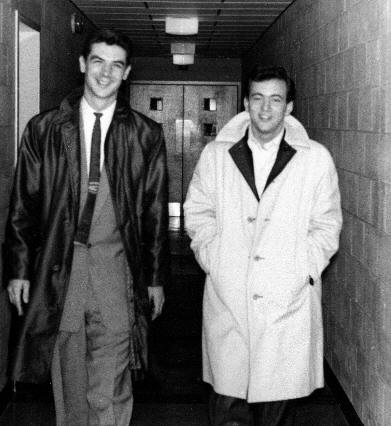 Klees and Darin
"One of the highpoints of my life," says Klees, "was when "Hesh," Harriet Wasser (1931-2006), who was a press and personal assistant to Darin, phoned. 'Would I fly to New York," she asked, "for his opening at 'Ben Masik's Town and Country,'" a large nightclub in the Brooklyn. Of course, I would.
"Everyone played the Town and Country," says Larry Siegel. "Even Jerry Lewis did shows there. It was an important venue."
"It was a great time," says Klees. "The Town and Country was jammed. All the rock and roll legends were on hand to celebrate the birthday of Dick Clark. The partying continued at the home of Connie Francis, in Coney Island Beach, long into the morning."
Connie Francis, in the early 1960s, was a top recording star. Born Concetta Rosa Maria Franconero, in Newark, New Jersey, she played the accordion and sang, as a teenager. In 1955, she won a talent contest and took on a more pronounceable stage name.
Her first record, "Freddy," bombed, as did the next dozen or so she made. Her first hit, "Stupid Cupid," was written by Neil Sedaka. "At the time, "Sedaka was studying music at Julliard," says Larry Siegel, of "Mad Magazine" fame. Siegel grew up in the same neighbourhood as Darin and others.
"During the summers," says Siegel, "Sedaka led the house band at Esther Manor, a resort in the Catskills. Every time "Stupid Cupid" came on the radio, it was put on the loudspeakers around the pool. Sedaka was a star. He married the daughter of the family that owned the Ester. I think he was 18 or so."
Francis had a string of hit records, in the late 1950s and early 1960s. "Lipstick On Your Collar," "Vacation" and "Stupid Cupid" were her up-beat hits. For the most part, she sobbed her way to the top of the charts. One of her early hits was a remake of "Who's Sorry Now," the Bert Kalmar and Harry Ruby song from 1923. Her other sob-hits include "My Happiness," "Among My Souvenirs" and the Italian standard, "Mama."
On 1 January 1958, Francis performed "Who's Sorry Now" on "American Bandstand," hosted by Dick Clark. It was the start of a supportive life-long friendship. Her friendship, with Clark, didn't hurt her record sales.
In November, 1974, Francis was brutally raped in a Howard Johnson motel, after performing at the Westbury Music Fair. She won a sizeable settlement from the hotel chain and, with the support of Dick Clark, made several attempts to re-start her career. The trauma of the event all but ended her career, though she continues to perform sporadically. A movie biography, "Who's Sorry Now," starring Gloria Estefan, was set for a late 2007 release, but, in fall 2009, remains shelved. Francis dated Bobby Darin. Her father caught them trying to elope and, waving a gun, chased Darin down the street, yelling, "I'll kill you if you ever see my daughter, again." Francis says, "not marrying Darin was the biggest mistake of [my] life."



"Hesh, above with Darin, was one of those people you find around every star. She was first and foremost, a fan. She photographed her idols, helped with their laundry, ran errands or made arrangements, such as diner reservations, for them. This made her life fulfilling. "Bob Fosse had Anne Reinking," says Stan Klees, " and Darin had Hesh." Reinking, Hesh and all those like them are loyal, trustworthy and honest. No star lasts long without a Hesh. When Darin moved to Los Angeles, Hesh adopted Bob Crewe, the record producer. He produced "Big Girls Don't Cry," for the "Four Seasons," and many others. "Hesh," says Stan Klees, "introduced me to Crewe, which began my career as a record producer. Crewe and I became great friends." Hesh worshipped Crewe, the same way she worshipped Darin.
"The last time I saw Darin," says Klees, "was his show at the 'Towne Casino,' in Buffalo. Lori Bruner, who wrote for 'RPM Music Weekly,' and I had a ringside table, with champagne. Darin played the show to our table. We went backstage, afterward, and spent time with Darin and, wife, Sandra Dee (1942-2005). In true vaudeville tradition, they were playing cards between shows."
The movie, "Beyond the Sea," covered the Hollywood career of Bobby Darin. There was much more to his life, especially the early days as a struggling singer. Born Walden Robert Cassotto, he had Rheumatic Fever, twice, which damaged his heart and lead to a pampered childhood. His father vanished before he was born. Darin was raised by his grandmother, Vivian Fern Walden, a want-to-be singer and morphine addict. His grandfather, Saverio "Sam" Cassotto, was a small time hood, using the name, "Big Sam Curly." He worked for New York crime boss, Frank Costello, who thought enough of "Big Sam" to gift him with a piano, about the time Darin was born. Darin, with a high IQ and bookish, entered and graduated from the prestigious Bronx High School of Science. He went to Hunter College, on a scholarship. After a semester, Darin left Hunter College for a career in music: it paid the bills.
Several years later, when he seriously considered running for elected office, he discovered his sister, Nina, who was 17 years older, was his mother. The woman he believed his mother was his grandmother. The shock and disruption is barely imaginable.
Charming and arrogant, Darin also had a cruel side. Only his son, with Sandra Dee, benefit from his estate. An embittered Darin retaliated in death.
After "Splish Splash," Darin had a string of pop hits. He wrote and recorded two country standards, "Things" and "You're the Reason I'm Living"; recorded an album of Broadway standards and an album for children, songs from "Dr. Dolittle."
In the middle 1960s, Darin abandoned show business, for several years. He gave away what he owned and moved to a cabin in Big Sur. Eventually, he came back to music via a series of dreary Dylan-like protest songs. By 1970, he was snapping his fingers, again, to "Beyond the Sea," "Mack the Knife" and other pop or big band songs on his television variety show.
"Beyond the Sea" provides the theme and leitmotif for "BioShock," a game for xBox. Set in a pseudo-future, 1959, the gimcrack tale flows, but mostly ebbs, to the rhythm of "Beyond the Sea," the 1960 hit for Darin. Hardly satirical, the game reveals how the recent past equates to the distant past for gamers, who exist in the ever present, devoid of much future.
The name, Darin, supposedly came by chance. A sign, in the window of a restaurant, near where he was performing, failed. Instead of "Mandarin Duck," the sign flashed "Darin Duck." Darin misread the sign as "Darin Luck." There's lots of superstition in show business.
When he tired of explaining how he got his name, Darin said Hesh picked the name, randomly, from the Toledo phonebook. Other times, he'd say Hesh came up with the name, and he didn't know how. She confirmed nothing.
There's also a rumour that Darin is a play on daring. Was he darin' enough to succeed? In fact, the name, Darin, likely derived, a little bit, from each of these legends.
Larry Siegel suggests a different source for the name, "Darin." The elder Siegel owned the coffee shop, right next to the Decca Records building. Larry got to meet and know a lot of late 1950s and early 1960s entertainers, including Darin. Siegel has some insight.



"Bobby," says Siegel, "probably took his name from the Kaiser Darrin (above), a very sporty car that put the Corvette and T-Bird to shame." The Kaiser Darrin� was designed by Howard "Dutch" Darrin, who had worked for Packard and Studebaker. It had a relatively small 90 horse power engine; a 161 cubic inch six cylinder, with a fiber glass body, a multi-position top and sliding doors that disappeared into the front fenders. "It wasn't a sales success," says Siegel. Reportedly, only 435 Kaiser Darrins were made in its one year of production, 1954. The Kaiser Darrin convertible (right) went for $3,700, about one year's salary, and was surely the dream car of every young man.
Bobby Darin was inducted in the "Rock and Roll Hall of Fame," in 1990. His son, Dodd (1961-), accepted the honour, on his behalf.
It's common, among women and men who have chronic health problems, to lapse, now and again, in taking their medication. In fact, lapsing a medication regime is a major treatment problem, for all diseases. Darin had taken cardio-medication, daily, since he was 6 or 7 years old. In 1973, he lapsed in taking his medication, a mechanical heart value clotted and he passed away, at 37, following surgery to repair the valve.
"I owe Darin, and Hesh, my career," says Stan Klees. "Over the years, he opened closed doors, which were important for my success. He was one of the great singers and a great musician, for all time." Bobby Darin was an intelligent, talented man, who remains underrated and, sadly for potential fans, largely unknown, today.
Sources
-----------
Starr, Michael Seth (2004), "Bobby Darin: a life," published by Taylor Trade Publishing.
Evanier, David (2004), "Roman Candle: the life of Bobby Darin," published by Rodale.
Click here for more about Bobby Darin, including videos.