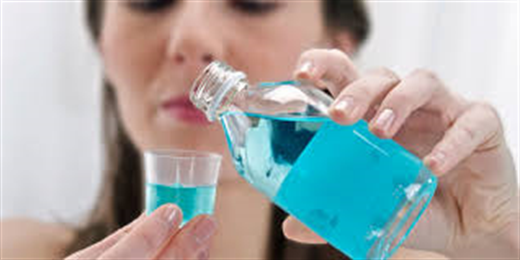 Did you ever get the feeling that your mouthwash was letting you down in the flavour department?
---
Entrepreneur Tim Crasher tired of mint flavoured toothpaste and mouth wash.
---
Tim Crasher, a 33-year-old entrepreneur, from Trenton, certainly did and he's doing something about it. "I just got sick and tired of the taste of 'cool mint' flavoured antiseptic lingering in my mouth all morning," he said. One day, when he was on a wine tasting tour of the County, the idea hit him like a bolt out of the blue: why didn't he combine the 'gargle and spit' elements of both mouth washing and wine tasting to produce a more interesting mouthwash experience.
Crasher did a little more research and discovered the global mouthwash market will grow significantly over the next five years. He unearthed a report, from the "Business Wire" news service, stating, "Vendors are bringing in innovative products to meet changing consumer demands and to increase their customer base." Indeed, one major player has already introduced a cinnamon flavoured anti-cavity fluoride rinse
It soon became his mission to develop a wine flavoured mouthwash, figuring that if he could get to the market with his product first, a major player would likely want to buy him out, leaving him sitting pretty. "Look what happened with 'Newman's Own' salad dressing," he states, by way of example.
---
How did he replicate that indescribable sensation of wine tasting?
---
The trick he had to master, of course, was to replicate that indescribable sensation when the wine swirls around in the mouth and spat out, gently, but assertively into a nearby vessel. How did he manage to do so, given the germ-killing qualities of mouthwash and the slightly more refined qualities of wine? "It's a trade secret," says Crasher. "But I will say it took me a fair amount of trial and error, and it involved the dough from my mother's muffin recipe, a touch of lime juice and a dollop of rubbing alcohol." He added that as far as he can determine, the product testing process harms no aminals. He went on to note that his rabbits seemed particularly happy recently.
The flavours Crasher is developing will carry the names of rather familiar places within the County such as Rednersville Red, Wellington White and Salmon Point Sparkling. "I couldn't very well name my mouthwash a Pinot Noir when my grapes are industrial grade or below," he explained. Make no mistake: the fact that his product derived from County grapes displays, prominently, on the product label, a fact that has some local winemakers worried about its effect on the upmarket reputation of County grapes. Crasher, however, sees the wineglass as half full, not half empty: think of the thousands of women and men that will want to come to the County to do real wine tastings, after trying out his mouthwash, he says.
Crasher intends to sell the product in a standard plastic bottle with a screw-off top that opens up to become the cup of a disposable wine glass. An attachable stem for the glass tapes to the side of the bottle, "just like a juice box," he notes. The instructions on the bottle will advise the user how to swirl the mouthwash in the glass, hold it up to the light, sniff it, roll the contents around in the mouth, optionally gargle it in the back of the throat and then part company with the contents in a nearby sink. "Like the slogan says," he notes, "the experience will be to make like the user is wine tasting." It will get new garglers interested in wine tasting in the County, he maintains, as well giving experienced tasters something to practise on that is cheaper and less a challenge to sobriety, than opening and tasting a bottle of wine. "Of course it will sell at a premium mouthwash price," said Crasher.
Crasher has already copyrighted the "Sommelier" brand for his mouthwash, as well as the advertising slogan he plans to use: "Make Like You're Tasting Wine." He has not settled on a marketing medium yet, but notes that Peter Mansbridge will be out of work by next summer and might make a good brand spokesperson. If his product takes off, Crasher says, he can envision a complete line of oral care products, toothpaste, for example; dental floss or, perhaps, even a dental protective chewing gum, built around the wine concept. Crasher doesn't want to get ahead of himself, though.
---
Young Rural Innovators grant from the Ontario government may fund project.
---
Crasher is also hoping to secure a Y. The programme gives a $50,000 award to help those with promising new uses for agricultural products hire experts to fill out application forms for further grants. "My top priority is to get myself a proper vat so my Mom can have her bathtub back," he said ruefully.
Some readers seem intent on nullifying the authority of David Simmonds. The critics are so intense; Simmonds is cast as more scoundrel than scamp. He is, in fact, a Canadian writer of much wit and wisdom. Simmonds writes strong prose, not infrequently laced with savage humour. He dissects, in a cheeky way, what some think sacrosanct. His wit refuses to allow the absurdities of life to move along, nicely, without comment. What Simmonds writes frightens some readers. He doesn't court the ineffectual. Those he scares off are the same ones that will not understand his writing. Satire is not for sissies. The wit of David Simmonds skewers societal vanities, the self-important and their follies as well as the madness of tyrants. He never targets the outcasts or the marginalised; when he goes for a jugular, its blood is blue. David Simmonds, by nurture, is a lawyer. By nature, he is a perceptive writer, with a gimlet eye, a superb folk singer, lyricist and composer. He believes quirkiness is universal; this is his focus and the base of his creativity. "If my humour hurts," says Simmonds,"it's after the stiletto comes out." He's an urban satirist on par with Pete Hamill and Mike Barnacle; the late Jimmy Breslin and Mike Rokyo and, increasingly, Dorothy Parker. He writes from and often about the village of Wellington, Ontario. Simmonds also writes for the Wellington "Times," in Wellington, Ontario.
More by David Simmonds:
Tell a Friend
Click above to tell a friend about this article.