The Rock and Roll Hall of Fame, given a fair reading of its web site, honours some women and many men who made rock and roll profitable; there's a separate category for influences. Springsteen's in the Hall. Talent agent, Frank Barsalona, is too. "Rolling Stone" publisher, Jann Wenner, joined in 2004.
Alan Freed is in the Hall. He coined the term, Rock and Roll, in March 1952. "I'm sitting, in the studio," said Freed, "rocking and rolling to the music." Tom "Big Daddy" Donahue, who devised the "Underground FM Radio Format," in 1969, is a member, too.
Each year, the Rock Hall inducts a few new members. A committee picks up to a dozen nominees and five hundred ostensible experts vote. For 2009, new members included Jeff Beck, "Metallica" and Wanda Jackson.
The list of inductees is almost a who's who of male-made popular music. Still, the absence, of many early rock stars, such as Frankie Avalon, is glaring. Why are they or he not in the Hall?
Avalon was no one-hit-wonder. From 1958 to 1962, he released 31 records, including "Venus" and "Why." Five, of his recordings reached number one, on the "Billboard Hot 100" chart. Seven peaked in the top 10, fifteen in the top twenty.
This was the age of the single, the 45-rpm record. Only Elvis Presley had more chart-topping records, from 1958 to 1962, than did Frankie Avalon. Neil Sedaka was his equal. Profit and influence flowed from Avalon: he's a snug fit for the Hall of Fame.
Avalon remains an outsider, but is not alone. The company, outside the Hall, is good. "Jan and Dean" are not members, nor are "The Fleetwoods."
Connie Francis isn't the Hall of Fame, either. She is the top selling female singer of the past fifty years; Madonna is slowly catching up. Francis was the first woman to chart two number one records, in a row, on the "Billboard Hot 100," three in all.
Maybe, Francis is not rock enough for the Hall. "Who's Sorry Now," her tenth recording and first hit, was a mawkish ballad. It's a 1958 version of song, written by Harry Ruby and Bert Kalmar, in 1923.
Dick Clark aired "Who's Sorry Now," first, on "American Bandstand." That was 1 January 1958, when "Bandstand" enabled rock. Dick Clark is the gawd-father of all that is rock, including its Hall of Fame, or New Year's Eve.
By all standards, Connie Francis is genuine rock and roll. The sins, which keep her out of rock and roll heaven, that is, its Hall of Fame, are her gender, image and what she selected to record. In the 1960s, she recorded sopped-with-tears, dysphoric ballads, such as, "Don't Break the Heart that Loves You," her last number-one hit.
Slowly, her style grew soppier. She developed a nasal problem. Personal ordeals made her sound uneasy and audiences jittery.
Many Rock Hall voters dismiss her excessively dramatic songs, recorded in nine languages. She's called a "sob singer." Few, if any, look below the surface.
That Francis sustains fame in countries, with no rock music base, such as Italy, doesn't help. Although enclaves exist, everywhere, rock is a distinct American form of music. Only acts from Canada, the UK and, perhaps, Australia effectively tap into this American art form and only sometimes.
Voting members, of the Hall of Fame, are mostly from the USA. A majority, of voters, are male baby boomers. For boomers, male or female, rock began, in 1964, with the British Invasion.
At the Invasion, Francis and other rock pioneers, from the 1950s, fell from grace and off radio playlists. Relegated to the sidelines, they sold used cars or worked "oldies" shows for scale or less. Bobby Darin, almost alone, survived the Invasion, but he's an exception on many counts.
Most rock pioneers didn't make the cut. The game changed. No one told the rock pioneers about the new goal, that is, money, or the new rule, that is, make money. Most pioneers lost any chance for the full recognition of their work, which they deserved.
In 2001, Suzan Evans, a former director of the Rock and Roll Hall of Fame, let slip a dirty secret. The more likely an act was to help sell tickets, to the annual induction ceremony, and boost television ratings, the more likely its induction. How crass: induction tied directly to revenue, not art; still, not different from the industry the Hall serves.
The Rock Hall policy helps some acts more than it does others. Most helped are mainstream pop and those that peaked in the 1970s or 1980s. Yet, "Journey" is not in the Hall.
Evans, Jann Wenner and music writer, Dave Marsh, comprise the current nomination committee. Thus, good luck to pioneering acts. Keep your day-job; don't expect a revival, of your music career, on induction into the Rock Hall, any time soon.
The Hall also ignores Sixties music: the top act in 1966 was "Paul Revere and the Raiders," not the "Beatles." Also overlooked is Funk: George Clinton is not in the Hall. Tom Donahue may be the shamwow for Progressive Rock: "Jethro Tul" and "Blues Project" are not in the Hall.
The Rock and Roll Hall of Fame is scandalously lacking women members. Women inductees include Madonna, Carole King, Brenda Lee and a few "girl groups." Tina Turner is a member of the Rock Hall, but only as "Ike and Tina Turner." Wanda Jackson, a rockabilly singer, most popular in the 1950s and inducted in 2009, falls in the "Early Influence" category.
Francis, an early competitor, sold more records, since the 1950s, than has any woman singer. This is a good reason for overlooking her. Men don't care for women who can compete.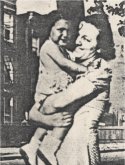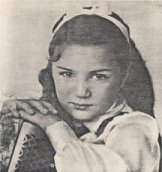 Francis at about 9 months, 3 years and 9 years old
Concetta Rosamaria Franconero, Connie Francis, grew-up in the mostly Italian, Down Neck, section of Newark, New Jersey. Born on Monday, 12 December 1938, as predicted, she is fair of face and graced with talent. Mother, Ida, was a homemaker; father, George, a roofer. She had a younger brother, too.
For her fourth birthday, Concetta received an accordion. Her father sensed her interest in music and thought she might earn a living as a music teacher. Concetta took to the accordion and soon was performing, at weddings and parties, for money.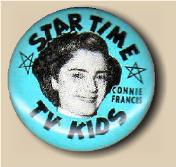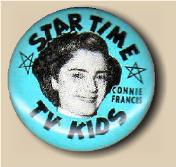 In 1949, Concetta auditioned for "Ford Startime," a local television show featuring Newark-area talent. When she and her father arrived for the audition, the waiting room was full of singers. "We didn't think I had a chance," says Francis.
"Then my father, always too nervy, says to a producer, 'My little girl plays the accordion. She sings while she plays.'
"Well, no, I didn't sing, while I played, but I did on that day and ever since," says Francis.
"I performed on 'Ford Startime," but nothing came of it. About a year later, I auditioned for the 'Arthur Godfrey Talent Scout Show.' The producers liked me. I won the show."
Godfrey, a top star on television and radio, at the time, suggested Concetta Franconero change her name. "Something shorter, easier to say, and get rid of the accordion," he said. Connie Francis emerged that Monday evening, in 1950.
Her career stalled after the "Godfrey" show. Francis continued to perform, locally, and her parents tried to fashion a career. In 1955, at age 16, she graduated from Bellevue High School; the top student in her class, the Salutatorian, and won a four-year scholarship to New York University.
That summer, Francis signed with MGM Records. Her first single, "Freddy," released before she was 17 years old. More a naïve first try at recording than a horrible song, "Freddy" flopped.
Fearlessly, Francis recorded eight more singles and an album. Each flopped. She pondered returning to school, of becoming a physician.
To boost her career, Francis agreed to sing on three movies, "Jamboree,""Rock, Rock, Rock" and "The Sheriff of Fractured Jaw." For "Jamboree," she dubbed star, Freda Holloway, on four songs. In "Sheriff," she dubbed Jayne Mansfield on the title song. Still, the movie work did nothing for her career.
The Brill Building, at 1619 Broadway, in New York City, was home to songwriters and song promoters since 1931. This was the Tin Pan Alley, of early rock and pop music. The writing team, of Bobby Darin and Don Kirshner, worked at the Brill Building.
"I remember," says Stan Klees, co-founder of "RPM Music Weekly, "staying in the hotel across the street from the Brill, on Broadway. Most hotels, I could afford, at the time, weren't air conditioned. I left the window, of my room, open and could hear the music from across the street. Months or a year later, I'd hear the same song on the radio, performed by a big name, such as Connie Francis.
"Years earlier, I met Bud Robinson, of the dance team, 'Bud and Cece Robinson,' when they played Murray Little's Casino Theatre. The theatre was at Queen and Bay, in Toronto. That was the early 1950s and the Robinsons opened for Johnny Rae. Rae had huge hits, such as 'Cry' and 'Little White Cloud that Cried.' He also had a heated romance with Dorothy Killgallin, who was the top entertainment columnist, of the day, and married to actor, Richard Kollmer, of 'Boston Blackie' fame.
"When I went to New York City, a few years later, about 1955 or so, I ran into Bud. He explained the Brill to me and took me to the drugstore, where all the comedians hung out. We also went to 'Hectors,' the famous automat at Broadway at 42nd, in the heart of 'Times Square'."
In the 1960s, Don Kirshner, who worked with Darin at the Brill, created studio groups, such as the "Archies" and was mostly responsible for the success of "The Monkees." In 1972, Kirshner created "Rock Concert," a long-running hit show for ABC. Hosted by Kirschner," "Rock Concert" was an attempt, by ABC, to lure away the audience from "Midnight Special," on NBC.
Bobby Darin had a career path much like Francis: a series of flops, followed by a string of huge hits. On a challenge, Darin wrote "Splish Splash," his first hit and the top selling record of 1958. Today, pre-school classes, all over the world, even in Hungry, sing his song.
Steve Blauner managed Darin. He introduced him to Connie Francis. She was always looking for high-quality new material.
True to Hollywood form, Francis and Darin didn't get along. They bickered, endlessly, over which songs to record. They annoyed each other and fell haplessly in love.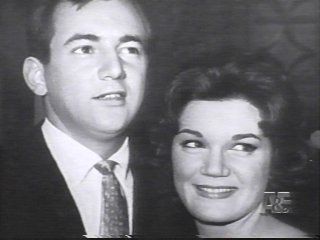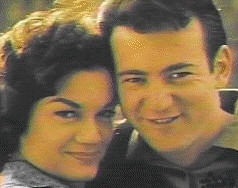 Darin and Francis
Her father didn't approve. Discovering they were about to elope, George Franconero confronted Darin, backstage, at a show. Waving a gun, Franconero said to Darin, "I don't want you to ever see my daughter again."
To hear Franconero tell the tale, Darin pooped in his pants and ran out of the theatre and Brooklyn. Darin told a more dignified version, much to the same end. Whatever the truth, the lovers saw each other only three more times before Darin passed away, in December 1973.
Around the end of November 1959, Francis and Darin attended a birthday party for Dick Clark. It was his thirtieth birthday. The party was held at the Town and Country, a swanky nightclub in Brooklyn, New York. Darin headlined the show and his personal assistant, Hesh, planned the party.
"Everyone associated with 'American Bandstand' and leading music industry people were invited.  Hesh invited me to the party, too.  She decidced who sat next to who and the event was organized, but seemed informal.
"I was seated next to Francis that night," says Stan Klees, co-founder of "RPM Music Weekly." "It was an exciting night and Darin performed. After the show, everyone went back to an apartment Francis kept in Coney Island Beach.
"It was the A-list from "American Bandstand." There was Dion DiMucci, Duane Eddy, Fabian, Jimmy Clanton, Chubby Checker, Frankie Avalon, Bobby Rydell and, of course, Bobby Darin." We partied until dawn."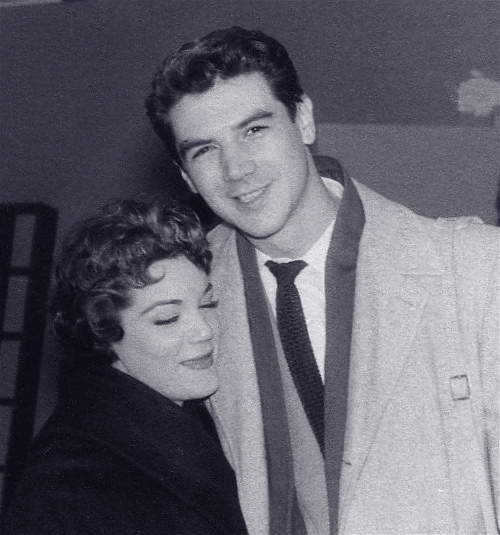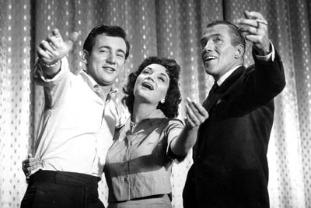 Francis with Stan Klees; between Darin and Ed Sullivan
Francis and Darin appeared, together, on the "Ed Sullivan Show," for 3 January 1960; the authority of Sullivan easily trumped that of George Franconero. On 9 January 1961, Darin took part in an episode of "This is Your Life," focusing on Connie Francis. "My biggest mistake," Francis says, "was not marrying Bobby."
In fall 1957, MGM Records was about to drop Francis, not for poor sales, but for no sales. After some urging, MGM Records gave her one more chance. She had worked hard, day and night, on her first nine flops; maybe one more chance was reasonable.
For this last session, her father talked her into recording an old song, "Who's Sorry Now?" "Decades earlier," says Stan Klees, "Sophie Tucker had the original hit version, of 'Who's Sorry Now.'" Klees met Tucker, in 1949, when she played the Brant Inn, in Burlington, Ontario, and he worked at the Inn.
"John Murray Anderson owned the Brant Inn," says Klees. "For the run, of her show, Tucker lived in his luxurious penthouse, atop the Inn. The penthouse was ten by twenty metres, with an outside deck of the same size: it was huge.
"Parked alongside the Inn was a 14-metre Chris Craft yacht, owned by Anderson. The yacht slept eight and had a full-time captain. The Inn and the yacht made a site more common in the Mediterranean than on Lake Ontario.
"During the day, Tucker sunned herself on the penthouse deck. She'd call the dining room, saying, 'Send up the young kid with some ice.' I made her scotch and water, as she sunned."
"One night, after her late show," says Klees, "I brought a tray to Tucker, in her room. A short woman, of considerable girth, she answered the door wearing shorts and a tank top. She was a remarkable sight, off and on stage.
"Tucker insisted I visit for a while. That nigt, I got a taste of her risqué humour and was the audience, of one, for the original version of 'Who's Sorry Now'." I became an instant fan of Sophie Tucker and the song," says Klees.
For the 1958 version, of "Who's Sorry Now," George Franconero was certain of three facts. The lyric was timeless. Adults were familiar, with the song; they would enjoy hearing it on radio. The arrangement, he had in mind, let teenagers dance to the music.
"Record it, this way," said Franconero," and it's a hit. A dubious Francis took his advice. When Dick Clark heard "Who's Sorry Now," by Connie Francis, he knew she had a hit.
Clark premiered her recording on "American Bandstand." That was 1 January 1958 and by June, Francis had a gold record and was a star. George Franconero was right.
One hit must lead to another. Francis was on a non-stop search for new material. Thus, she met Neil Sedaka and Howard Greenfield, the top songwriting team housed in the Brill Building.
Sedaka wrote the music and Greenfield found the words. They wrote a string of hits, from 1958 to 1962. Sedaka recorded "Happy Birthday, Sweet Sixteen," "Calendar Girl," "Breaking Up is Hard to do" and "Oh, Carol," a homage to Carol King.
When Francis met Sedaka and Greenfield, they auditioned every ballad they wrote. She liked Neil and Howard, but not the material. Francis thought their ballads too intellectual for her fans.
Greenfield urged Sedaka to sing an up-tempo song they wrote, that morning, for an unnamed all-girl group. Initially, Sedaka declined, preferring not to sell the song out from the group. Greenfield pressed, noting the other group had yet to hear the song and they had time to write another song or two before the group arrived.
Reluctantly, wary of insulting Francis, Sedaka played and sang: "Stupid cupid, you're a real mean guy. I'd like to clip wings, so you can't fly." Francis loved "Stupid Cupid" and it was her follow-up hit to "Who's Sorry Now."
During the audition, Francis made notes in a diary. Afterwards, Sedaka asked to see what she wrote, but Francis declined. He pushed to see and she stood fast.
Easily motivated to write a song, Sedaka used this minor episode as the basis for "The Diary," his first hit record. "How I'd like to look into that little book, the one that has the locking key. And know the boy that you care for, the boy who is in your diary." "Steve Scholes, of RCA, heard the song," says Sedaka, "and signed me. We sold about 35 million records between 1958 and 1963.
"I was afraid to sing," Sedaka told Steve James, of Reuters, in 2010. "I was the pianist. My voice was so high. I was ashamed to sing. It's wasn't until 1958 that I got up the courage to sing.
"I wanted to be Bobby Darin, but I never did the 'American Bandstand' bus tours. I wanted to be a cabaret singer, like Connie Francis. I started at the Copacabana and New York cabarets. I did the "Ed Sullivan Show," on television."
Sedaka and Greenfield wrote many songs for Francis. "Fallin'" followed "Stupid Cupid," in 1958. "Where the Boys Are," was the title song for a 1960 movie and a hit for Francis.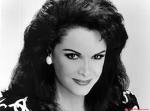 After twenty Top 20 hits, Francis headlined the Las Vegas Strip, the youngest person to do so. That was 1960 and the Vegas audiences loved her. Francis loved the Strip, signing to do four weeks a year, minimum, for nine years.
Few American pop singers record in a second language. Francis records in thirteen languages. In 1970, at the Golden Stag Festival, in Brasov, Romania, she sang only in Romanian.
In July 1962, Francis appeared, with French superstar, Johnny Hallyday, on the "Ed Sullivan Show." Their performance taped at the Moulin Rouge, in Paris. Two years later, Francis gave a command performance, for Queen Elizabeth II, from the Alhambra Theatre, in Glasgow, Scotland.
On Friday, 8 November 1974, after a show at the Westbury Music Fair, in Westbury, New York, Francis confronted a burglar in her hotel room. They scuffled. He held her captive, at knifepoint, and sexually assaulted her.
The attacker left Francis under a mattress. Her muffled cries for help delayed her discovery. The delay, the horror under that mattress, after the attack, surely contributed to her post-trauma problems.
Francis sued the hotel chain: it didn't offer satisfactory or reasonable security. The lawsuit led to significant improvements in hotel and motel security across the USA. Permanently harmed, she suffered, much, and her career faltered.
Her first marriage, to Dick Kanellis, was on 15 August 1964. As with Bobby Darin, her father, George Franconero, opposed the union. Francis regretted not marrying Darin. This time she followed her heart, but her father was right: Francis and Kanellis, an abusive husband, divorced after three months.
Seven years later, Francis married hairdresser Izadore "Izzy" Marion, divorcing him a year later. In September 1973, Francis married Joseph Garzilli. They adopted a son, born in 1974, naming him Joseph Garzilli, Jr. Lingering issues from her sexual assault led Francis and Garzilli to divorce, in 1978.
In 1978, with the help of Dick Clark, Francis tried a comeback, but it was too soon, after the assault. Her recovery was slow. In 1990, a renewed Francis began a tour that ended, abruptly, in a bout of lithium toxicity.
Corrective nasal surgery left her hypersensitive to air-conditioning and unable to perform for four years. In 1981, she witnessed the ostensible gangland murder of her brother. On 27 June 1985, Francis married television producer Bob Parkinson, but the marriage ended in divorce, the following year.
Francis remains a victim of the sexual assault. She suffers various psychiatric disorders. She continues to take lithium, 35 years after the incident. She endured many drug dependencies and tried suicide more than once.
In 2000, Francis began a series of lawsuits against the Universal Music Group (UMG). She claimed UMG (i) used her health as a reason to stop paying her royalties; (ii) used her music in three movies, without her permission: "Post Cards from America," "The Craft" and "Jawbreaker"; (iii) the producers, of "Jawbreakers," used her music, without permission. Each lawsuit failed.
Undaunted, Francis still performs, if in more a limited way. "The American Tour" is a CD culled from various shows. In 2004, she headlined in Las Vegas, the first time since 1989.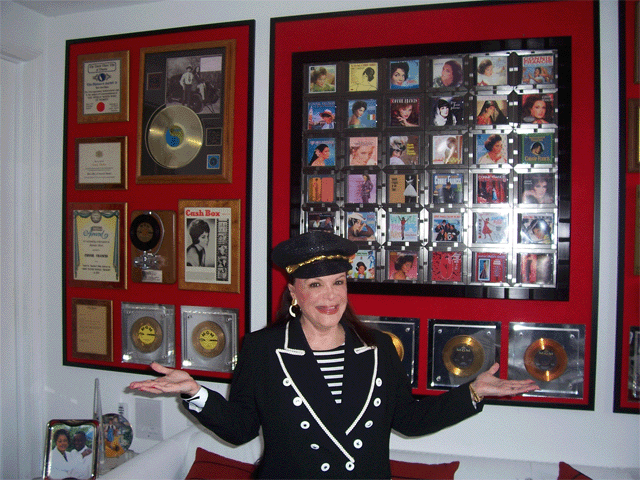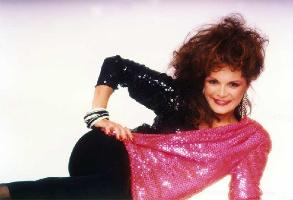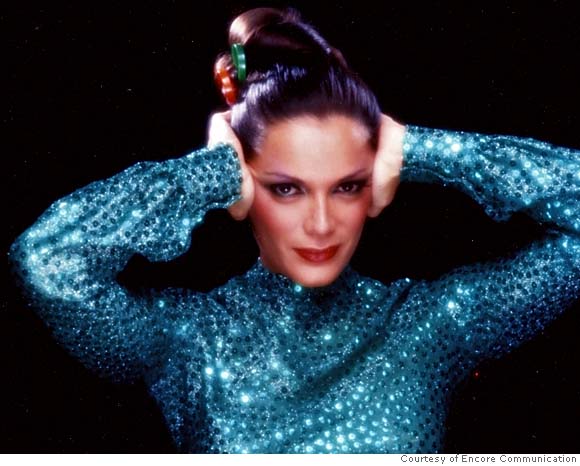 On Friday, 29 January 2010, Francis caused a stir in staid Fort Lauderdale, Florida. The city planned a "Connie Francis Great American Beach Party," for the end of May. The celebration was to mark the 50th anniversary of filming "Where the Boys Are," in the Lauderdale area. Francis starred in the movie and sang its theme song.
Jack Seller, mayor of Fort Lauderdale, said the event "would consistent of good old-fashion family fun." Francis came to town to promote the event. She arrived, at a well-attended rally, in a vintage car and rather stylishly.
All a gaga, Seller said he expected middle-aged "boys" to escort Francis to the rally. She did bring four boys, young models, hired from a local talent agency. Each one, it turns out, a gay porn movie star.
Francis knew her escorts would cause a commotion, but she didn't tell anyone. "I didn't want to hurt their [the models] feelings," Francis told the Palm Beach "Post." It's all showbiz.
"Francis knows, well," said a wag, "Where the Boys Are" and "everybody's somebody's fool." The "South Florida Gay News" called the event, Porngate on the Beach. Fort Lauderdale, in conservative Broward Country, has yet to cancel the event.
The evidence is clear. Connie Francis belongs in the Rock and Roll Hall of Fame. The question remains, why not.
A deep insider, Gloria Estefan, also wonders why Francis is not in the Rock Hall. Estefan wrote a biographical screenplay, with much help from Francis. She hopes to portray Francis, in the movie; the match seems good.
"Connie isn't in the Hall," Estefan told the "Las Vegas Sun," in 2003, "but she was the first pop star to record, successfully, in nine languages. She's done so much for victim rights, too.
"There's a major story here," says Estefan. "She's the top female recording star, ever. Connie Francis has so much depth."
Politically charged, the Rock Hall of fame is a club of old boys. Well-managed, mainstream acts seem most influential. Among inductees, only Ritchie Valens and Santana ably, often and successfully recorded in a language other than English.
Remarks from Estefan go unheard. She has Top 40 hits and generates huge revenue for the recording industry. Yet, her Latino focus denies her much influence, with the Rock Hall nomination committee.
Francis fits the Rock Hall of Fame inductee profile, better than do most. She earned honest stardom. She had a string of hits that made the industry much money.
Many inductees have substance abuse issues. Some are victims of sexual abuse. Others front causes, such a victim rights.
Fewer women than men become members of the Hall. There's a glaring gender void and many curiosities about why some women and not others become members. Francis is clearly more deserving than "The Ronettes" or "The Shirelles" and on par with Brenda Lee.
What Francis decided to record may bar her from the Hall. She relied on far too many maudlin ballads, which irritated many. "Where the Boys Are," her 1960 hit, was too sappy, though it was easily an up-tempo pop song: the musical arrangements she used added to the irritation.
Poor decisions seem a hallmark of the Francis career. In 1967, she declined to record "Angel of the Morning," as too risqué for her fan base. Eventually, Merilee Rush recorded the song, written by Chip Taylor, and, today, it's a durable pop standard.
Mental maps, internalized in childhood, turn to adult action. Voting members, of the Rock and Roll Hall of Fame, mostly middle-aged men, recall Francis as dreary. When her hit, "Lipstick on Your Collar," came on the radio, all those years ago, they changed the station.
When the time comes, today, to pick acts for induction to the Rock and Roll Hall of Fame, few care to remember Francis. She may have made the young women cry, but the boys wanted to die. Those youthful memories may drive Rock Hall of Fame voting.
-----
Connie Francis is a member of the "Hit Parade Hall of Fame." Founded by John Rook, in 2006, this hall of fame is more egalitarian than the Rock Hall. Says Rook, "[We try] to pay tribute to many recording stars who are long overdue the recognition they so richly deserve."